This game was released on January 19, 2018 and is no longer available to pre-order. Any incentives that were offered are listed below.
Digimon Story Cyber Sleuth: Hacker's Memory is a role-playing game developed by Japanese company Media.Vision and published by Bandai Namco for PlayStation 4 and PS Vita. It shares locations and gameplay elements with the 2015 title Digimon Story: Cyber Sleuth, but features a new story and characters.
The protagonist of the game is Keisuke Amazawa, a boy who is blamed for a crime committed through his stolen Cyberspace EDEN account. He joins a hacker group called Hudie, and sets out to find the real culprit, befriending numerous Digimon along the way. Players can choose between Gotsumon, Betamon, or Tentomon as their partner at the beginning, and the game features 320 creatures in total.
Pre-order Bonuses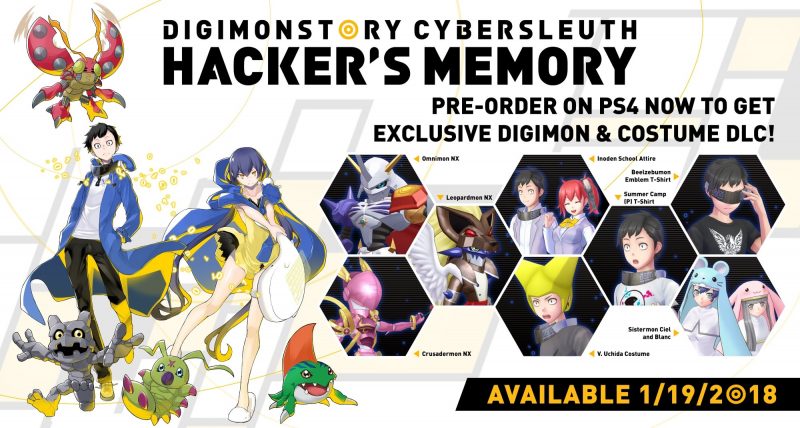 Pre-order the PS4 version of Digimon Story Cyber Sleuth Hacker's Memory through select retailers or directly through PSN to receive the following digital bonuses:
Digimon:

Omnimon NX
Sistermon Ciel and Blanc
Leopardmon NX
Crusadermon NX
Costumes:

V. Uchida Costume
Summer Camp T-Shirt
Beelzebumon Emblem T-Shirt
Inoden School Attire
As usual, placing your pre-order through PlayStation Store will also grant an official theme after checking out.
The game will be released on January 19, 2018 in a worldwide launch.
Check out our other upcoming rpg games and upcoming playstation 4 games.