This game was released on January 30, 2018 and is no longer available to pre-order. Any incentives that were offered are listed below.
Dissidia Final Fantasy NT is a fighting game with action RPG elements from Square Enix and Team Ninja. Players can select their three-person team from over 24 playable Final Fantasy characters spanning 30 years of the franchise's history, and do battle in more than 10 iconic arenas. The combatants are divided into four categories – vanguard, assassin, marksman, or specialist – each with their own fighting styles and abilities. Every match allows the player to call forth legendary summons like Ifrit, Shiva, and Odin to turn the tide of battle.
Pre-order Bonuses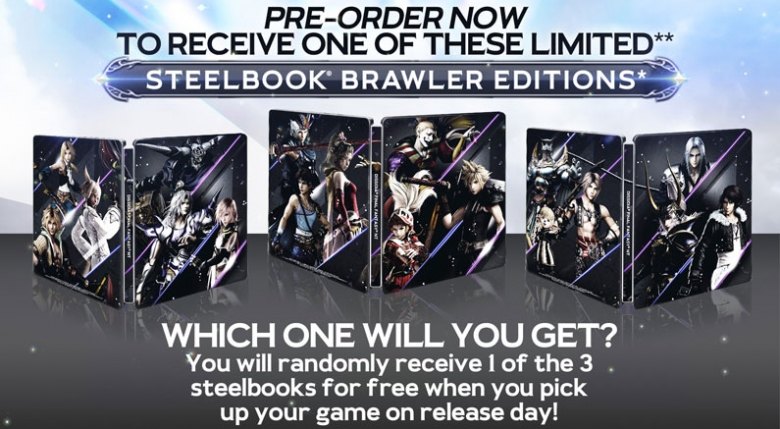 Pre-order Dissidia Final Fantasy NT through participating retailers to receive one of the three limited Steelbook Brawler Editions at random. Each of the three designs features different Final Fantasy heroes and villains on the front and back. Supplies are limited and might not last until launch.
In addition to that, the following retailers are offering exclusive DLC weapons:
Amazon: Cloud Strife's Nail Bat from Final Fantasy VII. Entry into "Fantasy Finals" drawing to win a Dissidia Final Fantasy NT Arcade Cabinet.
GameStop: Garland's Claymore Blade.
Those who pre-order through PSN will instead receive the Digital Day One Edition, which includes Nameless Warrior DLC as well as a mini-soundtrack that consists of five songs from DFFNT and the arcade version of DFF.
While not a pre-order bonus, it might be worth a mention that buying any limited edition Dissidia Final Fantasy NT cup noodles from Nissin Foods grants the exclusive Noctis Royal Raiment DLC (save your purchase receipt to redeem the code).
Digital Deluxe Edition
The Digital Deluxe Edition costs $84.99 and adds a Season Pass on top of the aforementioned Nameless Warrior DLC and mini-soundtrack. The Season Pass includes the following digital content:
6 additional playable characters (includes standard costume and weapon)
Color variation of the costumes for the 6 characters mentioned above (2 each)
Additional weapons for the 6 characters mentioned above (2 each)
Ultimate Collector's Edition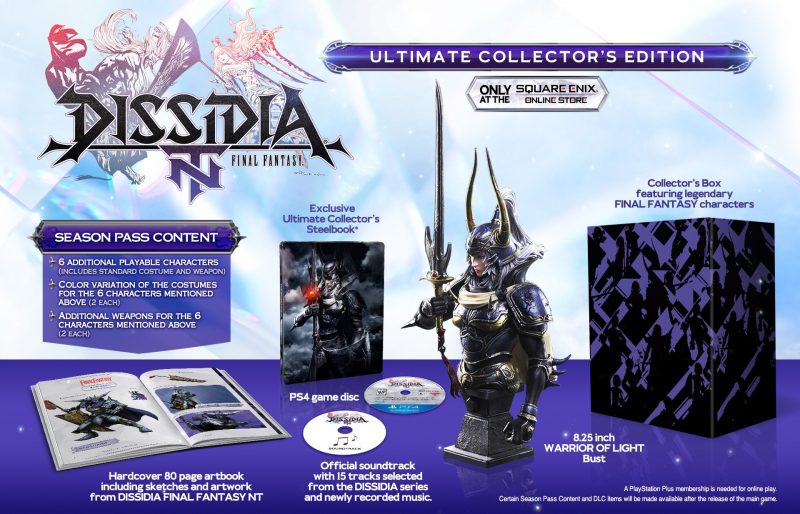 The Ultimate Collector's Edition is priced at $189.99 and is available via Square Enix Online Store. In addition to the PS4 game itself, it comes with the following:
Collector's Box featuring legendary Final Fantasy characters
8.25″ Warrior of Light bust
Hardcover 80 page artbook including sketches and artwork from the game
Official soundtrack with 15 tracks selected from the Dissidia series and newly recorded music
Exclusive Ultimate Collector's Steelbook
Season Pass
Dissidia Final Fantasy NT is scheduled for a worldwide release on January 30, 2018.
Check out our other upcoming fighting games and upcoming playstation 4 games.