This game was released on May 16, 2017 and is no longer available to pre-order. Any incentives that were offered are listed below.
Injustice 2 is an upcoming fighting game developed by NetherRealm Studios and published by Warner Bros. As a sequel to the 2013 title, Injustice: Gods Among Us, its character roster features both returning as well as brand new heroes and villains. According to the publisher, Injustice 2 boasts the biggest DC roster ever offered in a fighting game. More characters are to be added by the way of DLC in the future.
Plot-wise, the game continues where its predecessor left off, with Batman and his allies working to piece society back together while struggling against those who seek to restore Superman's One Earth Regime. Meanwhile, a new threat appears which forces old enemies to put aside their differences and band together.
Injustice 2 is now available on GamerSaloon – Where Gamers Play for Real Money.
Pre-order bonuses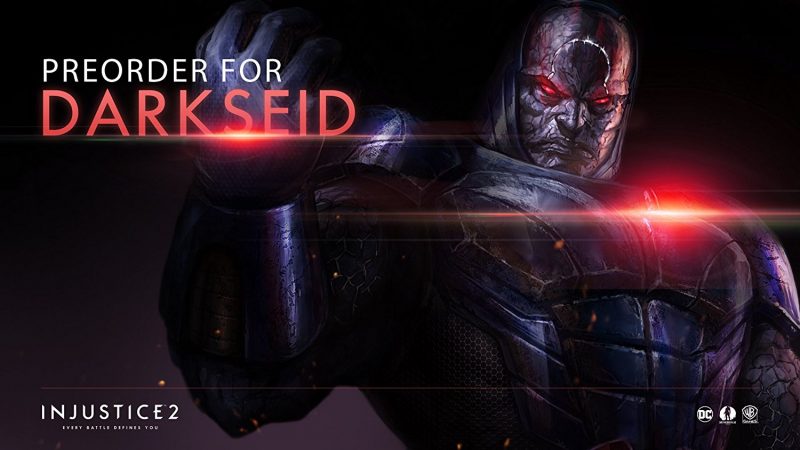 Pre-order Injustice 2 to play as Darkseid, one of the greatest villains in the universe. Reserve your copy through the following retailers for additional incentives:
GameStop: a free poster. Pick up the game on launch day to also receive an Injustice 2 jersey.
Amazon: exclusive Supergirl Origins comic.
Best Buy: a collectible baseball hat with an embroidered Flash logo.
Walmart: $8 off to see Wonder Woman in theaters (with "Walmart Exclusive" version of the game).
As usual, the physical bonuses are "while supplies last" type of deals.
Digital Deluxe Edition
The Deluxe Edition is digital-only, costs $79.99, and includes the following:
Three new DLC fighters as they become available
Exclusive Defender gear shader usable on the entire roster
Premiere skin with new look and dialogue for Supergirl
Ultimate Edition
The pricier ($99.99) Ultimate Edition comes in boxed and digital versions, and includes more DLC:
Nine DLC fighters as they become available
Three premiere skins: transform Flash, Green Lantern, and Supergirl into alternate characters with new looks, voices, and dialogue.
Two exclusive gear shaders: customize the look of the roster with Destroyer and Defender Shader packs.
"The Lines Are Redrawn" story trailer
Injustice 2 is scheduled to be released for Xbox One and PlayStation 4 consoles on May 16, 2017. There is also going to be a mobile version for iOS and Android devices.
Check out our other upcoming fighting games and upcoming playstation 4 games.