This game was released on July 10, 2018 and is no longer available to pre-order. Any incentives that were offered are listed below.
MXGP Pro is a motorcross title from Milestone, an Italian developer renowned for authentic racing games. It features all 2017 season riders and tracks from MXGP and MX2 classes, and includes 19 official tracks reproduced utilizing 1:1 photogrammetry technology. Even the rider models themselves are made through state-of-art 3D facial scanning.
A new mode called The Compound provides challenges and training from the pros for those looking to master the sport. This is of course in addition to the Career mode, which remains central to the game. MXGP Pro also comes with improved physics engine, more realistic handling, and expanded rider and bike customization.
Pre-order Bonuses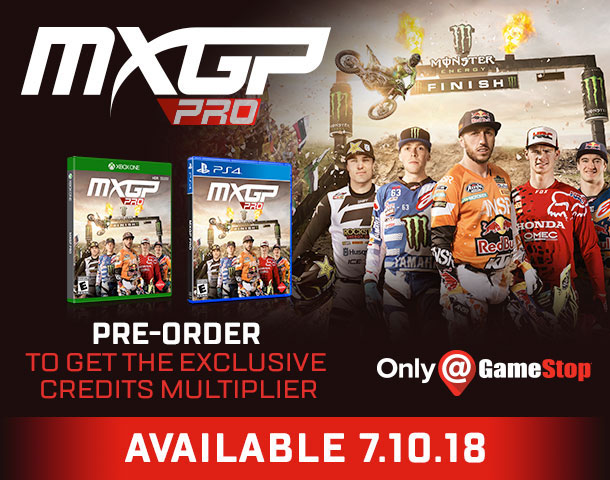 There isn't much available in the way of pre-order bonusses for MXGP Pro, but if you head over to GameStop for your copy you will receive an exclusive credits multiplier. This will essentially multiply the credits earned after every race, helping you reach the top of the podium faster.
In North America, MXGP Pro hits PS4, Xbox One, and PC on July 10th, 2018.
Check out our other upcoming racing games and upcoming pc games.