This game was released on June 04, 2019 and is no longer available to pre-order. Any incentives that were offered are listed below.
Persona Q2: New Cinema Labyrinth is a dungeon crawler game developed and published by Atlus. It is a spin-off from the main Persona series, and features characters from Persona 3, Persona 4, and Persona 5.
After the Phantom Thieves (P5) find themselves trapped in a locked cinema, they have to explore a labyrinth of movies of various genres, encountering SEES from P3, the Investigation Team from P4, and the female protagonist of Persona 3 Portable who will aid them on their journey.
Pre-order Bonuses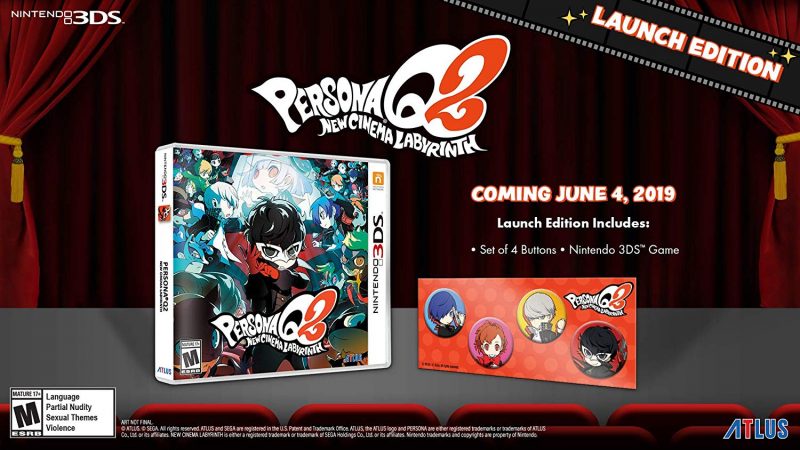 Pre-order Persona Q2 to secure the Launch Edition depicted below, which comes with a bonus set of four buttons featuring the protagonists of P3, P3P, P4, and P5.
"Showtime" Premium Edition ($69.99)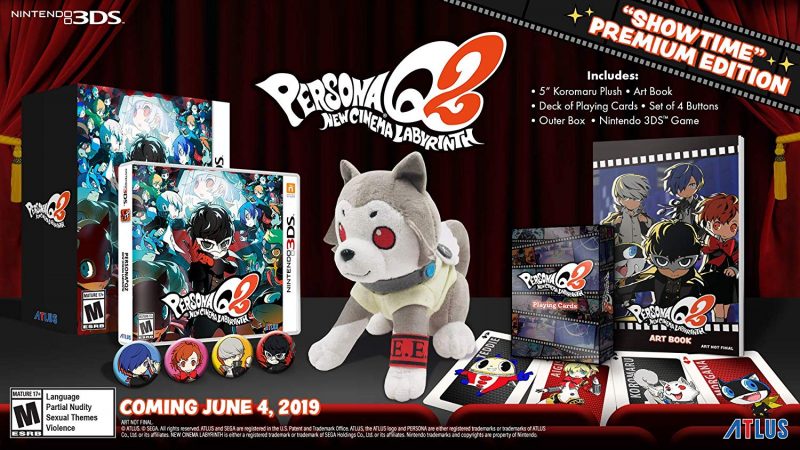 The Premium Edition of the game includes the following:
Copy of Persona Q2: New Cinema Labyrinth
Outer Box
Set of 4 Buttons (same as pre-order bonus)
Art Book
Deck of Playing Cards
5″ Koromaru Plush
At the time of writing, Amazon is offering a 9% discount on this edition.
Persona Q2: New Cinema Labyrinth will be out for Nintendo 3DS on June 4, 2019.
Check out our other upcoming rpg games and upcoming nintendo 3ds games.