This game was released on December 20, 2011 and is no longer available to pre-order. Any incentives that were offered are listed below.
SWTOR is Bioware's first attempt at an MMORPG, highly anticipated by MMO gamers and Star Wars fans alike. The game takes place 300 years after the events of Knights of the Old Republic and approximately 3,500 years before the Star Wars movies, during a continuing conflict between the Galactic Republic and the growing Sith Empire.
Bioware is well known for their captivating RPG stories, and it looks like Star Wars: The Old Republic will inherit some elements from their single-player games. Most of the quests in this unique MMORPG can be completed in several different ways, and are tied into the overarching storyline. Similarly to Mass Effect, the players will be able to recruit NPC Companions, equip them with gear, and perform various missions as a team. It will be possible to engage in romance, but also have a falling out if the NPC does not approve of your actions.
The dialogues will be fully voiced, and that goes for the player character as well. The script of the game is said to include over 40 novels worth of content. Even more impressively, SWTOR will also be localized in French and German at launch.
SWTOR pre-order bonuses
Preorder Star Wars: The Old Republic before the release date to get the following bonuses:
Color Stone: in-game item that allows you to change the color of your lightsaber and blaster bolts.
Early Game Access: start playing before the release date! Don't forget to redeem your SWTOR pre-order code on the official site in order to get the Early Access notification.
Star Wars: The Old Republic is available in three different editions: Standard Edition, Digital Deluxe Edition, and Collector's Edition. You can find out more about them below. The pre-order bonus is the same for all editions of the game.
Standard Edition
The regular edition of SWTOR includes the game client and 30 days of play time. You will have to subscribe in order to continue playing after this period ends. This edition of the game can be found on Amazon, GameStop and other retailers for the standard price of $59.99.
Digital Deluxe Edition
The Digital Deluxe Edition of Star Wars: The Old Republic comes with a price tag of $79.99 and is available exclusively on Origin (previously EA Store). It includes the following digital items:
Flare Gun: fire flares high into the air.
Training Droid: hovers at your side and provides combat assistance.
HoloDancer: portable entertainment system that projects a holographic dancer.
HoloCam: records your adventures in the SWTOR universe.
STAP (Single Trooper Aerial Platform): sleek vehicle for in-game transportation.
Collector's Edition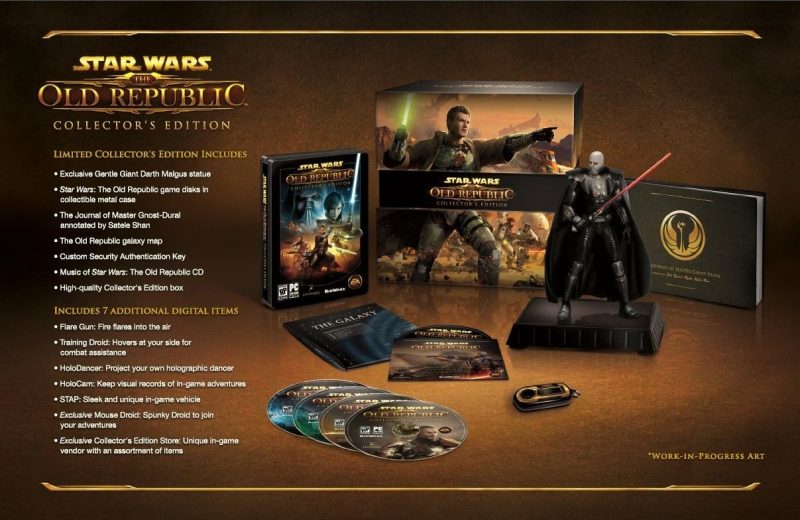 Star Wars: The Old Republic Collector's Edition will cost $149.99 and come with a variety of physical and in-game items. It includes everything from the Digital Deluxe Edition (Flare Gun, Training Droid, HoloDancer, HoloCam, and STAP), as well as 2 additional digital items:
Mouse Droid: a small droid that will join you on your adventures.
Collector's Store: an exclusive in-game vendor that sells rare wares to those who purchased the Collector's Edition of the game.
As for the more tangible goodies, SWTOR CE offers the following:
Gentle Giant Darth Malgus statue.
Collectible metal case with game disks.
The Journal of Master Gnost-Dural as annotated by Satele Shan.
The Old Republic galaxy map.
Custom Security Authentication Key.
Music of Star Wars: The Old Republic CD.
Collector's Edition box with high-quality artwork.
As you can see, the price of the Collector's Edition is pretty steep; however, you get some great collectibles (especially the statue and the map), as well as an exclusive in-game vendor for as long as you play. This edition is available worldwide, so you might be able to find it at your favorite store – if it hasn't sold out yet, that is.
Join the Fight trailer
This new SWTOR trailer shows some of the classes from both sides that you can look forward to playing.
https://www.youtube.com/watch?v=-0-fYlNBwD8
SWTOR is scheduled to be released on December 20th worldwide. It's definitely nice to see a simultaneous America & Europe release where everyone can start playing on the same day! In the meantime, you can signup for the beta on SWTOR.com.
Check out our other upcoming mmorpg games and upcoming pc games.