This game was released on October 22, 2019 and is no longer available to pre-order. Any incentives that were offered are listed below.
The Legend of Heroes: Trails of Cold Steel III is a JRPG with turn-based battles and animated cutscenes. Taking place two years after the events of ToCS II, it follows Rean Schwarzer, now a combat instructor at Thors Branch Campus, who must prepare a new class for an uncertain future, and uncover a dark plot threatening his homeland.
The game has been released in Japan back in 2017, and NIS America is handling the upcoming launch in the West. Trails of Cold Steel III will launch with dual English & Japanese audio, and English & French text.
Pre-order Bonuses
The pre-order bonuses for Trails of Cold Steel III depend on whether you opt for a digital or a boxed copy.
Pre-purchasing digitally via PSN nets two exclusive outfits: Unspeakable costume for Rean Schwarzer, and Lloyd Bannings (protagonist of Zero No Kiseki and Ao No Kiseki) costume for his student Juna Crawford. Additionally, PS Plus members enjoy solid discounts on the digital Standard and Deluxe editions: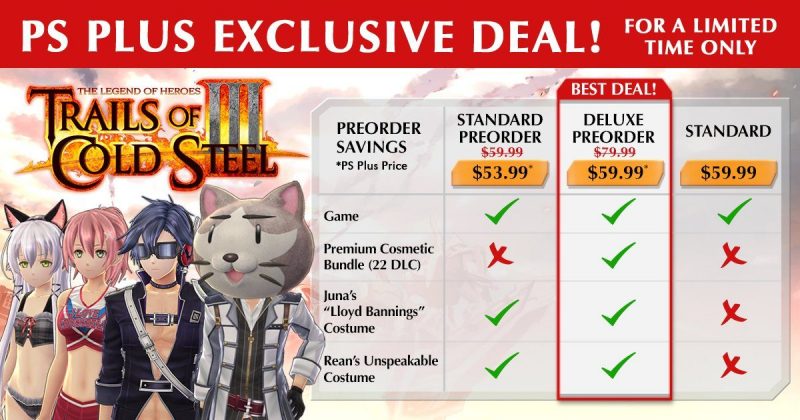 Physical copies won't include these two costumes for free, but that isn't to say they don't offer value of their own. Pre-ordering at your favorite retailer automatically upgrades you to the Early Enrollment Edition, which comes with an "Anthems of the Thors Branch Campus" 5-track soundtrack, a "Branch Campus Student Directory" soft-cover art book, and a reversible box cover: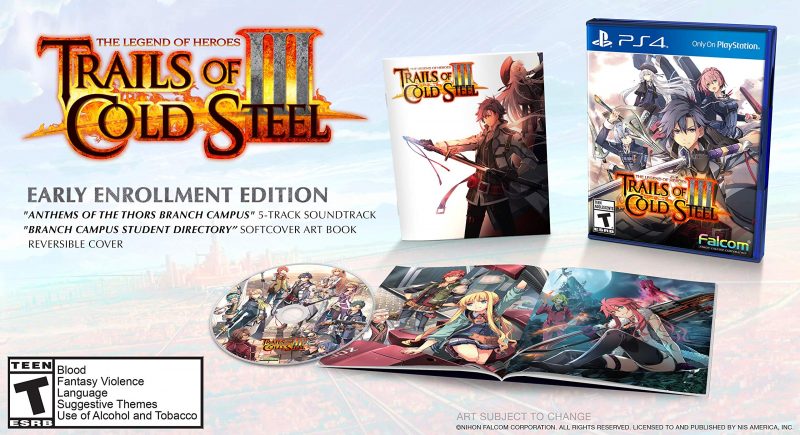 At the time of writing, Amazon, Walmart, and Target are also offering a humble 5% discount.
Digital Deluxe Edition ($79.99)
While the digital Deluxe Edition carries a nominal price tag of $79.99, PS Plus subscribers may pre-purchase it at a $20 discount for a limited time. Besides the game itself, it comes with the Premium Cosmetic Bundle containing as many as 22 pieces of cosmetic DLC.
Thors Academy Edition ($99.99)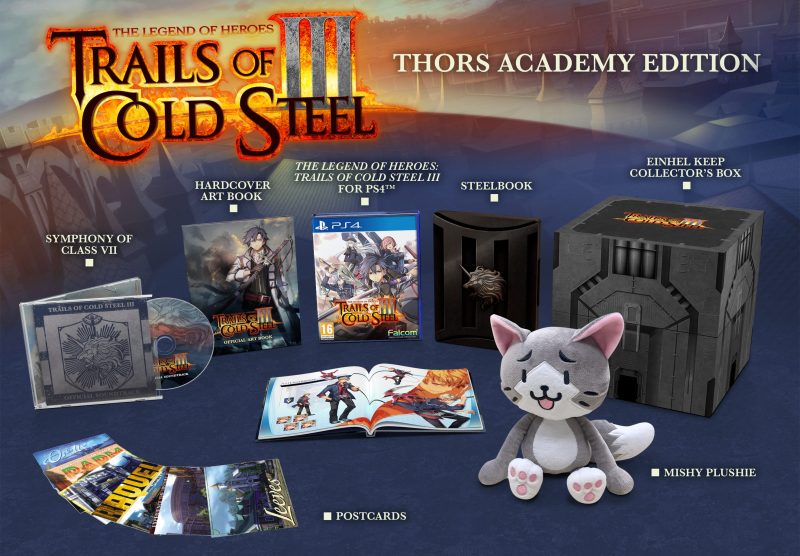 Exclusive to NISA Online Store, this edition bundles the game with the following physical collectibles:
Intelligence Division Files Hardcover Art Book
Symphony of Class VII Soundtrack
Einhel Keep Collector's Box
SteelBook
5 Postcards
Mishy Plushie
The Legend of Heroes: Trails of Cold Steel III is scheduled to launch for PlayStation 4 on October 22, 2019.
Check out our other upcoming rpg games and upcoming playstation 4 games.