Apex Legends has quite a colorful cast of characters, all with a unique backstory, personality, and motive for participating in these crazy games. Each one is quite different in terms of abilities and play style, and each one of them can be tailored into a weapon of mass destruction. Read on to find out how!
Apex Legends Character Guide Part One: Offensive:
Ash
This cold, cunning cyborg is an expert in hunting down her prey due to her impressive abilities. First off, we've got her Passive, with the downright epic name of Marked for Death. This ability, fittingly, marks death boxes on the map. Upon interacting with it, she'll be shown the current location of their attacker, allowing her to hunt them down with ease. The killer might've gotten the upper hand in one battle, but they've also put a target on their back – literally. Her tactical, Arc Snare, solidifies her position as a merciless hunter, allowing her to throw out a snare that tethers down an approaching enemy, holding them in place while she makes the kill.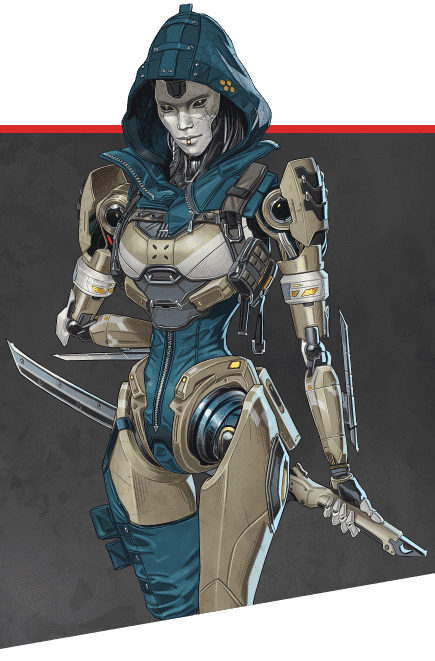 Her Ultimate isn't the only portal-based ability out of our offensive crew, but it does offer a one-way trip to anywhere in her line of vision. With her power of teleportation, use Ash to get the jump on your enemies by warping her up high and letting her pick off your opponents on the ground below. Despite being a hunter, she was not designed for stealth, as her Ultimate creates a massive sound cue. Due to this, it's not recommended to use her as a stealthy character, despite the inherent stealthiness of her Ultimate. Instead, Ash is all about straightforward aggression. One great strategy is to use her Tactical on an enemy, freezing them, and then bomb them with grenades. They'll have no way to defend themselves, stuck as they are, and get annihilated.
Bangalore
This former weapons specialist is, unsurprisingly, all about weapons, with her military past providing her with some seriously powerful abilities. The first of these, her Passive Ability of Double Time, isn't all that flashy, but it's certainly effective. Bangalore starts out with a speed advantage, and when she's in danger, it spikes by 30% for two seconds. That may not sound like much, but it can mean the difference between escaping with your life and getting smacked in the face by a bullet. Her Tactical, Smoke Launcher, is a little showier – or, more accurately, the opposite, as it allows her to launch smoke bombs that last for 23 seconds.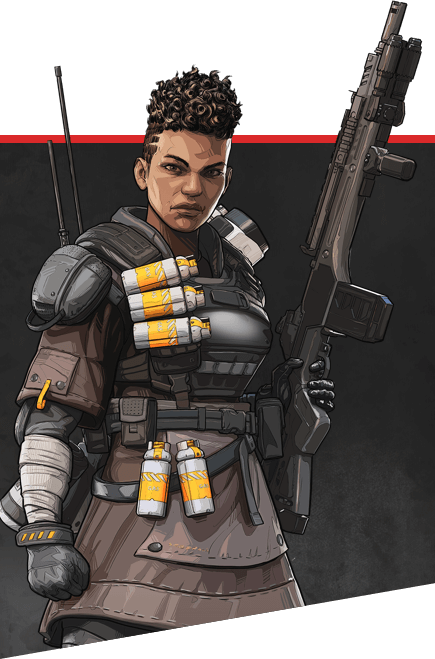 They can't hit you if they can't see you. Her Ultimate, Rolling Thunder, more than compensates for her more understated Passive and Tactical abilities: she sends a signal for her ship to rain missiles on her enemies, immediately jumping from 'not flashy, but effective' to 'completely overkill'. Bangalore is, by nature, one of the more balanced and beginner-friendly Legends, giving you a lot of options in terms of playstyle. Want to play more defensively? Use Double Time to hightail your way out of danger and Smoke Launcher as cover. Going for an offensive game? Use those same abilities to dodge bullets and obscure your opponents' view as you charge forward into gunfire. Either way, the Digital Threat attachment is a fantastic accessory, as it allows you to see through smoke and avoid the very trap you're laying down.
Fuse
Don't let his laid-back personality fool you; Fuse is an absolutely explosive powerhouse, and his abilities reflect that. His Passive, Grenadier, might be the most obvious out of the bunch: as a grenade expert, Fuse gets to stack an extra grenade for each one in his inventory, and he can fire grenades farther, faster, and more accurately than anyone else. His Tactical, Knuckle Cluster, also unsurprisingly, launches a cluster bomb that, on impact, expels airburst explosives, continuing to do damage after it's hit and in an even wider radius it's an even cooler version of a grenade. The Ultimate of this character: The Motherlode, is just as fitting to his character as the rest. It launches a bombardment that creates a wall of flame around an area, absolutely incinerating anyone around – including you, so stays cautious.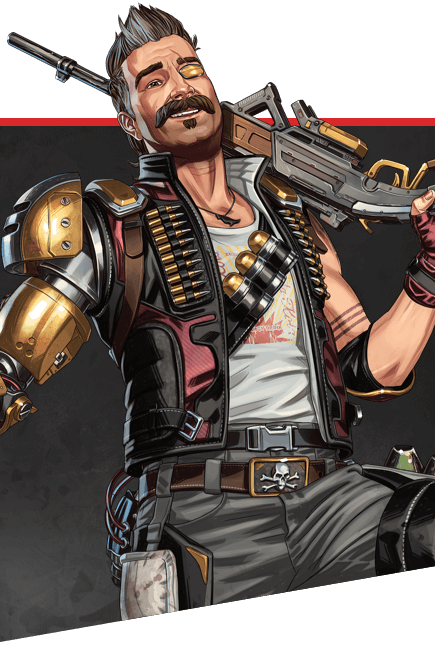 Now, this might be a bit obvious, but it's still worth mentioning to pick up any grenades you find. Fuse can handle more and handle them better than the average Legend, so they'll become a cornerstone of your play through. Use them often. Grenadier, as well as Knuckle Cluster, are both perfect for destroying camping squads, with the splash damage from Knuckle Cluster allowing for maximum damage. The Motherlode not only damages opposing teams, but it also highlights their position. Take advantage of that and use his other abilities to give them all you've got while they're still hurting from his Ultimate.
Horizon
She's warped through wormholes and traversed the terrifying unknown of outer space, and now she's back! Horizon's space-themed abilities are definitely some of the cooler ones in the game – not to mention more powerful. Starting with her Passive, Spacewalk: allows her to avoid the stun effect of falling from great heights and land softly rather than break every bone in her body, while also moving about more freely in the air. This leads nicely into her Tactical, Gravity Lift. It generates a vertical cylinder that lifts anyone inside it, whether that be you, your team, or even your opponents.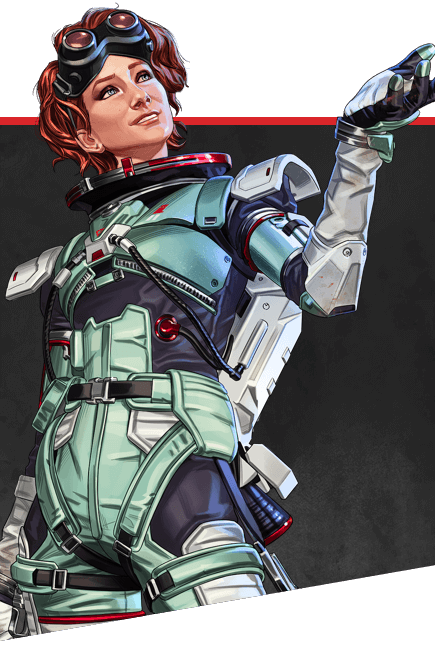 If anyone inside moves outside it, they get a horizontal boost in that direction. When it comes to her Ultimate, Black Hole – forget messing around with gravity, let's tear a hole in the fabric of the universe. This ability creates a literal black hole that sucks in other players. With Horizon, your goal should always be to keep fights going. The longer she fights, the better she does. Be sure to get the high ground – there's no consequence if you fall, after all, and you can get the drop on people silently and efficiently. Use Black Hole carefully – if you throw it out at the wrong time, you'll waste it completely. Be sure to wait until an enemy is healing or otherwise vulnerable to whip out her Ultimate.
Mad Maggie
This rebel warlord is taking no prisoners today. Mad Maggie might have had an underwhelming release, but in Season 14, she's back, buffed, and ready for destruction. Her Passive Ability is a reminder that she'll let no one escape with their life: Warlord's Ire temporarily highlights enemies she's damaged and allows her to track them down like the prey they are. She also moves faster while wielding a shotgun – so yeah, watch out. Her Tactical, Riot Drill, is a literal fire drill that would never be allowed near a school. It can attach itself to obstacles and burn enemies on the other side. It's also invincible, if that helps to make the idea of a drill made of fire any more terrifying than it already was.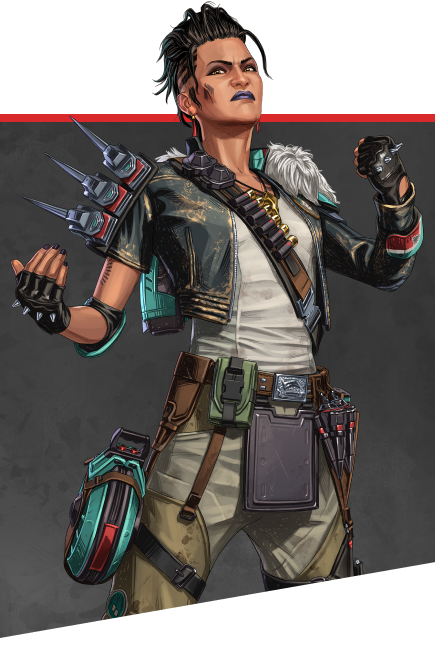 Finally, topping off the list of things you'd be terrified to encounter in real life, her Ultimate, Wrecking Ball, summons a massive ball that bounces off floors, ceilings, and walls, and detonates near any enemies in its way, all while dropping speed boosting pads – think the ball from Rocket League, but way more deadly. This is one lady you do not want to mess around with. With Maggie, try to keep a shotgun on her at all times, as the corresponding speed boost only works when it's directly in her hands. Don't be afraid to drill through anything in your way – you've got the firepower for it, literally – and spam Wrecking Ball, as it is an absolute destructive force with a very quick cooldown. It's also surprisingly versatile, useful for throwing enemies off and speeding you up as much as detonating in people's faces.
Mirage
This clever character is no illusion – although he makes a point of tricking his enemies with them while keeping himself concealed. Case in point: his Passive, Now You See Me, automatically cloaks him and any ally he's in the process of reviving because it's just not fair to get gunned down the second you get back up. It also turns him invisible for five seconds when he gets knocked, leaving a decoy in his place – although the decoy will dramatically die afterward, making it painfully obvious what's going on. Speaking of decoys, Tactical Ability Psyche Out deploys one that will run to whatever location you choose, and by pressing the Alternate Interact button, you can cause it to exactly mimic your movements. Oh, and if it's shot, its killer's location is highlighted, in case it wasn't amazing enough already. If you liked that one, get ready, because his Ultimate, Life of the Party, sextuples the fun – instead of just one decoy, Mirage deploys six, all moving exactly identically to the original player. Good luck hunting him down now, enemies.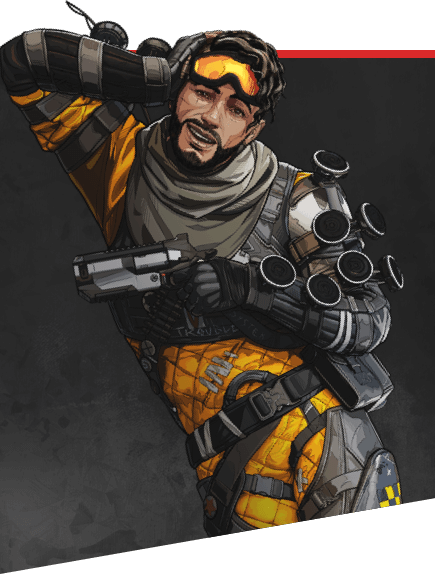 Despite being all about misdirection, Mirage is categorized as an offensive player for a reason: his abilities work remarkably well in battle. He's perfect for scouting out the location of an enemy team: just use his Tactical to send a decoy out into the world. The average player will gun him down immediately upon seeing him, giving you an exact pinpoint of their location and the perfect opportunity to take revenge. Alternatively, go an extra layer deep into the mind games and pretend to be your decoy. Just run in a straight line, keep your movements simple, and with any luck, enemy players will notice and avoid you altogether, since shooting the decoy puts you at a disadvantage.
Octane
Into taking risks? Living on the edge? Recklessly endangering your life and limbs for no good reason whatsoever? Then chances are, this crazy daredevil is for you. Let's start with his Passive Ability, Swift Mend, which is remarkably restrained and practical given his hobbies and lifestyle: Octane regenerates one health per second outside of combat. That may not seem like much, but every little bit counts when it comes to this rascal, whose penchant for pain becomes glaringly obvious when considering his Tactical, stim: his movement speed increases drastically for six seconds at the cost of twenty health per use. Despite its self-injurious nature, the use of this skill can't kill him – all the same, you'll want to keep an even closer eye on Octane's health than with other characters.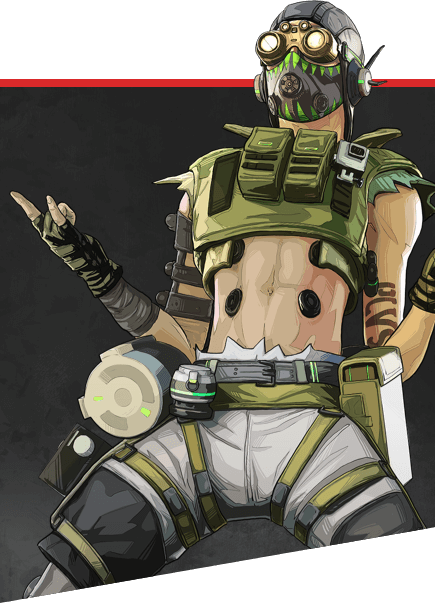 His Ultimate drops a launch pad down that allows him to, you guessed it, launch himself into the air, also providing him with a double jump to shift direction. It might be a little scary having to injure your character to use his Tactical, but you can't underestimate or overlook Stim. Swift Mend can easily compensate for it, and speed is vital in the early sections of the game, so be sure to use Stim while looting. Still try to avoid, you know, draining your health and getting shot immediately. That's still not good. Fortunately, Octane's offensive abilities also work defensively; he can launch out of danger just as easily as into it, and if you're getting low on health anyway, it's a clever idea to use Stim to slip out of an unpleasant situation before it gets worse.
Revenant
Who doesn't love a good old-fashioned murder robot? Revenant may not be a Skynet-level supervillain, but he's still a machine man out for blood. His Passive Ability has a name just as unsettling – and coldly efficient – as the rest of him. Stalker allows him to move at a walking speed while crouching and to climb walls easier, meaning he doesn't need to sacrifice speed for cover and can get up into some pretty high places without losing his grip. His Tactical is more devastating: to use Silence, he throws a projectile that disables the Abilities of anyone in the area of effect, including some but not all Passives, for 15 seconds. So much for taking advantage of your character's unique ability; with Silence in effect, it's back to guns and grenades.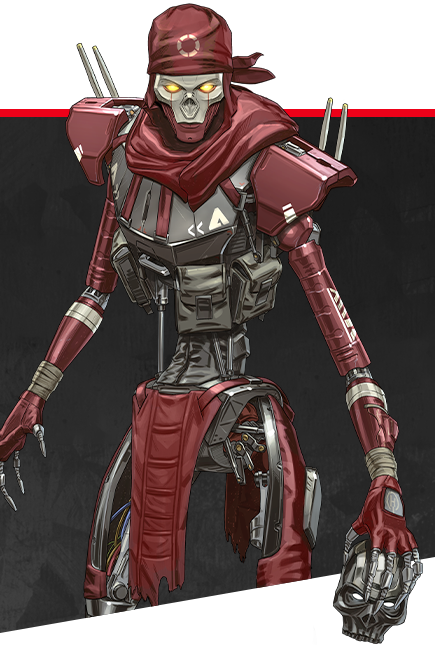 His Ultimate allows him to do something no other character could ever hope to do respawn. Death Totem drops a totem for 30 seconds that you and your teammates can use to enter the 'shadow form'. You can't use your abilities, and your shields don't work, but if you die within the allotted time, you return to the totem with 50% health. Your most effective strategy is to crouch like mad. Unlike with other characters, there's no downside, and your enemies won't hear you coming. Just make sure to pull back into your standing position when you're already engaged in combat; crouching puts your head right at the front, making you an easy headshot target.
A bit of controversial advice is incoming: if you must, kill yourself. Running out of time on your totem will still respawn you if you die, but it'll keep you in the same, perilous area, so if things are looking bad and your timer's up, you'll want to have some thermite for a quick return to base.
Wraith
Let's face it; Wraith is one of the coolest characters in the game. Her name alone is amazing, and she only gets better when you consider her abilities. Her Passive Ability, Voices from the Void, causes a voice cue to activate whenever an enemy's got you in their sights. If you heed these warnings, you can become untouchable. Getting a heads-up when you're in danger is invaluable and could easily mean the difference between life and death. Her Tactical, Into the Void, is even more epic: it makes her completely invulnerable for four seconds. Granted, she can't fight in this position, but it's still perfect as a form of defense. Combine this with Voices of the Void, and your enemies won't be able to land a hit on you.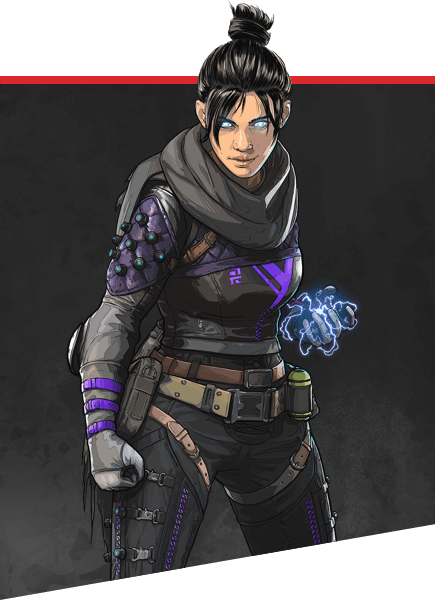 Finally, her Ultimate, Dimensional Rift, allows her to rip a hole in the space-time continuum and create two linked portals that last for 60 seconds. Voices from the Void telling you to watch your back? Portal away. Are enemy players running forward? Drop a portal underneath them and bring them back upright in your sights. With this combination of (awesome) skills.
Wraith lends herself to an unpredictable playstyle. By switching up your movement with the help of Voices from the Void, laying traps for the opposing team, and using Into the Void to gather intel or zoom behind enemy lines at zero risk to yourself, you can best utilize her abilities by staying stealthy and not letting your enemies get a read on you. Lean into your sneaky side and stay elusive.
Other action shooter games in our blog Fortnite
No products found.