This game was released on October 23, 2015 and is no longer available to pre-order. Any incentives that were offered are listed below.
Assassin's Creed Syndicate is a historical action-adventure game set in London during the Industrial Revolution. It follows Jacob and Evie Frye, a pair of gangster twins who lead a crime syndicate known as the Rooks. Both of the siblings are playable and have their own story missions as well as skill sets; Jacob specializes in brawling, while Evie is a more traditional assassin with a focus on stealth. Players are tasked with taking on enemy gangs and uniting London's underworld in order to wrestle control of the city from the Templars.
The ninth major installment in the series does away with multiplayer, focusing entirely on the single-player campaign. The game's open-world map is 30% larger than that of Unity, and features traffic – horse carriages – for the first time. The updated weapon arsenal reflects the era in which AC Syndicate is set and includes a six-shot revolver, brass knuckles, and a sword cane.
Pre-order bonuses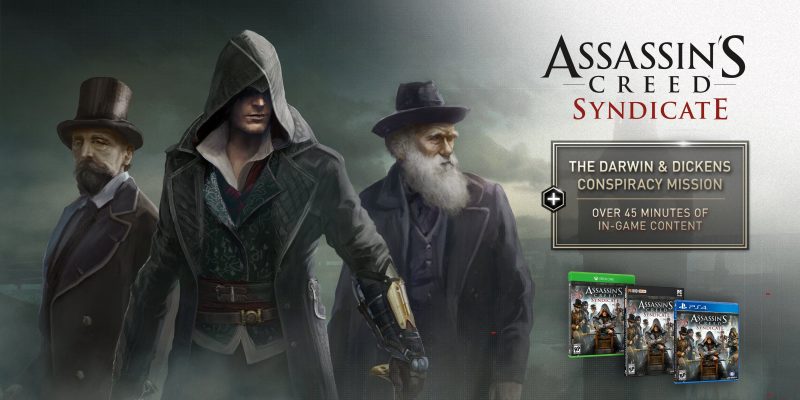 First on the list is the Darwin and Dickens Conspiracy Mission: a set of two missions involving Charles Darwin and Charles Dickens in some way, which adds as much as 45 minutes of gameplay. It will be available to everyone who reserves a copy of the game.
Secondly, there's Ubisoft's "Join the Family" rewards program that promises a chance to win various AC-themed prizes. Anyone who pre-orders Assassin's Creed Syndicate and registers will receive 10,000 credits, and users can also perform activities like logging in daily and following Ubisoft on Twitter to earn more. These credits can then be redeemed for "digital fan kits" and other items.
Let's take a look at retailer-exclusive stuff next. This is all in addition to the two aforementioned bonuses, of course:
GameStop: One Shilling Necklace, a replica of the shilling coin that Jacob Frye, wears around his neck in Assassin's Creed Syndicate. 10% XP boost for 10 hours of gameplay after entering the code.
Best Buy: $10 in Reward Certificates and a 20% discount for Gamers Club Unlocked members.
It's also worth mentioning that PS4 users get access to ten exclusive side-missions called The Dreadful Crimes, which are centered around looking for clues using Eagle Vision, and interviewing witnesses. This is platform-exclusive content rather than a pre-order incentive, however.
Gold Edition
The Gold Edition of the game is $30 more expensive than the Standard one, and comes with a Season Pass which grants access to a "major expansion" and other digital content in the future, including exclusives.
Collector's Edition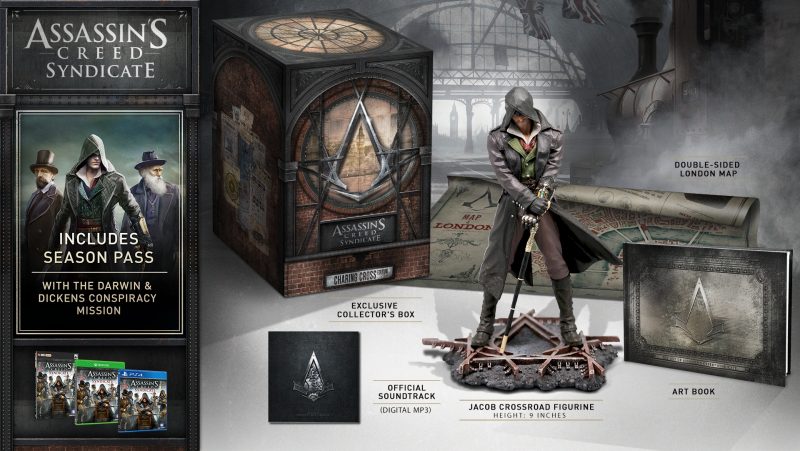 Available exclusively through Uplay in the US, this $119.99 Collector's Edition includes the following:
Collector's Box
Season Pass
Darwin and Dickens Conspiracy Mission
9″ Jacob Figurine
Map of London
Artbook
Official Soundtrack
Incidentally, its contents are nearly identical to that of the Charing Cross Edition offered in Europe, which will also be getting the cheaper Rooks Edition and more expensive Big Ben Edition. More information on these can be found at CollectorsEdition.org.
Debut trailer
The introductory video shows off those Victorian-era London aesthetics. The new rope launcher tool also makes an appearance.
The release date of Assassin's Creed Syndicate is set for October 23, 2015 worldwide for the two current-gen consoles. PC gamers will have to wait until November 19 to play the upcoming title.
Check out our other upcoming action games and upcoming pc games.