This game was released on August 28, 2020 and is no longer available to pre-order. Any incentives that were offered are listed below.
EA Sports' latest yearly installment of Madden brings more polished gameplay mechanics, new Superstar and X-Factor abilities, and a new season of Ultimate Team content. The single-player Face of the Franchise mode makes a return and will document the player's career from a quarterback in high school to College Football Playoff and NFL Combine. The cover athlete for the upcoming game is the Baltimore Ravens' superstar Lamar Jackson.
As is the case with the previous titles, you have several options when pre-ordering Madden NFL 21, and this time there are retailer-exclusive bonuses to boot.
Madden NFL 21 is now available on GamerSaloon – Where Gamers Play for Real Money.
Pre-order Bonuses
The following retailers have exclusive pre-order bonuses for Madden NFL 21. (If you make a purchase through the links below, we may get a share of the sale.)
Walmart – the Ravens Hall of Fame Pack including Ray Lewis, Ed Reed, and Shannon Sharpe: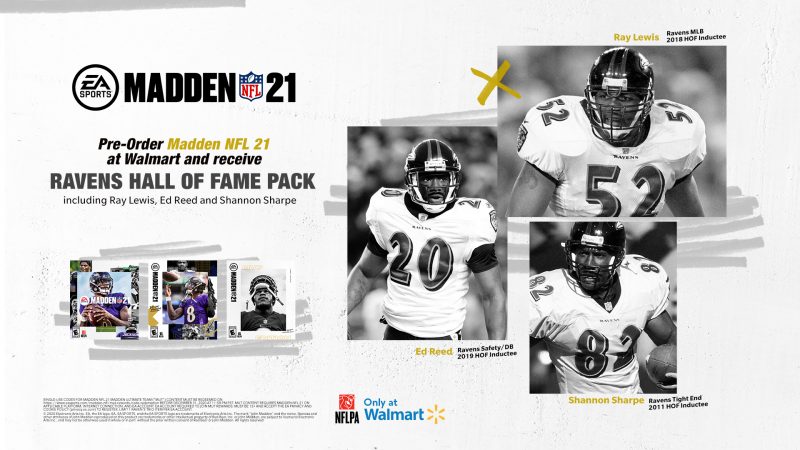 Best Buy – a free 3.5″ Funko Pop! figure of Lamar Jackson: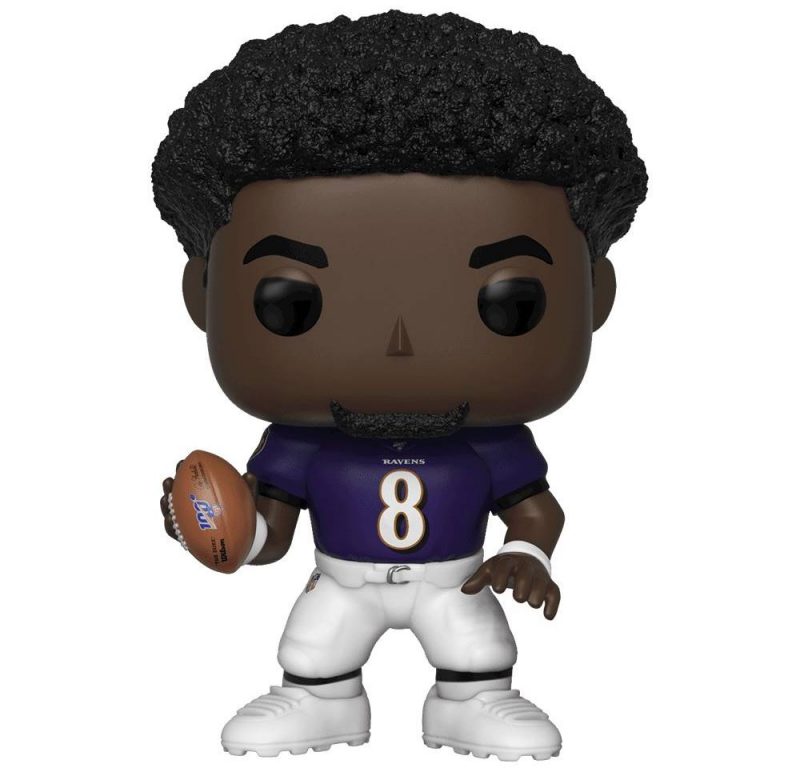 GameStop – Elite Tony Romo, a former Dallas Cowboys quarterback, in MUT: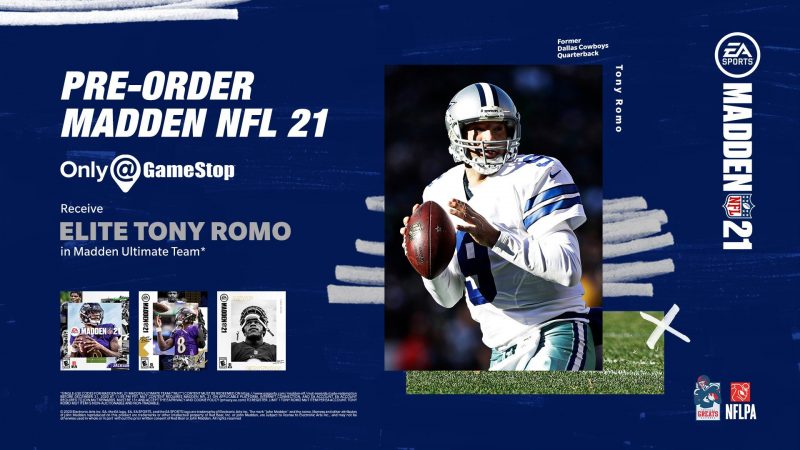 Target – the Bullseye Gold Pack including 5 Gold Players and 1 Core Elite Player in MUT:
We'll keep an eye out for more. Next, let's make our way up from the basic version to the two special editions.
Standard Edition ($59.99)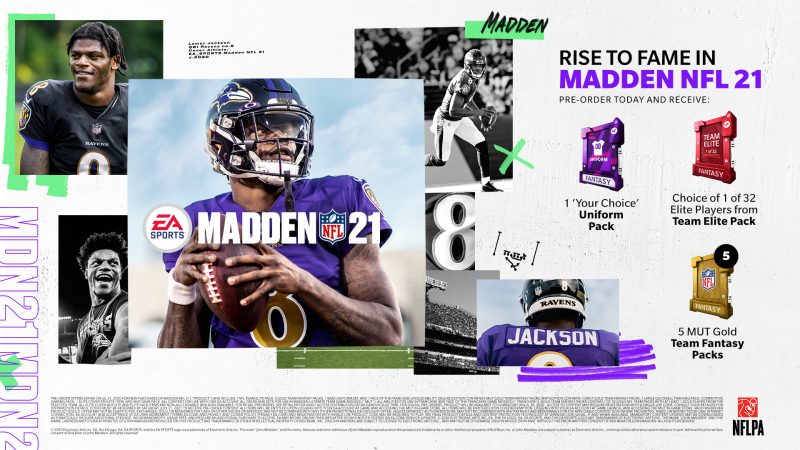 First off, we have the standard edition that costs $59.99 ($53.99 with EA Access). Pre-ordering it nets you the following generic bonuses:
1 "Your Choice" Uniform Pack

Choose 1 of 3 Superstar KO uniforms in Madden Ultimate Team

Your choice of 1 of 32 Elite Players from a Team Elite Pack
5 Gold Team Fantasy Packs

Choose 1 of 32 teams and receive 2 Gold or Better Players and 3 Silver or Better Players from it
Deluxe Edition ($79.99)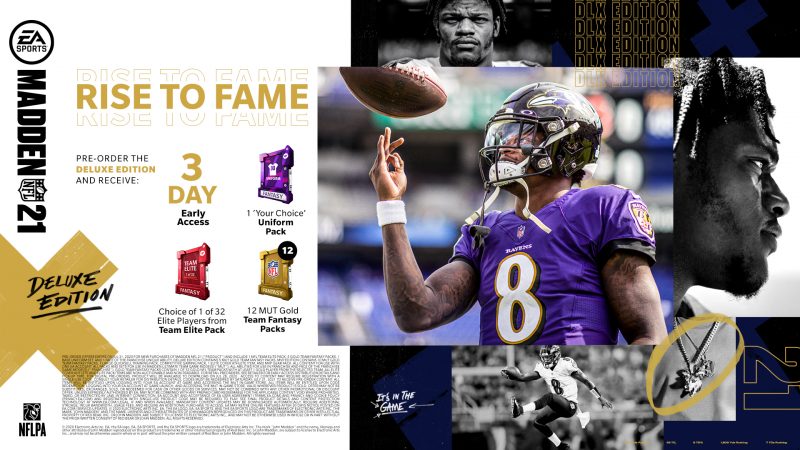 The Deluxe Edition pre-order costs $79.99 ($71.99 if you have EA Access) and contains the following:
3-Day Early Access
1 "Your Choice" Uniform Pack
Your choice of 1 of 32 Elite Players from a Team Elite Pack
12 Gold Team Fantasy Packs
MVP Edition ($99.99)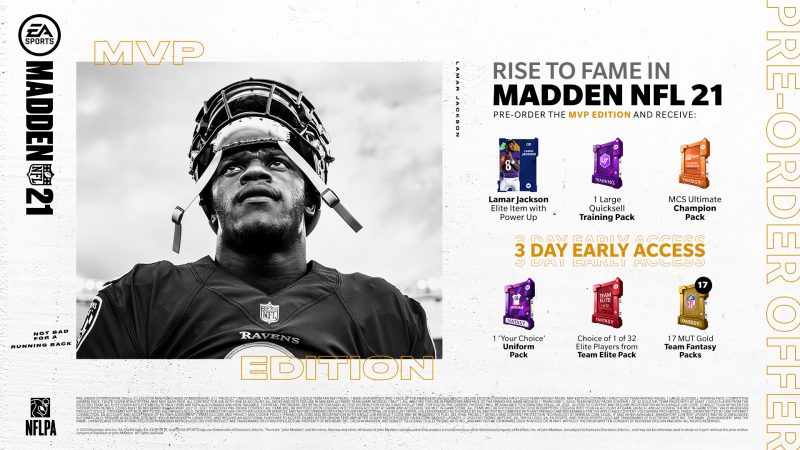 The MVP Edition is the ultimate Madden 21 package. It is priced at $99.99 but EA Access members can nab it for $89.99.
3-Day Early Access
1 Lamar Jackson Elite Player Item with Power Up
1 Large Training Quicksell Training Pack (1,150 Training)
1 MCS Ultimate Champion Pack

4 Madden 20 MCS Uniform Sets
4 Madden 4 Major Champions as Coaches

1 "Your Choice" Uniform Pack
Your choice of 1 of 32 Elite Players from a Team Elite Pack
17 Gold Team Fantasy Packs
The release date of Madden NFL 21 is set for August 28, 2020. The game will be out on PlayStation 4, Xbox One, Google Stadia, and PC (which for the first time includes not just Origin but also Steam).
Check out our other upcoming sports games and upcoming pc games.