This game was released on March 13, 2018 and is no longer available to pre-order. Any incentives that were offered are listed below.
Pure Farming 2018 is a farming simulator developed by Polish studio Ice Flames and published by Technland. According to the official website, the game includes almost all aspects of modern farming: animal husbandry, field cultivation, orchards, greenhouses, and so on. The vehicles used in the game are officially licensed and faithfully recreated, and include brands like Zetor, Landini, McCormick, Kärcher, Mitsubishi, and others.
Players may farm in four different continents and grow region-specific crops (specific locations are Italy, Colombia, Japan, and Montana, with one more available as a pre-order bonus). There are three different game modes: free farming, learning the basics of agriculture, and testing one's skills in objective-based challenges.
Pre-order Bonuses
Reserving a copy of Pure Farming 2018 grants you the Germany Map DLC, which is set in Bavarian countryside and includes region-specific activities such as growing rapeseed and raising sheep. Additional bonuses are available from the following retailers and digital storefronts:
GameStop: Lindner Geotrac 134ep and Gomselmash Palesse CS-200 vehicles.
Amazon: Lindner Geotrac 134ep vehicle.
Gemly*: Orange Plantation and JCB Large Wheeled Loader 435S vehicle.
Steam: Landini Rex F vehicle.
*Techland's own recently-launched digital distribution platform.
Digital Deluxe Edition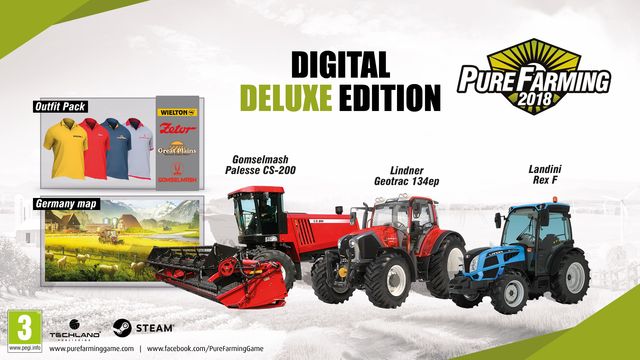 There's also a digital Deluxe Edition ($39.99) which includes all of the following DLC:
Germany Map
Landini Rex F tractor
Lindner Geotrac 134ep tractor
Gomselmash Palesse CS-200 mower
Special Outfit Pack
Pre-purchasing from Gemly adds the aforementioned Orange Plantation and JCB Large Wheeled Loader 435S vehicle on top of these, making it the most complete edition available.
Pure Farming 2018 is scheduled to be released on March 13, 2018 for current-gen consoles and Windows PCs.
If you want to learn more about Farming games we recommend you to read our review Farming Simulator 22.
Check out our other upcoming simulation games and upcoming pc games.