This game was released on May 23, 2019 and is no longer available to pre-order. Any incentives that were offered are listed below.
Total War: Three Kingdoms is a strategy game developed by Creative Assembly and published by Sega. Like the previous titles in the franchise, it combines turn-based empire building with massive real-time battles.
Set in ancient China, Total War: Three Kingdoms puts the player into the shoes of one of eleven legendary warlords – such as Cao Cao, Liu Bei, and Sun Jian – aiming to unite the fractured land under their rule and establish the next great dynasty. The default campaign is based on the Romance of the Three Kingdoms, a highly romanticized account of the time period, which means plenty of character drama and heroes who can turn the tide of battle using nigh-supernatural abilities. On the other hand, there is also a Classic Mode option for those who prefer a more realistic experience closer in spirit to the past historical Total War installments.
Pre-order Bonuses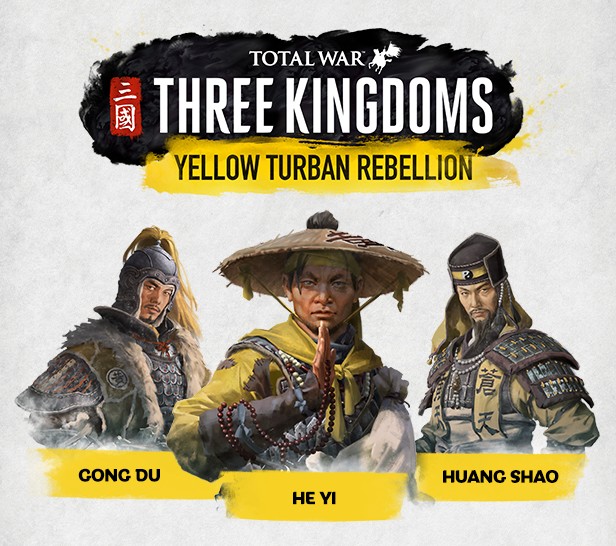 An early adopter bonus – the Yellow Turban Rebellion Warlord Pack DLC – will be given out to those who pre-order Total War: Three Kingdoms or buy it within the launch week. The pack portrays a countrywide peasant uprising against Emperor Ling of the Han Dynasty and his court of corrupt eunuchs, which takes place shortly before the events in the main campaign. The highlights are:
Three new playable warlords: He Yi, Gong Du, and Huang Shao.
Three new hero classes: Healer, Scholar, and Veteran.
A versatile unit roster composed of a cross-section of society: militias formed from the downtrodden masses fight alongside disgruntled soldiers, religious zealots, and former officials.
Brand new approach to technology focusing on interpreting the "Three Books of Great Peace".
New character skills focused on the three virtues of Taoism: Frugality, Compassion, and Humility.
New weapons and armor suitable for the new heroes.
The bonus is available at every SEGA-authorized retailer, which includes Steam and many others. It will be possible to purchase the Yellow Turban Rebellion pack separately after the promotion ends.
Limited Edition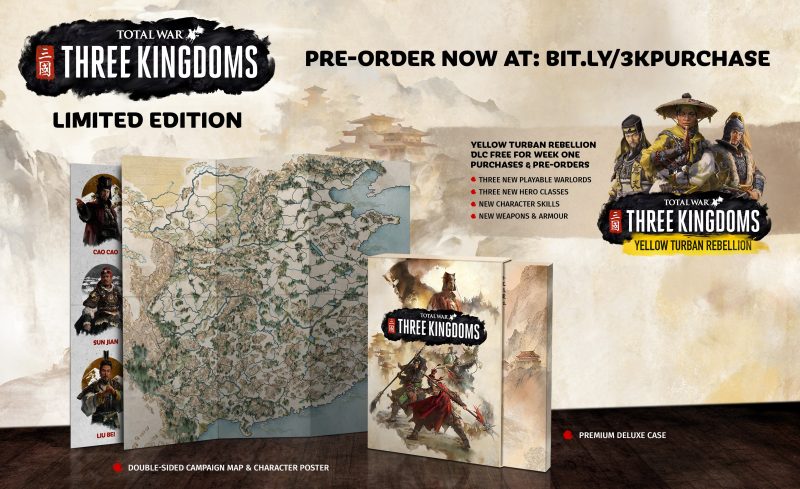 The physical Limited Edition includes these extras:
Premium Deluxe Case: made of authentic calligraphy paper adorned with box-art that masterfully melds painterly Chinese watercolour and ink effects.
Double-Sided Campaign Map and Warlord Poster: one side outlines the vast geography of China as it sits before you, the other introduces you to the varied characters and playstyles at your disposal.
Yellow Turban Rebellion Warlord Pack DLC (with pre-order or week one purchase).
Collector's Edition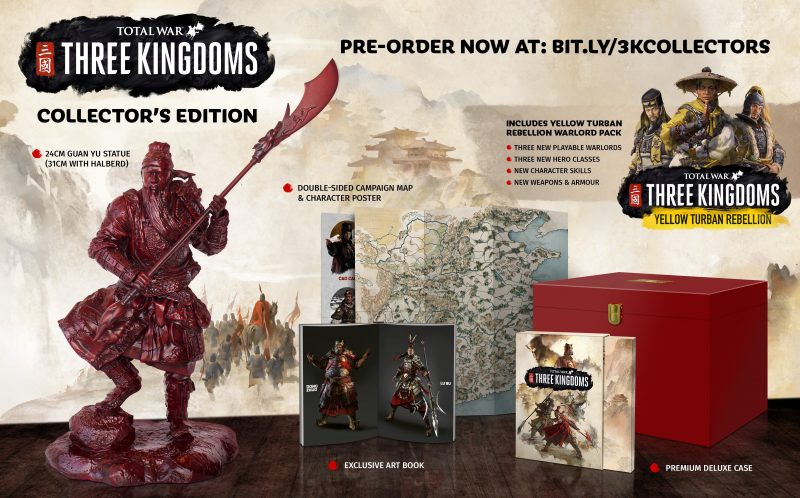 The Total War: Three Kingdoms Collector's Edition will be produced in a single production run. It is available exclusively through the Total War store for $159.99, and comes with the following on top of the game itself:
24 cm resin Guan Yu Statue
Exclusive Art Book
Premium Deluxe Case
Double-Sided Campaign Map and Warlord Poster
Yellow Turban Rebellion Warlord Pack DLC (with pre-order or week one purchase).
After a two-month delay to polish the game and improve the localisations, Total War: Three Kingdoms will now be out for Windows PCs on May 23, 2019. Publisher Feral Interactive will handle the game's release on macOS and Linux that will follow shortly afterwards.
Check out our other upcoming strategy games and upcoming pc games.