This game was released on September 12, 2017 and is no longer available to pre-order. Any incentives that were offered are listed below.
Ys VIII: Lacrimosa of DANA is an action RPG developed by Nihon Falcom and localized by NIS America for the Western markets. The game comes with dual audio, and includes English and French subtitles.
Like several other Ys games, it begins with the protagonist Adol Christin getting shipwrecked and stranded on a cursed island. Forming a village together with the other shipwrecked passengers, he sets out to unravel the secrets of the cursed isle and the blue-haired maiden Dana who haunts his dreams.
Pre-order Bonuses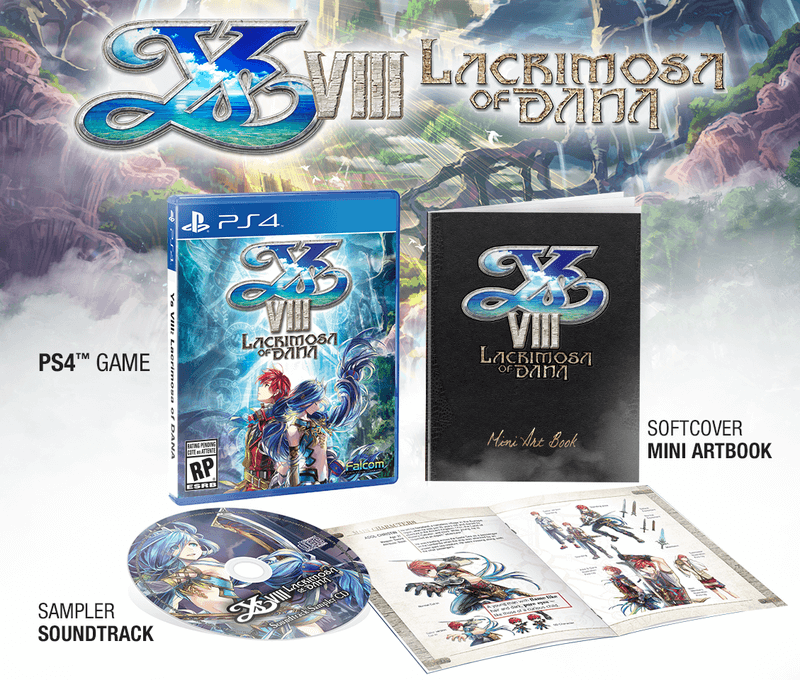 A special retail Launch Edition of Ys VIII: Lacrimosa of DANA is available exclusively for the PS4. This version comes with a 32-page softcover art book featuring art work and more details about Adol and his companions, and a five-track soundtrack sampler. It also includes a reversible cover voted by fans. These first-run copies will be available while supplies last, which means you might want to pre-order the game to secure your Launch Edition, or purchase it shortly after the release.
Meanwhile, digital pre-orders for PlayStation 4, PS Vita, and Steam will be getting Adol's Adventure Essentials DLC bundle, which will also be available for free for one week after launch:
Adol's Silver Armor: the memorable, original armor he wore in Ys.
Adol's Adventurer Clothes: jaunty clothing Adol wears on his adventures around the world.
Adol's Survival Kit: items that are useful when adventuring on a deserted island. Includes Blade Ring II (x1), Empty Bottle (x1), and Iron Ore (x10).
Additionally, pre-purchasing the game on Steam grants a digital mini-artbook and a soundtrack sampler with five tracks. Doing so on PSN also grants the soundtrack sampler, plus 7 Avatars and a PS4 Theme.
Limited Edition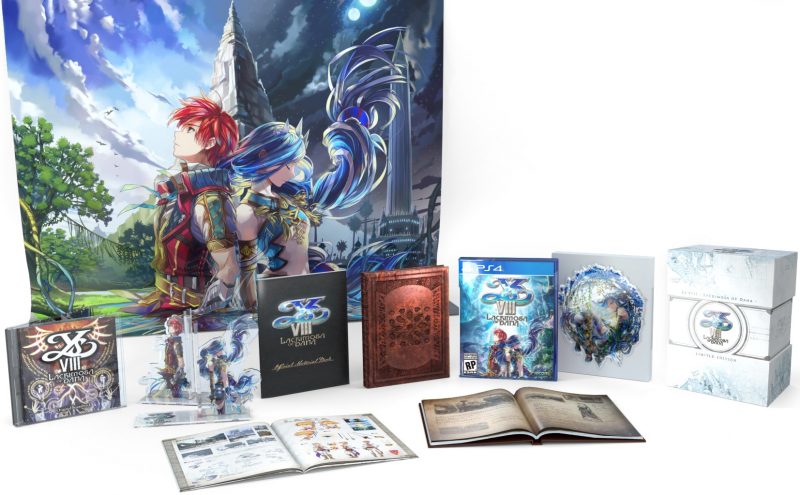 The Limited Edition of Ys VIII: Lacrimosa of Dana is available for PlayStation 4 ($99.99) and PS Vita ($79.99) from the NISA Online Store. In addition to the game itself, this edition includes:
Collector's Box
Steelbook® Collector's Case
Original soundtrack featuring 15 of the game's most memorable tracks
Hardcover Book "The Codex of Adol Christin: Periplus of the Goethe Sea Writing Materials"
Softcover Art Book
Acrylic Bookends
Cloth Poster (33″ x 40″)
Ys VIII: Lacrimosa of DANA is set to launch on September 12, 2017 for PlayStation 4 and PS Vita. The Windows version, originally slated for a simultaneous release, has been delayed due to "efforts to improve gameplay quality", according to the publisher.
Check out our other upcoming action games and upcoming pc games.