Below, we show you some of the best gaming TV stands along with some guidance on which is the right one for you.
In fact, we've got an option for you whether you're a family man, looking to organize your gaming area for the occasional game, or in college, tight on space and gaming every day.
Let's dive in! 
(If you make a purchase through these links, we may get a share of the sale.)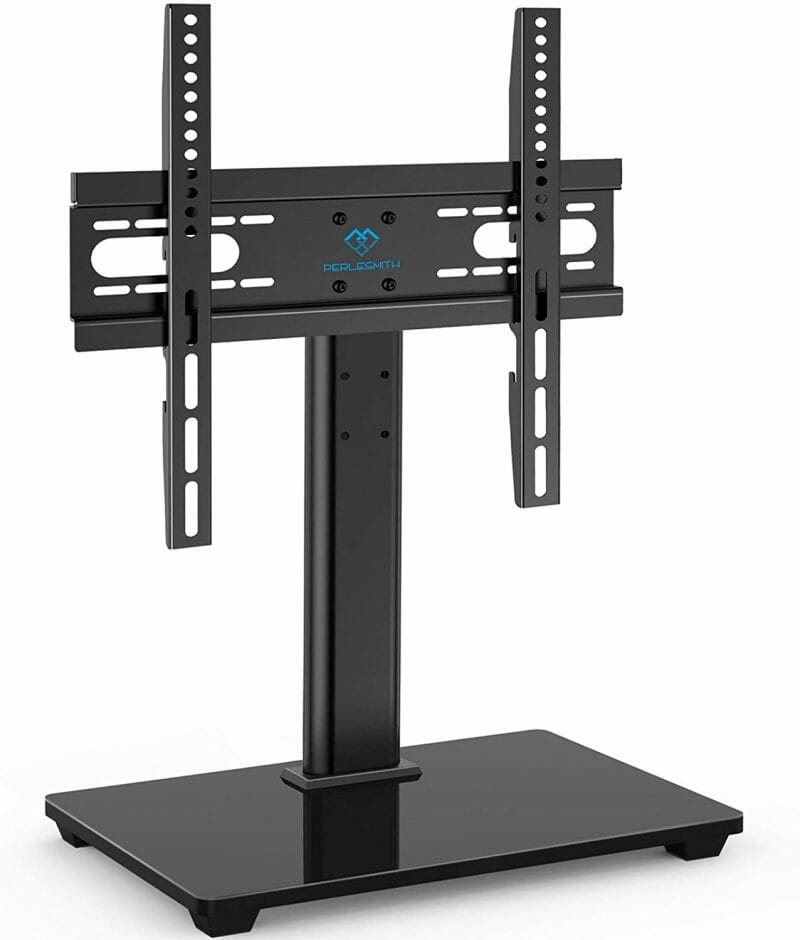 This top-quality gaming TV stand works with most flatscreen TVs whether they come with or without a VESA mount. The height is adjustable, and you can adjust it at 3 height levels according to your TV size. 
The installation is quite easy, and you will be ready to start gaming in a few minutes. Use the installation guide for a hassle-free 15-minute setup.
The craftsmanship is excellent! The tempered glass frame and ultra-durable steel can support up to 88 pounds. This makes it a good fit for your giant TV up to 55 inches. This universal TV stand is compatible with all leading television brands. 
And the best part is the 10-year warranty and the excellent customer service.
PERLESMITH Universal TV Stand Features:
Type – Table mount
Color – Black
Compatible Size – 37-55 inch television; 88 pounds
Construction – Tempered glass and steel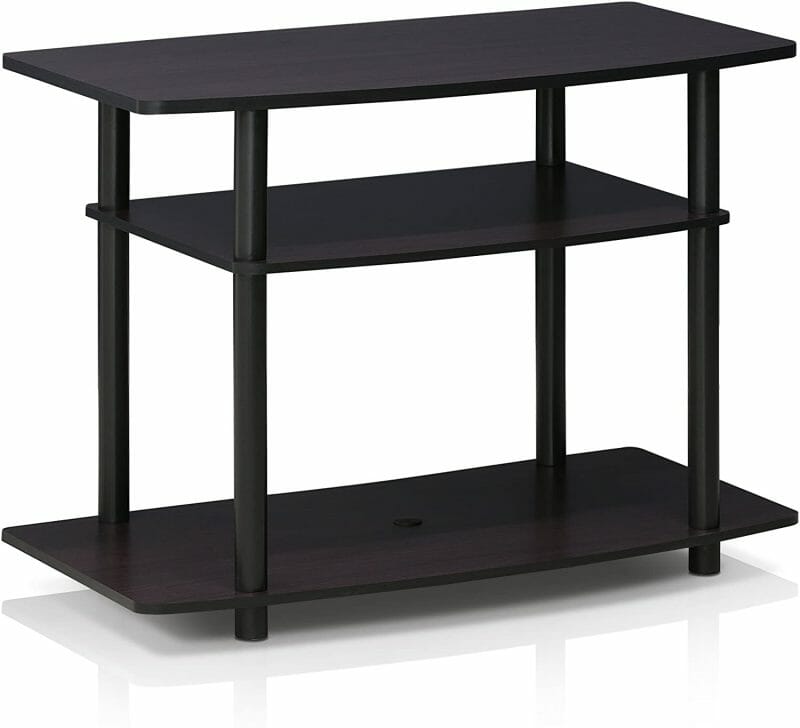 The FURINNO Turn-N-Tube offers a classic look and is very affordable. 
For a very reasonable price, you get all the features you need for a gaming TV stand. The product includes one top shelf and two bottom shelves for your television, games, and gear. 
The simple and stylish design is made from PVC tubes and composite wood. The rounded edges give a modern, sleek look and feel that will fit in any room. The simple tool-free assembly will take all of ten minutes, and you can start your gaming right away. 
The rounded edge design helps prevent potential injuries for children.
FURINNO Turn-N-Tube Features
Type – Console hub
Color – Dark walnut
Compatible Size – Up to 32-inch television; 50 pounds
Construction – Composite wood & PVC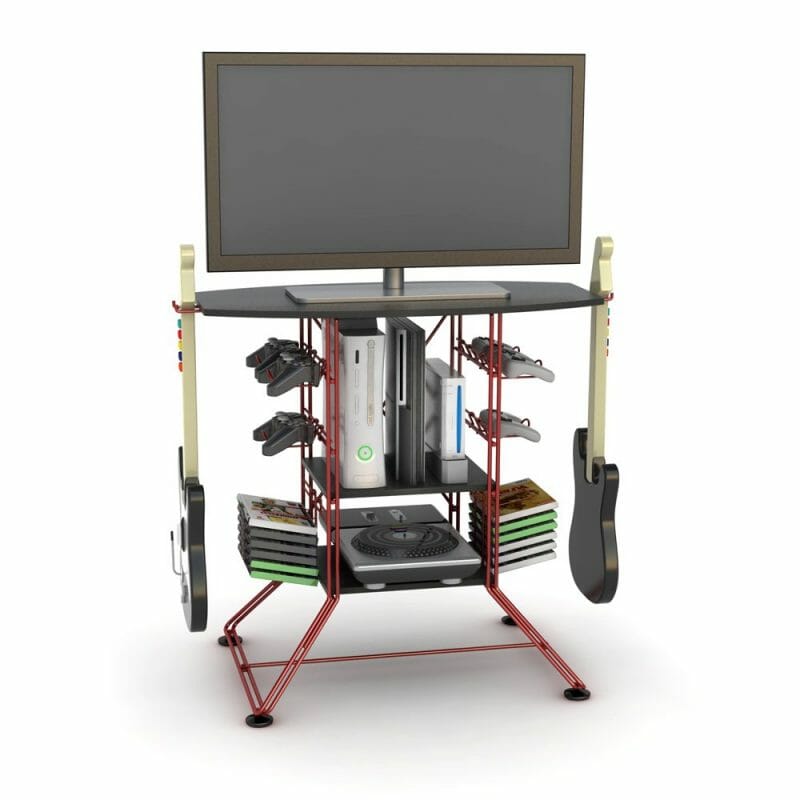 If you have a small TV, this is the best gaming TV stand for you!
The Centipede is designed for console games. The steel wire used as the primary material makes it very strong and reliable. It will stand through any angry rampages following a 0-10 death spree. 
This gaming stand has a middle shelf for 3 consoles, 4 controller holders, and game racks on both sides. Altogether this stand can hold twelve games. You also get a spot to hang your headphones. The minimal assembly makes it easy to set up, and you will be done with it very soon. 
Atlantic Centipede Game Storage and TV Stand Features
Type – Console hub
Color – Red
Compatible Size – Up to 37-inch television; 80 pounds
Construction – Double wireframe and PVC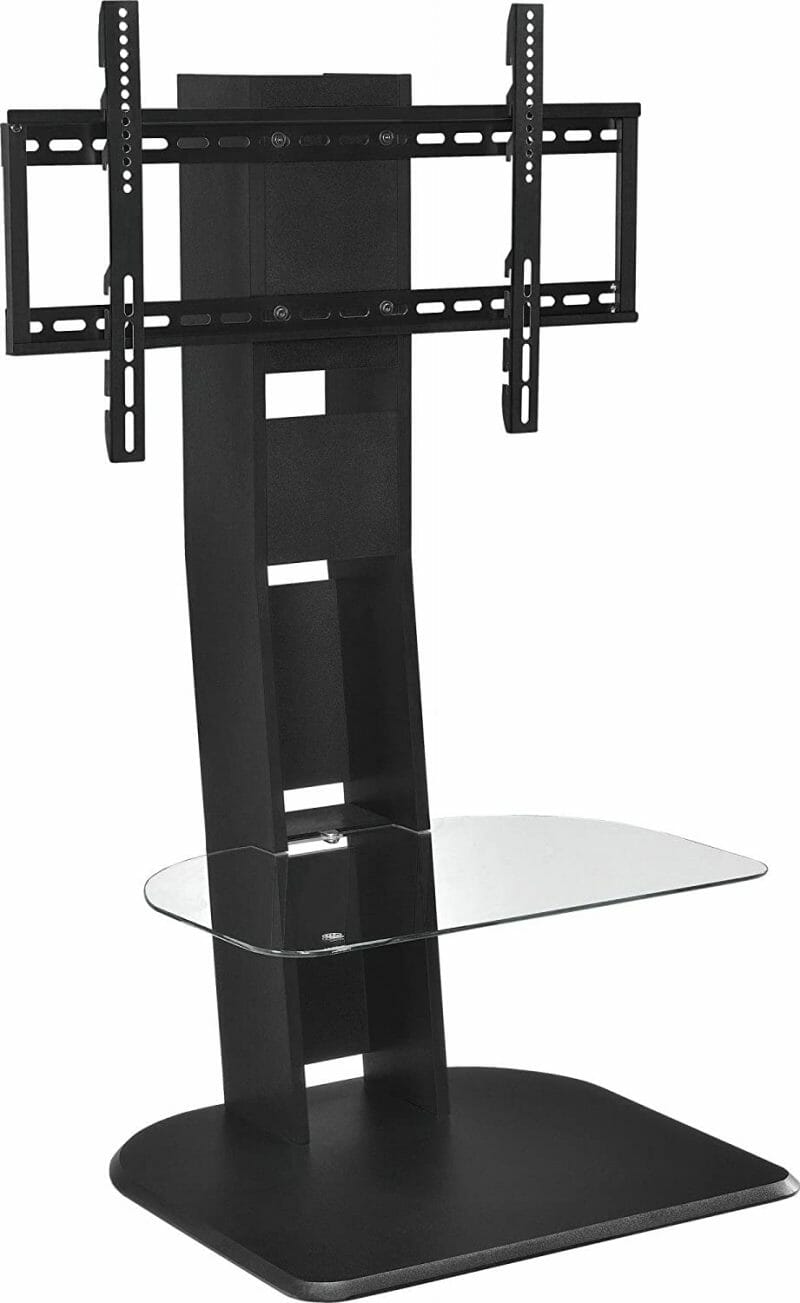 The best gaming TV stand for a small TV!
Note: If you have a huge TV, you may want to go with the Ameriwood Galaxy instead.
This black gaming TV stand has a mounting option and fits a 50-inch television with a 70-pound weight capacity. You can add it to your family room, living room, or dorm. 
The two storage cubbies and two fixed shelves will make your organization very simple. For assembly, you may need someone to help. 
The glass shelf accentuates the smooth black finish. The construction material includes laminated MDF and particleboard, a tempered glass shelf, and a metal mount. You may want to be careful with the glass shelf in case some wrestling action is part of your gaming routine.
Ameriwood Galaxy TV Stand Features
Type – Console hub
Color – Black
Compatible Size – Up to 42-inch television; 100 pounds
Construction – Glass surface; steel and wood frame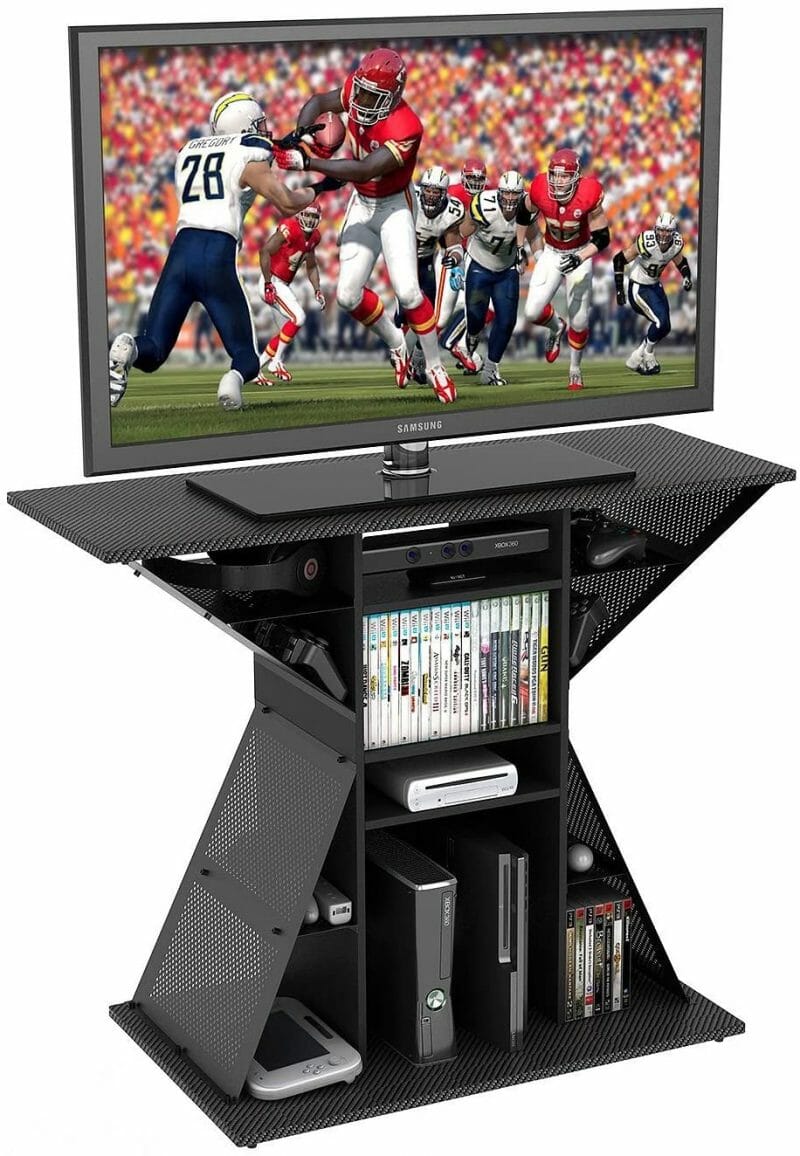 The best unit for a dorm room!
The Atlantic Phoenix has a TV mount that can rotate 120 degrees. This lets you adjust the viewing angle for watching movies and gaming. 
Using this gaming tv stand with a mount, you can mount a 42-inch television that weighs up to 100 pounds. The shelving is quite spacious, with dedicated spots for 6 games, 2 controllers, and 3 consoles. You also get a cage for the power strip. 
One amazing feature of this gaming TV stand is its adjustability that ranges from 22 inches to 50 inches high. This means that you can adjust it for the right height you prefer while gaming from your couch or chair. 
Atlantic Phoenix TV Gaming Stand Features
Type – Console hub
Color – Black
Compatible Size – Up to 42-inch television; 100 pounds
Construction – PVC, steel x-leg frame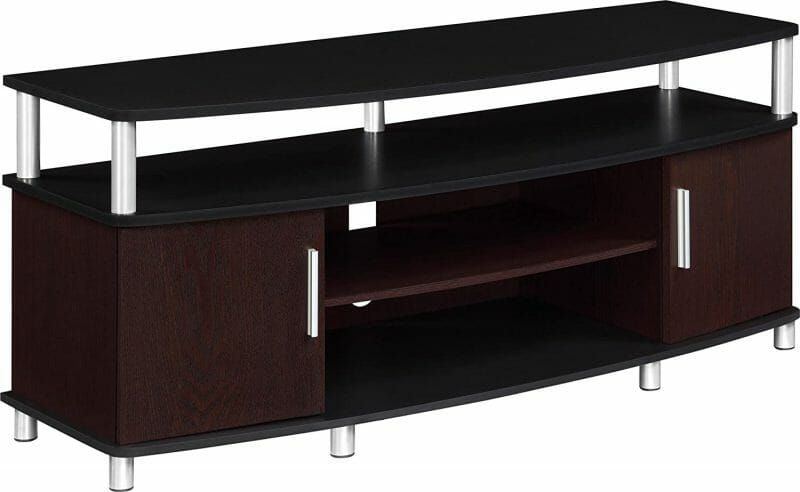 The best under $100 gaming TV stand!
The Carson is an excellent all-purpose unit built on a sturdy metal frame. This very popular, best-selling television stand has two qualities. It is very affordable and features a very smart design optimized for cable management and shelving. It looks quite amazing too.
Two large center shelves have doors on either side with additional storage space. The color option matches quite nicely with the chrome. This trendy stand gives you lots of space for your entertainment components.
Its capacity is pretty amazing too, which is up to a 50-inch television. There is a larger version of the same unit for televisions up to 70 inches. This one is a bit higher priced, but if you have a 70-inch TV, you can probably spend a bit more on the stand. 
Your flatscreen will look gorgeous on this gaming TV stand!    
Ameriwood Carson TV Stand Features
Type – Entertainment center
Color – Cherry
Compatible Size – Up to 50-inch television; 120 pounds
Construction – Laminated MDF and particleboard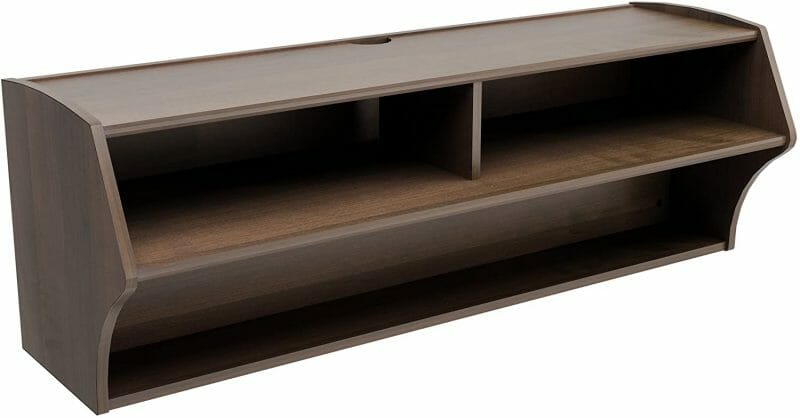 The best option for a floating television stand!
This wall-mounted console has a very smart design. The two shelves have a 15-inch depth and can store your cable boxes, gaming consoles, and other gaming equipment. The lower shelf has ample space to place your DVDs, games, and Blu-Rays. 
The unit comes with a very easy hanging rail system. You can do it very easily by yourself, even if you are not that much of a handyman. The cut-outs at the back will keep your cables out of sight for a minimalistic, clean look. 
You can place it below your already mounted television, and it will complement it well. 
Espresso Altus Wall Mounted Features
Type – Console hub
Color – Espresso
Compatible Size – Up to 53-inch television; 90 pounds
Construction – Laminated composite wood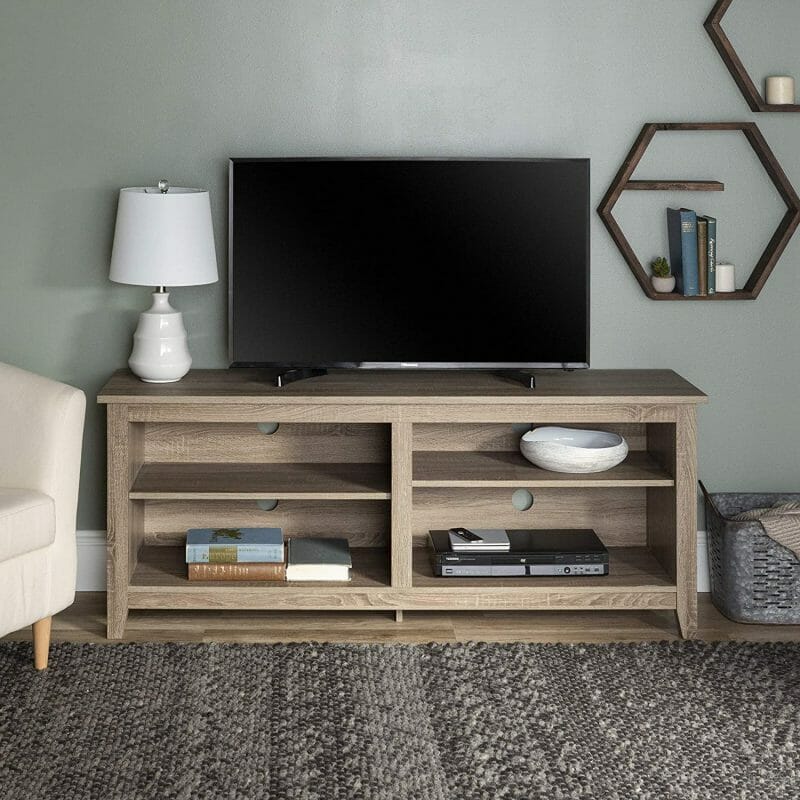 The best unit for a multi-purpose television stand!
This multi-purpose stand is available in a variety of colors to go with your decor. The white gaming TV stand is especially nice. This perfect gaming TV stand will store your gaming equipment very conveniently. 
The shelves can be adjusted according to your equipment sizes. The sturdy panels can support 250 pounds of equipment. The cable cut-outs make it easy to maintain a clutter-free look.
The unit comes ready-to-assemble with simple instructions. All you need to do is take your console out and get started.
WE Furniture Wood TV Stand Features
Type – Entertainment center
Color – Driftwood
Compatible Size – Up to 60-inch television; 150 pounds
Construction – Laminate surface, MDF frame
Getting the right gaming TV stand will help you get the perfect viewing angle while gaming and will also double as storage space for your console, controllers and games. We all know how frustrating it is having to find a game or controller when all you want to do is just play!
And as a bonus, a sexy gaming setup can make your friends jealous ????