This game was released on January 18, 2019 and is no longer available to pre-order. Any incentives that were offered are listed below.
Ace Combat 7: Skies Unknown is a combat flight simulator developed and published by Bandai Namco. It is the first installment in the Ace Combat series to use the Unreal Engine 4, and is said to boast the most engaging aerial battles in the franchise's history. Some of the game's missions are developed exclusively for the PlayStation VR.
Like its predecessors, Ace Combat 7 features modern and near-future weapons, but is set in an alternate universe, where a war has broken out between the Osean Federation and the Kingdom of Erusea. The player takes on the role of an Osean pilot bearing the callsign "Trigger", who fights against against Erusea's drones.
Pre-order Bonuses

Pre-order Ace Combat 7: Skies Unknown for any platform to receive the following bonus content:
F-4E Phantom II playable aircraft
Three popular aircraft skins from past titles (Su-37: Yellow 13, F-14D: Razgriz, and F-15C: Pixy)
Additional bonuses are available for both consoles:
Xbox One: a digital copy of Ace Combat 6: Fires of Liberation
PlayStation 4: a digital copy of Ace Combat 5: The Unsung War (not a remaster, but a straightforward port with upscaled resolution) plus a Dynamic Theme
Lastly, GameStop is offering an exclusive, limited edition 3″ Pilot Wings metal pin: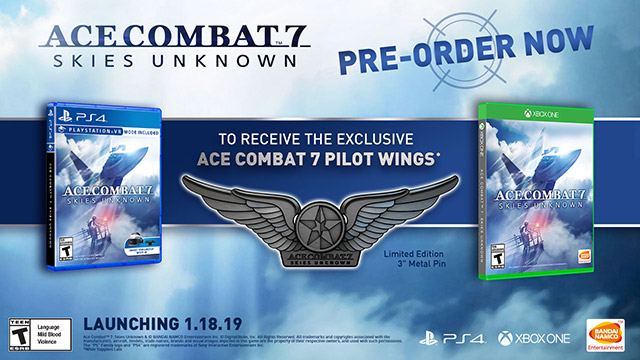 Deluxe Edition ($84.99)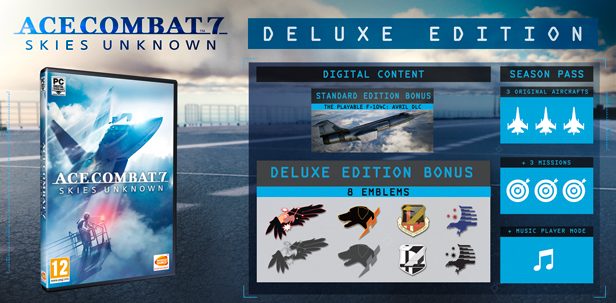 The digital Deluxe Edition comes with the following extras on top of the full game:
Season Pass (contains six additional content packs)
8 Emblems (Aquila, Aquila: Low Vis., Wardog, Wardog: Low Vis., Garuda, Garuda: Low Vis., Gryphus, Gryphus: Low Vis.)
Aces at War Bundle ($89.99)
The Aces at War Bundle is produced in limited quantities and available exclusively from the official Bandai Namco Store. In addition to the game itself, it adds the following two items:
Exclusive Ace Combat 7 Steelbook
150-page art book "Aces at War: A History 2019" containing illustrations, interviews, and four short stories
Ace Combat 7: Skies Unknown takes off on January 18, 2019 for the consoles, and February 1, 2019 for the PC.
Check out our other upcoming action games and upcoming pc games.