This game was released on February 12, 2013 and is no longer available to pre-order. Any incentives that were offered are listed below.
Aliens: Colonial Marines is an upcoming first person shooter game based on the popular Alien movie series. It is developed by Gearbox Software and published by Sega. The game takes place after the events in Alien 3, and puts the players into the shoes of Corporal Christopher Winter whose team is tasked with investigating spaceship U.S.S. Sulaco and rescuing any survivors.
Pre-order bonuses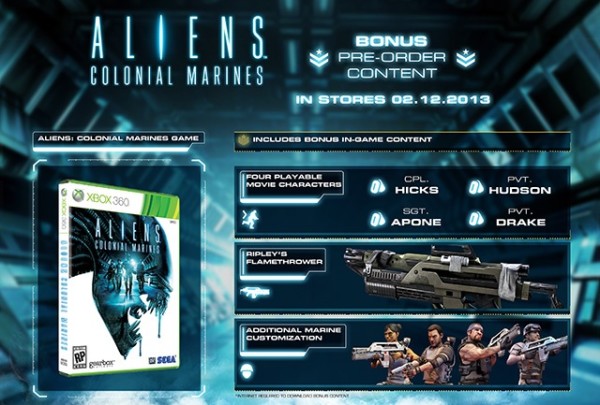 Pre-order Aliens: Colonial Marines at GameStop to receive an exclusive Competitive Multiplayer Pack which includes the following:
Four Playable Movie Characters: Private Hudson, Corporal Hicks, Private Drake and Sergeant Apone.
Additional Marine Customization
Ripley's Flamethrower
Walmart also prepared an exclusive bonus: reserve your copy there to get the "Bug Hunt" co-op multiplayer mode which pits players against increasingly stronger waves of Xenomorphs. This mode will be released as a DLC pack in March 2013, and players who won't receive it for free will be able to purchase it on Xbox Live, PSN, or Steam.
Collector's edition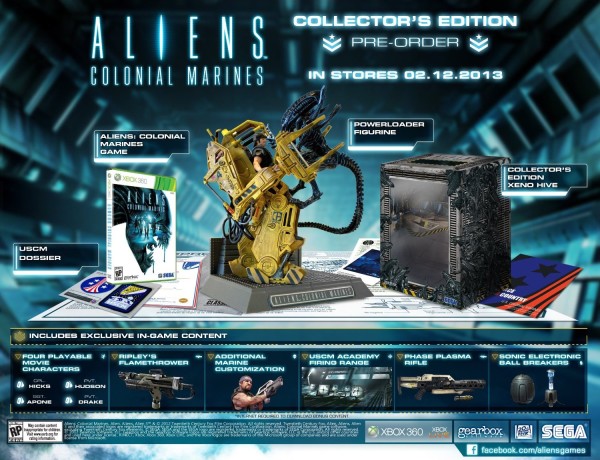 The game is also available in a Collector's Edition which costs $99.99 and comes with the following:
Xeno Hive Box
Powerloader Figurine
Exclusive Level: USCM Academy Firing Range
Exclusive Multiplayer Weapons: Sonic Electronic Ball Breakers & Phase Plasma Rifle
USCM Dossier: Mission Brief, USS Sephora Schematic, Recruitment Card, LV-426 Recon Photo, USCM Iron-on Badges, and USCM Graduation Certificate.
If you reserve the CE at GameStop, you will also get the aforementioned pre-order bonuses. Otherwise, the Collector's Edition of Aliens: Colonial Marines can also be found on Amazon and Best Buy.
Story trailer
Look forward to intense action and gritty realism in the single-player campaign of Aliens: Colonial Marines:
The game is scheduled to be released on February 12th, 2013 for major consoles, Windows PCs, and the cloud gaming service OnLive.
Check out our other upcoming horror games and upcoming pc games.