This game was released on November 17, 2022 and is no longer available to pre-order. Any incentives that were offered are listed below.
Taking Place on the Italian and North African fronts of World War II, Company of Heroes 3 is a real-time tactical strategy game developed by Relic Entertainment and published by SEGA. Company of Heroes 3 brings exceptional action, strategy, and tactical gameplay to your doorstep as the legendary strategy franchise returns for another round this time in the Mediterranean theatre.
Command troops on the ground as a general and oversee all your plans and tactics unfold in real-time in the beautiful Mediterranean front riddled with untold war stories yet to be experienced.
The beautiful terrain offers new gameplay opportunities outside of just visuals as the sandy deserts and the beautiful coastal vistas pose a significant strategic challenge and require different approaches to ensure victory.
With the new Essence engine, environments become more dynamic and respond to damage which you can use to your advantage as buildings are collapsible, causing damage to the enemy and allowing you to occupy them for cover.
Pre-order Bonuses
If you make a purchase through these links, we may get a share of the sale.
Company of Heroes 3 Physical Premium Edition ($89.99)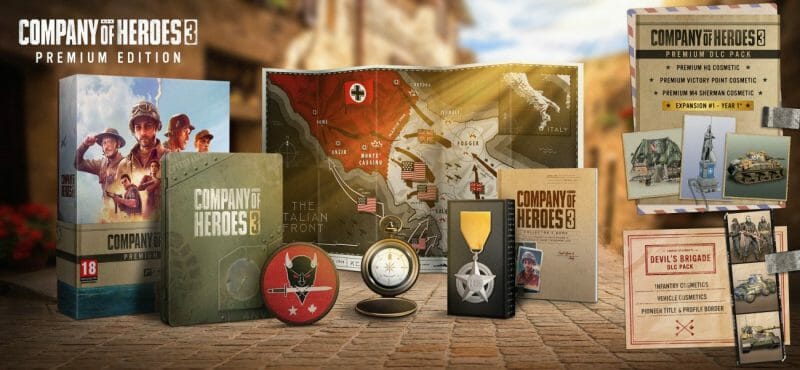 The Physical Premium Edition of Company of Heroes 3 comes with a physical copy of the game, in-game digital content plus physical merchandise. included in the pack are:
Devil's Brigade DLC Pack
Pioneer title & profile border [Legendary]
Premium DLC Pack
Expansion Pack #1 [Coming 2023]
Limited Edition Packaging
Devil's Brigade Embroidered Patch
Double Sided Map
Collector's Book
Metal Case
Premium Service Medal
Premium Pocket Compass
Premium Big Box
Windows PC
Company of Heroes 3 will be released on November 17th, 2022, and will be playable on Windows PC.
Check out our other upcoming strategy games and upcoming pc games.