This game was released on December 09, 2022 and is no longer available to pre-order. Any incentives that were offered are listed below.
Explore a fantastically brilliant world on your journey to find treasure in Dragon Quest Treasures. Take control of Erik or his sister Mia as they are transported to the sprawling world of Draconia. After coming across two otherworldly creatures, their lives get a whole lot more interesting as they finally get to live out their dreams of exploring and discovering vast treasures.
Dragon Quest Treasures is an action-adventure role-playing game developed and published by Square Enix and will be playable on Nintendo Switch this winter.
The massive world of Draconia, a region made up of six stunning islands, is your playground and is the setting for your grand adventure.
On your way, come across unique creatures that you can recruit to help you in your journey. Use their magical abilities to maneuver through the world as you search for the legendary Draconian treasure.
Pre-order Bonuses
If you make a purchase through these links, we may get a share of the sale.
Dragon Quest Treasures preorder bonus ($59.99)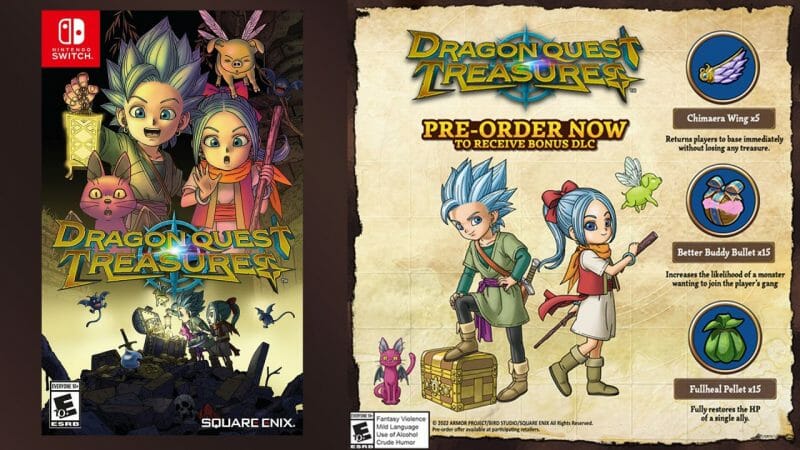 Dragon Quest Treasures comes with a standard preorder bonus that gets you some exclusive in-game items to help you in your travels, the bonus includes:
x5 Chimaera Wing
x15 Better Buddy Bullet
x15 Fullheal Pellet
Dragon Quest Treasures Digital Deluxe Edition ($64.99)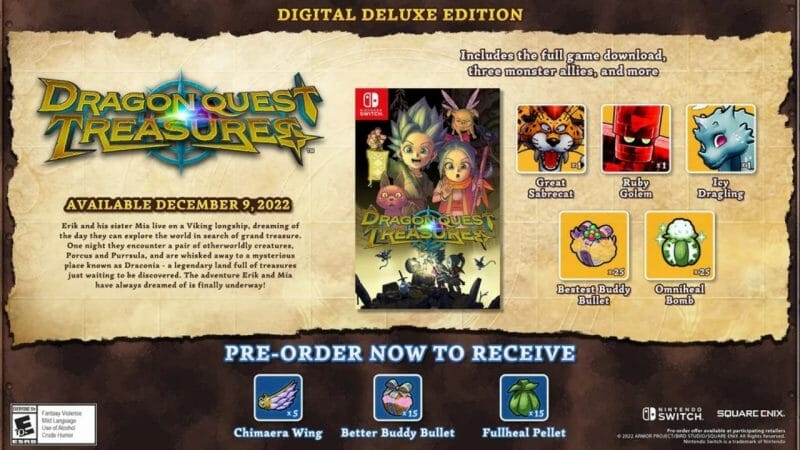 The Digital Deluxe Edition of the game is the most content-filled version of the game and comes with a set of exclusive in-game items on top of the preorder bonus such as:
x1 Great Sabrecat
x1 Ruby Golem
x1 Icy Dragling
x25 Bestest Buddy Bullets
x25 Omniheal Bullets
Nintendo Switch
Dragon Quest Treasures will be released on December 9th, 2022, and will be playable on Nintendo Switch.
Check out our other upcoming action games and upcoming nintendo switch games.