This game was released on November 11, 2014 and is no longer available to pre-order. Any incentives that were offered are listed below.
AC Unity is an upcoming installment in the highly popular Assassin's Creed series by Ubisoft. Set in Paris during the French Revolution, it follows Arno Dorian, a young man who joined the Order to avenge the murder of his adoptive father and find the instigators of the bloody revolt. Armed with deadly weapons like the new Phantom Blade (a Hidden Blade with a small crossbow which shoots poison darts), Arno quickly rises through the ranks of the Assassins and uncovers new details about his father's death.
Assassin's Creed Unity is the first game in the franchise to include skill trees, and there's even more customization options available in the form of gear which adds various stats and bonuses to your character. This allows the player to develop their own unique playstyle, and becomes especially important in the co-op mode, where each member can bring something useful to the group. If you want to build the ultimate character, though, never fear: the devs have confirmed that it is possible to unlock all the skills in a single play-through, although that will take a lot of quests and exploration.
Pre-order bonuses
First off, you got two bonuses which are available with all Assassin's Creed Unity pre-orders: the Chemical Revolution mission, and a weekly lottery where you spin the wheel on Ubisoft's website to win various prizes. Then there are the exclusives, which are available at the following retailers:

Amazon: Armor Splitter Axe, for those who like to get up close and personal.
GameStop: Razor Head Spear designed to penetrate even the toughest armor.
Walmart: Maple Hunting Rifle, a long-rage and high-accuracy weapon.
Best Buy: Over/Under Pistol, perfect for a medium-range shootout.
Collector's edition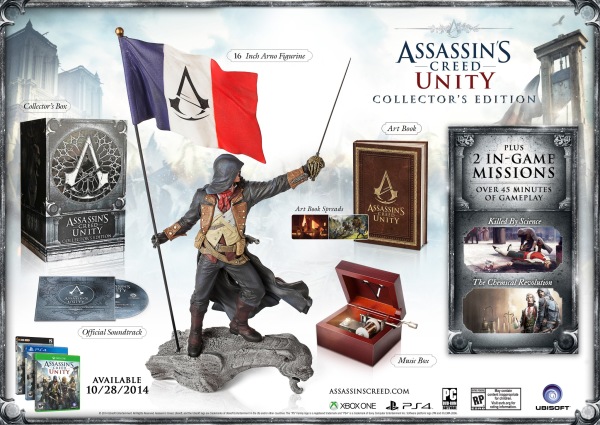 Priced at $130, this premium edition includes two bonus missions, a 16″ Arno figurine, official soundtrack, artbook, and a music box which plays the main theme of the game.
Cinematic trailer
After a small delay, Assassin's Creed Unity is now scheduled to launch on November 11, 2014. Developed for next-gen consoles and PCs, the game is unconstrained by the technological limits of the older platforms, and features beautiful environments as well as thousands of NPCs on screen for a realistic portrayal of violence during the French Revolution.
Check out our other upcoming action games and upcoming pc games.