This game was released on August 30, 2016 and is no longer available to pre-order. Any incentives that were offered are listed below.
Assetto Corsa is a racing sim developed by an Italian studio KUNOS Simulazioni and published by 505 Games for the current-gen consoles. The game prides itself on realism and features an advanced physics system, over ninety authentic cars reproduced in collaboration with automotive manufacturers, and more than twenty track configurations recreated using laser scan technology. There is both single player and multiplayer functionality, with different game modes available.
Assetto Corsa has been out on PC since 2014, and several "Dream Packs" containing new circuits and cars have been released for the platform. All of these will be included as part of the base game ($49.99) on Xbox One and PlayStation 4.
Pre-order bonuses
There are two different pre-order packs available for Assetto Corsa. The first one, the Performance Pack, includes three cars (Ferrari 488 GTB, Audi R8 V10 Plus, and Corvette C7 Stingray) and is obtainable through most retailers as well as Xbox / PlayStation Store.
The second is a much larger Prestige Pack, also called "Prestige Edition" by some overseas retailers. It is exclusive to GameStop and comes with nine cars instead of three: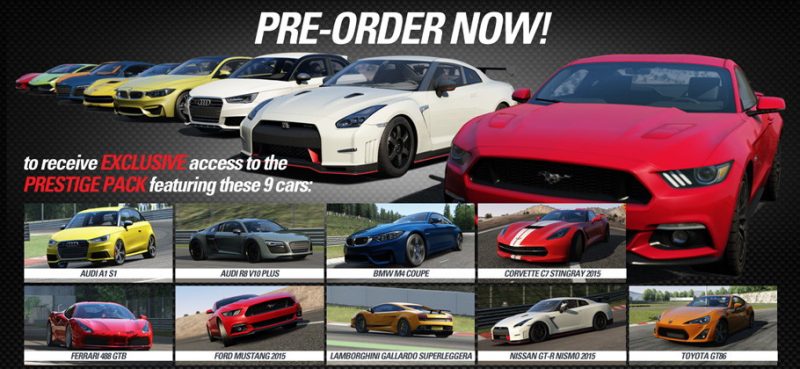 Audi A1 S1
Audi R8 V10 Plus
BMW M4 Coupe
Corvette C7 Stingray
Ferrari 488 GTB
Ford Mustang 2015
Lamborghini Gallardo Superleggera
Nissan GT-R Nismo 2015
Toyota GT86
Finally, Microsoft Store has their usual offer of a $10 gift card.
After suffering multiple delays since the original announcement, the console version of Assetto Corsa is now scheduled to be released on August 30, 2016 in North America. The game is said to run at 1080p / 60 FPS on the PS4, and 900p / 60 FPS on the Xbox One.
Check out our other upcoming racing games and upcoming playstation 4 games.