This game was released on June 23, 2015 and is no longer available to pre-order. Any incentives that were offered are listed below.
Batman: Arkham Knight is an upcoming action-adventure title developed by Rocksteady Studios and published by Warner Bros. This last installment in the main trilogy is set one year after the events of Arkham City. Scarecrow returns to Gotham, and unites the most powerful villains of the Rogues Gallery (including the new and mysterious enemy, Arkham Knight) to destroy Batman for good.
New to the franchise is a drivable Batmobile, which can be summoned to the player's location at any time, and transforms into Battle Mode when more firepower is needed. As expected of a new-gen game, Arkham Knight also features significant graphical improvements; the developers claim that just one character can have the same polygon count as the entire Arkham Asylum environment.
Pre-order bonuses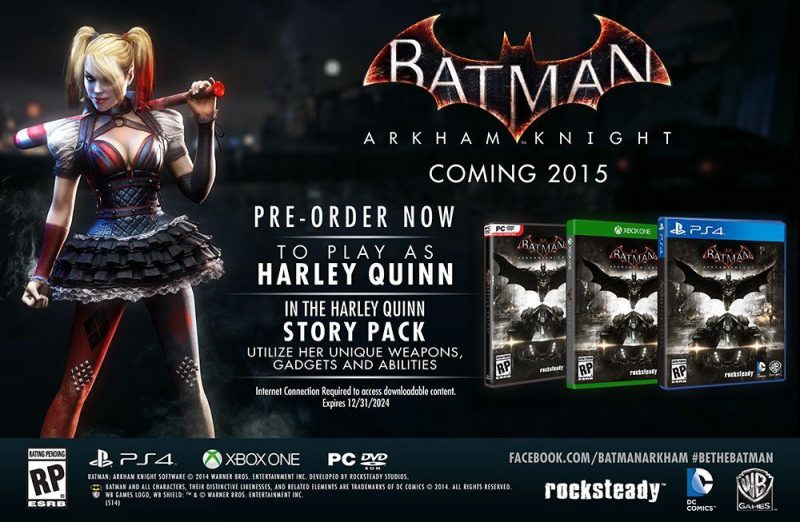 First off, there's the Harley Quinn Story Pack shown above, a generic bonus available with all Arkham Knight pre-orders. It allows you to play as Harley Quinn, who has her own unique weapons, gadgets, and abilities. In addition, you can go to one of the following retailers for an exclusive pre-order incentive:
Amazon: 1st Appearance Batman Skin Pack, which allows you to wear the iconic suit from the character's debut in Detective Comics No. 27 in 1939.
GameStop: Red Hood Story Pack (play as the violent vigilante Red Hood).
Best Buy: WayneTech Booster Pack (includes Explosive Gel Takedown, Aerial Juggle, Batarangs While Gliding, and Weapon Upgrade for the Batmobile).
Walmart: Prototype Batmobile and $4.99 VUDU Movie Credits.
Steam: Gotham's Future Skin Pack (includes Dark Knight Returns and Batman Beyond costumes).
It has been confirmed that these DLC packs will be available on the marketplace some time after launch. It's also worth mentioning that PlayStation 4 owners will be getting the Scarecrow Nightmare Pack; this isn't a pre-order bonus, but rather a platform-exclusive DLC.
Serious Edition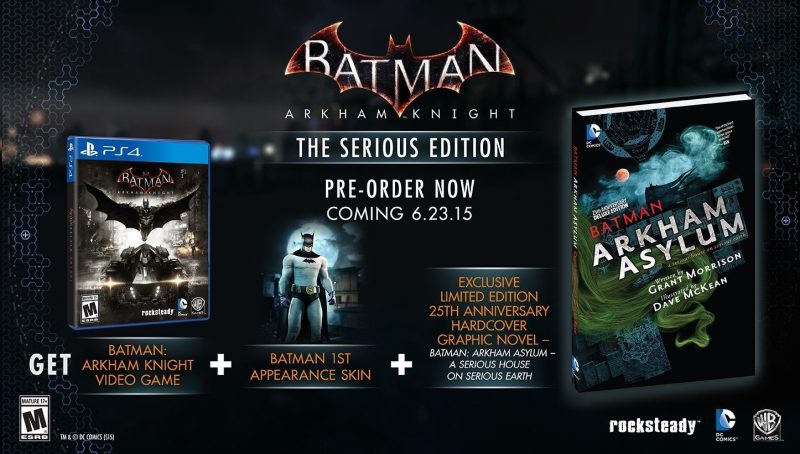 This special edition from Amazon bundles the game with an exclusive, 25th-anniversary Arkham Asylum: A Serious House on Serious Earth graphic novel. The bundle costs $70 and includes the aforementioned First Appearance Batman suit as well.
Limited Edition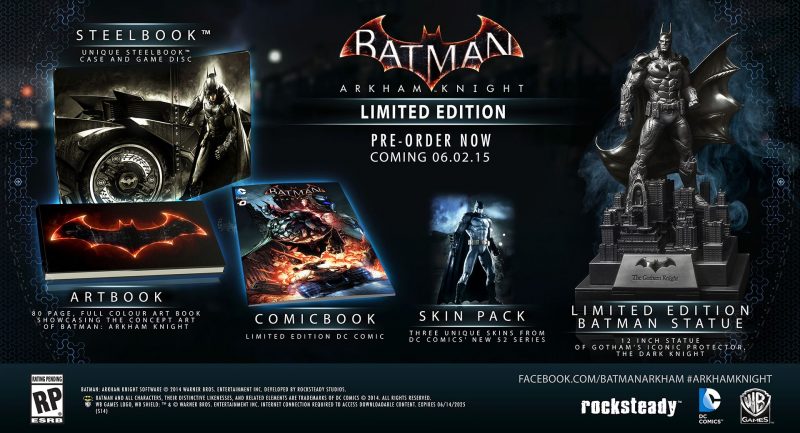 The Limited Edition of Batman: Arkham Knight will set you back $100. It consists of the following:
Unique SteelBook case with game disc
80-page concept art book
Batman: Arkham Knight #0 comic book from DC Comics
The New 52 character skin pack (three unique skins)
12″ statue of the Dark Knight
Batmobile Edition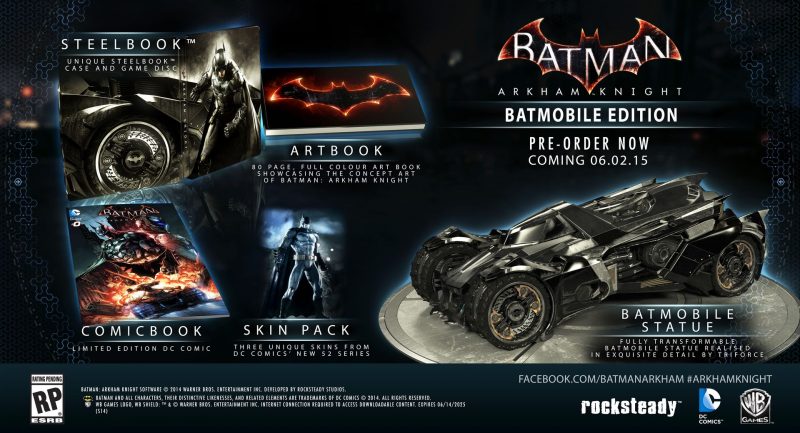 At $200, the Batmobile Edition is twice as expensive as the Limited one. The only difference between the two is that the Batman figure is replaced with the titular Batmobile, a fully-transformable statue of the iconic vehicle by TriForce.
Evening the Odds trailer
The upgraded Batmobile will certainly even the odds in any fight.
Batman: Arkham Knight is scheduled for a worldwide release on June 23, 2015.
Check out our other upcoming action games and upcoming pc games.