This game was released on October 21, 2016 and is no longer available to pre-order. Any incentives that were offered are listed below.
Battlefield 1 is a first-person shooter set in World War I. It is developed by EA DICE and runs on their proprietary Frostbite engine, which supports DX12. The game's campaign is said to feature larger and more open environments, and offer more choice and variety to the players compared to the previous Battlefield installments. It includes a diverse set of locations, from Western front with its typical trench warfare, to Italian Alps and Arabian deserts.
The multiplayer aspect of Battlefield 1 is something fans of the franchise are especially looking forward to. Much like its predecessors, the upcoming game allows for up to 64 players on a server, and features a class system. There is a server browser, and an option for joining the matchmaking together as a five-player squad. Players can fight on foot and control vehicles used during WW1, such as tanks, bikes, biplanes, and battleships.
Pre-order bonuses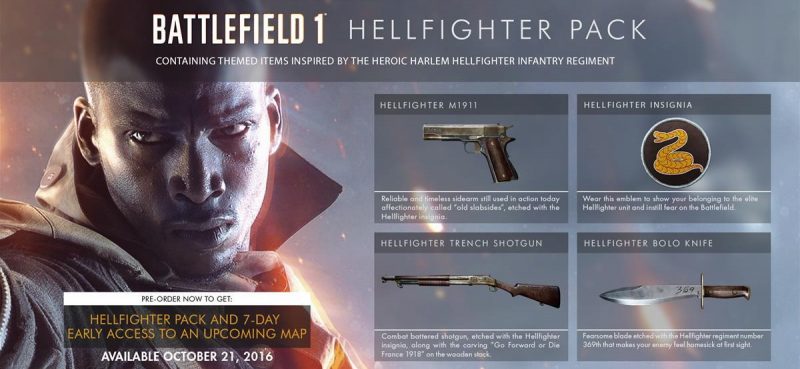 Pre-order Battlefield 1 anywhere to get the Hellfighter Pack (four items inspired by the 369th infantry regiment known as Harlem Hellfighters) as well as a 7 days early access to the Giant's Shadow map to be released in December 2016. As always, there also are some additional retailer and platform bonuses:
Microsoft Store: $10 gift code
Best Buy: $10 in reward certificates
Xbox (digital): one month of EA Access
PlayStation (digital): Battlefield 1 Theme
There is also a cross-promotion between Battlefield 1 and Titanfall 2. Pre-ordering both of these games at participating retailers will grant you three BF1 battlepacks. In addition, signing into both Titanfall 2 and Battlefield 1 with the same EA account by 12/31/2017 will unlock a Red Baron Warpaint for use in Titanfall 2.
Early Enlister Deluxe Edition
The Early Enlister Deluxe Edition of Battlefield 1 costs $80 and comes with the following extras:
Early Access – start playing on October 18, three days before the official release.
Hellfighter Pack – gear inspired by the first African-American infantry unit, Harlem Hellfighters:

Weapon: Hellfighter Trench Shotgun
Sidearm: Hellfighter M1911
Melee: Hellfighter Bolo Knife
Emblem: Hellfighter Insignia

Red Baron Pack – items themed after the legendary German fighter pilot:

Vehicle: Red Baron's Triplane
Sidearm: Red Baron's P08
Emblem: Red Baron's Flyer Pin

Lawrence of Arabia Pack – items and weapons based on the adventures of T. E. Lawrence, the famous archeologist and diplomat who played a pivotal role in the Arab Revolt against the Ottoman Empire:

Horse: Lawrence of Arabia's Black Stallion
Weapon: Lawrence of Arabia's SMLE
Melee: Lawrence of Arabia's Jambiya
Emblem: Lawrence of Arabia's Emblem

Alternate skins for three of the largest vehicles in the game:

Frontline Camouflage Train
Night Raid Airship
Dazzle Camouflage Dreadnought

5x Battlepacks – similar to the previous Battlefield installments, Battlepacks are bundles of random content such as weapons, vehicles, and other gear.
Exclusive Collector's Edition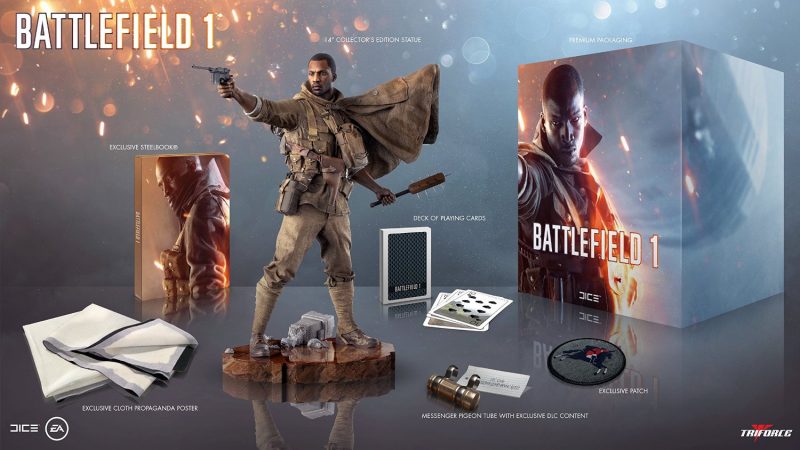 The Collector's Edition costs a whopping $220 and is exclusive to Amazon. All the digital content from the Deluxe Edition is included, plus a 14″ tall statue, exclusive SteelBook, cloth propaganda poster, deck of BF1-themed playing cards, messenger pigeon tube with exclusive DLC, exclusive patch, and premium packaging.
Battlefield 1 is scheduled for a worldwide release on October 21, 2016.
Check out our other upcoming shooter games and upcoming pc games.