This game was released on March 17, 2015 and is no longer available to pre-order. Any incentives that were offered are listed below.
Battlefield Hardline is a first-person shooter developed by Visceral Games in collaboration with DICE, and published by EA. Unlike the previous installments in the series, BFHL is police-themed and pits cops against robbers in a variety of game modes. Heist, for example, tasks the criminals with stealing money from a vault and escaping while law enforcement officers attempt to stop them. Blood Money has both teams competing to carry money from the main cache to their own vault. Then there's the Rescue mode, which, like the name suggests, involves retrieving hostages being held by the criminals.
In addition to the ever-popular multiplayer, Battlefield Hardline also features a proper single-player campaign. Its story follows Nick Mendoza, a rookie detective who, alongside with his more experienced partner Khai Minh Dao, attempts to take down Miami's drug lords.
Pre-order bonuses
Pre-order Battlefield Hardline to receive the Versatility Battlepack, which includes a highly versatile assault rifle, a unique camo skin for your weapons, and a Teamplay Boost. In addition, you will also get 3 Gold Battlepacks with assorted stuff like weapon accessories, patches, XP boosts, and character customization items delivered once a week after game activation. This offer isn't retailer-specific, and most websites have it listed already.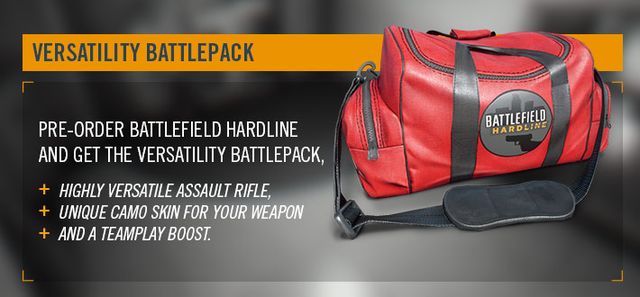 If you are in the mood for exclusive bonuses, however, GameStop has you covered. It is the only place which will give you both Versatility and Precision Battlepacks with your Standard Edition pre-order: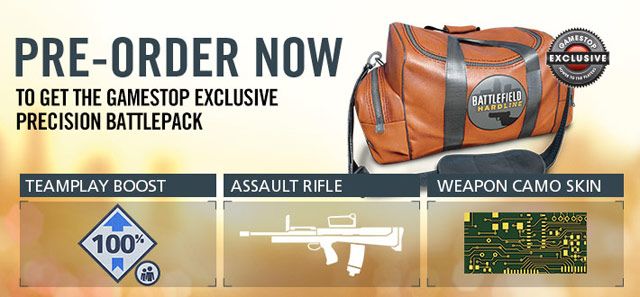 Deluxe Edition

The Deluxe Edition comes with Versatility, Suppression, and Precision Battlepacks, as well as 10 Gold Battlepacks, rewarding you with new items in Battlefield Hardline for ten weeks in a row. Both digital and boxed versions are available, sold at $10 premium over the Standard Edition.
Story trailer
The Battlefield series is famous for its multiplayer, but Hardline's single-player campaign could be interesting on its own. Unlike in the previous titles, there is more emphasis on player choice; for example, you can attack the bad guys with guns blazing, or sneak around and take them down in a non-lethal manner.
Battlefield Hardline is scheduled to be released on March 17, 2015 in the States and two days later in Europe. The game will run on current-gen and previous-gen Xbox and PlayStation consoles as well as PCs.
Check out our other upcoming shooter games and upcoming pc games.