This game was released on September 21, 2012 and is no longer available to pre-order. Any incentives that were offered are listed below.
The unexpectedly successful and highly entertaining shooter Borderlands is getting a sequel this September. Borderlands 2 brings new characters and skills, improved vehicles, and a whole lot more weapons as well as other items. Plot-wise, the game picks up 5 years after the events in the original, and tasks the players with killing Handsome Jack, the dictator of Pandora.
Borderlands 2 retains the unique visual style of the first game, something that no doubt contributed to the title's popularity. Just like the original, the sequel also offers a four-player co-op mode. Overall, the game should play similarly to Borderlands – except it is "bigger, better, and more badass".
Pre-order bonuses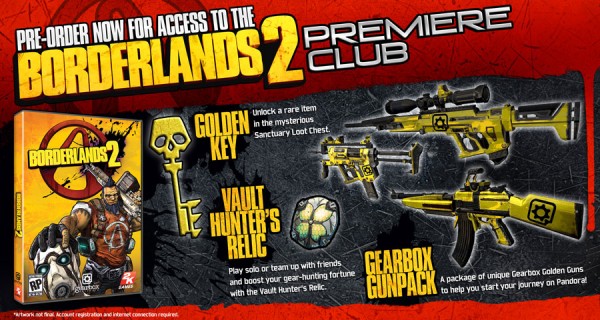 Pre-order Borderlands 2 before the launch to receive access to the Premiere Club which includes the following content:
Golden Key, which unlocks a rare item in the Sanctuary Loot Chest.
Vault Hunter's Relic, which boosts your gear hunting fortune.
Gearbox Gunpack, which equips your characters with exclusive Gearbox Golden Guns.
This Borderlands 2 preorder bonus is available at the following retailers:
GameStop (you also get an exclusive Creature Slaughter Dome DLC)
Best Buy (with $20 in Reward Certificates for Gamers Club members)
Amazon
In addition, you will receive the fifth Borderlands 2 class – Mechromancer – for free. This cyborg girl will be released 60 to 90 days after the game's launch, and will be available to everyone else as paid DLC.
Deluxe Vault Hunter edition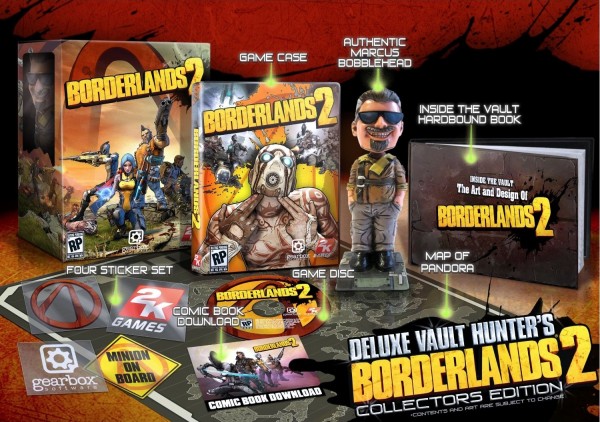 The Deluxe Vault Hunter Collector's Edition (see above) is priced at $100 and contains the following items:
Marcus Kincaid bobblehead
"Inside the Vault" hardbound art book
Map of Pandora
Four stickers
Digital comic
Bonus DLC
Ultimate Loot Chest edition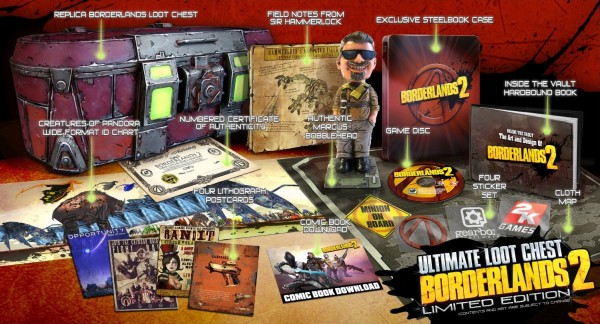 Avid fans of Borderlands will be interested in the Ultimate Loot Chest Limited Edition which includes everything listed under the Deluxe edition, plus the following goodies:
Red loot chest replica
SteelBook case
"Creatures of Pandora" ID chart
Four lithograph postcards
Sir Hammerlock's field notes
A numbered certificate of authenticity
Cloth map of Pandora
The Ultimate Loot Chest will lighten your wallet by $150.
Doomsday trailer
The track used in this dubstep-y trailer is Doomsday by Nero.
The long-awaited FPS / RPG hybrid hits the stores on September 18th in the States, and three days later in the rest of the world. The PC version uses Steamworks for activation, and supports features like Steam Cloud and Achievements.
Check out our other upcoming rpg games and upcoming pc games.