This game was released on April 07, 2017 and is no longer available to pre-order. Any incentives that were offered are listed below.
Bulletstorm: Full Clip Edition is a remastered version of the 2011 title Bulletstorm, which was released on last-gen consoles. The remake brings updated models, environments, and animations, with smoother framerates and 4K support on PS4 Pro and PC. It includes all DLC from the original, as well as new content such as Overkill campaign mode and new Echo maps.
Bulletstorm is known for its liberal use of profanities and crass humor reminiscent of the Duke Nukem franchise. The game rewards creative, over-the-top kills with currency used to purchase weapons, ammo, and upgrades at dropkits scattered throughout the planet. With its fast-paced gameplay and mindless violence, Bulletstorm has been called a throwback to the straightforward and unpretentious old-school FPS games.
Pre-order bonuses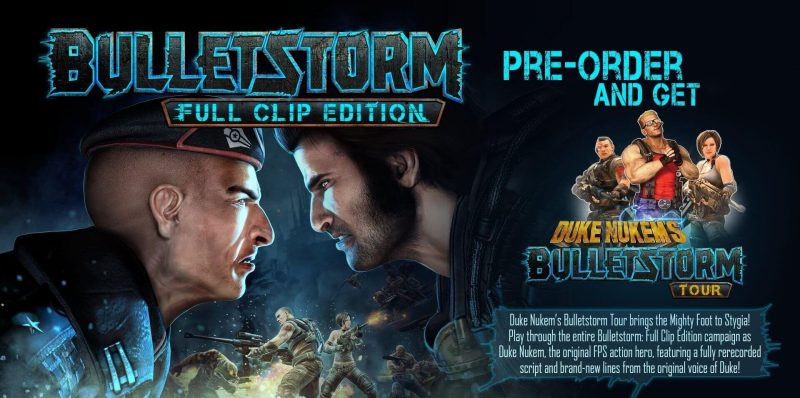 All pre-orders of Bulletstorm: Full Clip Edition automatically get the "Duke Nukem's Bulletstorm Tour" DLC, allowing one to play the entire single-player campaign as Duke Nukem. The add-on includes a fully rerecorded script and brand-new lines from the original voice actor.
Additionally, pre-purchasing the game can save you some money. The digital marketplaces all give 15% off, whereas the discount for the boxed version depends on the retailer:
Steam, PlayStation, Xbox (digital): save 15%
Newegg: save $10
GameStop: save $10
Amazon: save $8
Announce trailer
https://www.youtube.com/watch?v=TDtv9fImfNw
Bulletstorm: Full Clip Edition lands on April 7 worldwide.
Check out our other upcoming shooter games and upcoming pc games.