This game was released on June 20, 2017 and is no longer available to pre-order. Any incentives that were offered are listed below.
Cave Story is a metroidvania-style 2D action platformer originally developed by Daisuke Amaya for the PC back in 2004, and later ported to numerous other platforms by Nicalis. The game follows an amnesiac protagonist who wakes up in a cave and becomes embroiled in a conflict between its inhabitants and a mad Doctor trying to conquer the world.
This post specifically concerns the Nintendo Switch release, which will be the enhanced Cave Story+ version already out on Steam, but with additional improvements. Besides its upgraded graphics, the $30 game offers seven play modes such as Wind Fortress and Boss Rush, more than twenty boss battles, fifteen levels, ten unique weapons, and four different endings.
Pre-order bonuses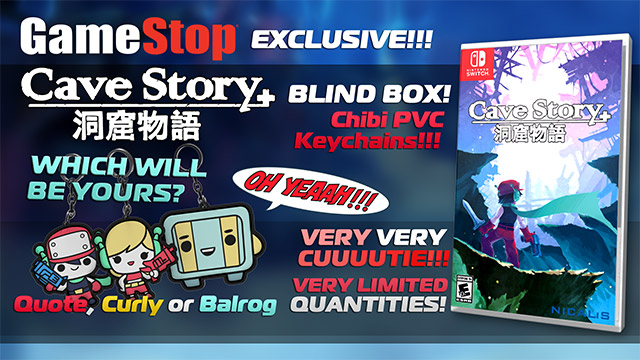 Pre-order Cave Story+ for Switch through GameStop to receive the retailer's exclusive chibi PVC keychain randomly featuring either Quote, Curly, or Balrog characters.
The highly anticipated Nintendo Switch version of Cave Story is scheduled for a physical and digital release on June 20, 2017.
Check out our other upcoming action games and upcoming nintendo switch games.