This game was released on September 27, 2019 and is no longer available to pre-order. Any incentives that were offered are listed below.
Code Vein is an action RPG developed by Japanese studio Shift (the makers of God Eater) and published by Bandai Namco. The game is set in a post-apocalyptic world where once-towering skyscrapers are now lifeless graves of humanity's past.
The player steps into the shoes of a vampiric Revenant, gaining powerful Gifts in exchange for their human memories and a constant thirst for blood. Those who succumb to the bloodlust become Lost: mindless ghouls roaming the wasteland in search of blood.
The player is joined by a partner on their journey, each of whom have their own combat style and background story. There are different classes of weapons to choose from – such as bayonets, axes, and spears – to accommodate various playstyles. Careful strategy and coordination with the partner is necessary to bring down the most threatening enemies.
Pre-order Bonuses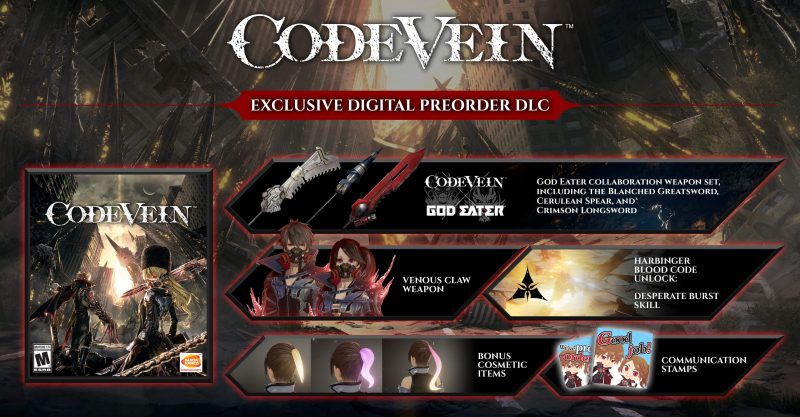 All pre-orders of Code Vein will come with exclusive DLC gear inspired by the developer's God Eater series:
God Eater Collaboration Weapon Set:

Blanched Greatsword
Cerulean Spear
Crimson Longsword

Blood Veil Ogre: Venous Claw weapon
Reserved Bloodkin Set (digital pre-orders only):

Blood Code: Harbinger:
Harbinger Shining Hair (x3 cosmetic items)
Communication Stamps (x2 stamps for multiplayer communication)

Code Vein PS4 Theme (PSN only)
There also are additional bonuses to be had from certain retailers.
GameStop is offering $10 Rewards Cash for PowerUp Rewards members as well as an exclusive 36″ x 24″ poster designed by James Stokoe:
The official Bandai Namco Store will give pre-order customers a set of 4 pins as a freebie: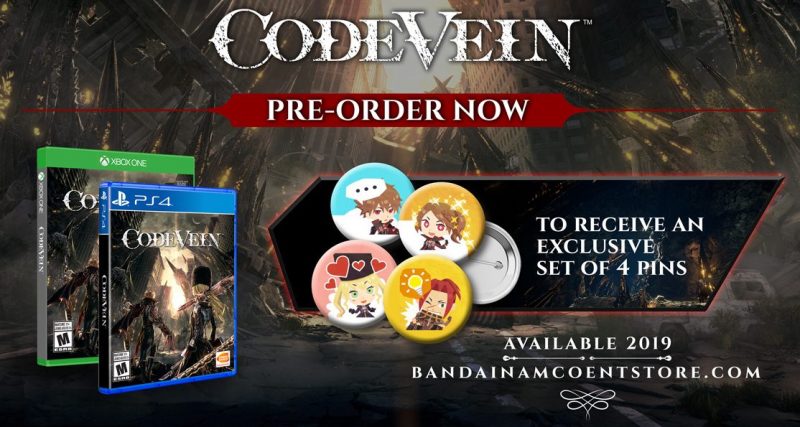 Lastly, Amazon and Walmart both have a $10 discount for the regular edition of the game up.
Deluxe Edition ($79.99)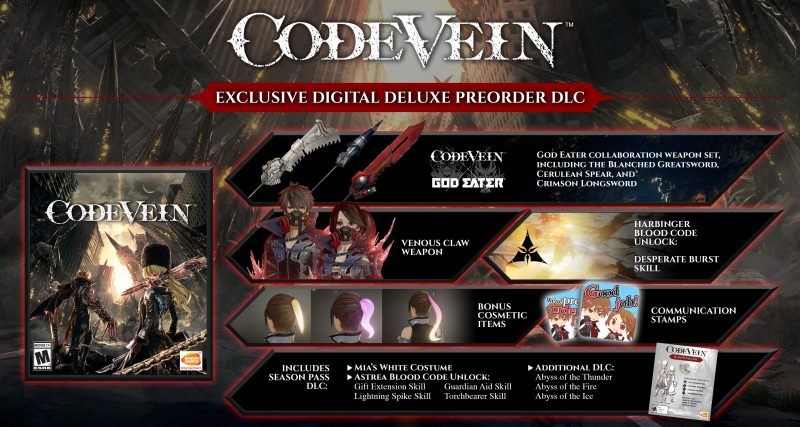 In addition to the base game, the Digital Deluxe Edition comes with the following content:
Season Pass:

Blood Code: Astrea:

Gift Extension Skill
Lightning Spike Skill
Guardian Aid Skill
Torchbearer Skill

Additional DLC:

Abyss of the Thunder
Abyss of the Fire
Abyss of the Ice

Mia's White Angel Costume

Accessory Set: Insatiable Bloodthirst (Deluxe Edition bonus)
Code Vein PS4 Theme, Mia Version
The Revenant Bundle ($99.95)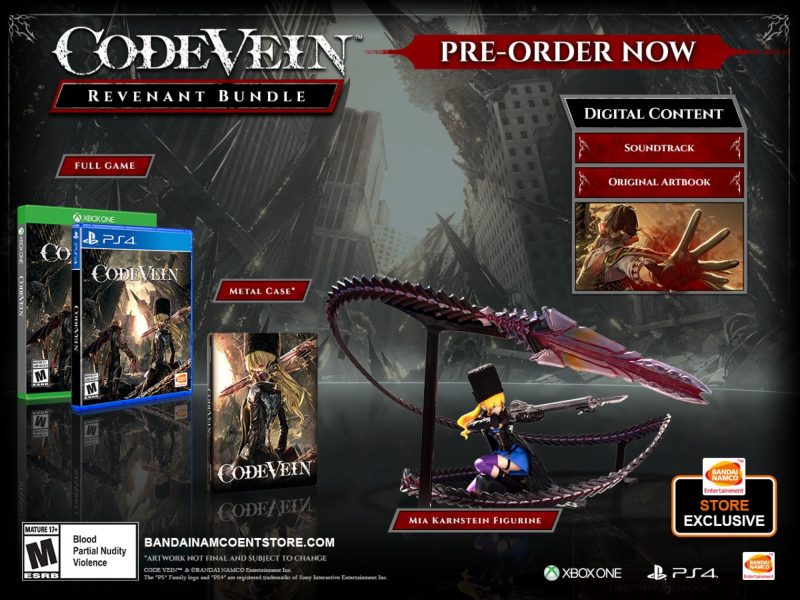 Sold exclusively through Bandai Namco Store, the Revenant Bundle comes with the following set of goodies in addition to the separately packaged game:
Mia Karnstein Figurine
Metal Case
Digital Soundtrack
Artbook
Code Vein is scheduled for a global release on September 27, 2019.
Check out our other upcoming action games and upcoming pc games.