This game was released on May 28, 2019 and is no longer available to pre-order. Any incentives that were offered are listed below.
Crystal Crisis is a puzzle-based combat game from Nicalis that features 19 playable characters from their various properties including Quote, Curly Brace, and Ballos from Cave Story+, Isaac from The Binding of Isaac, Princess Solange from Code of Princess EX, and many others. Each character has their own home stage, musical theme, special attacks, and voice-acted phrases.
The player fights by matching the falling gems by color to clear them from the screen and thus inflict damage on their opponent. The gameplay has additional mechanics such as the Burst Gauge, which fills up by performing combos, and is used to unleash powerful attacks.
Crystal Crisis offers Arcade, Survival, Tag Team, and Training modes, and can be played by one to four players.
Pre-order Bonuses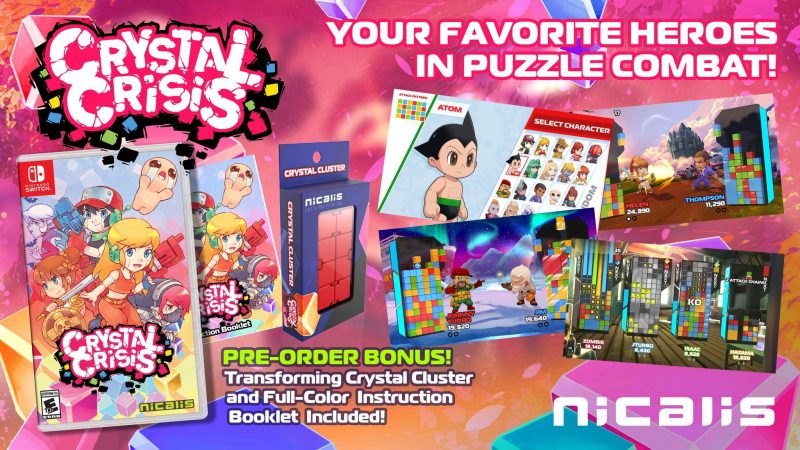 Like most Nicalis-published titles, Crystal Crisis is getting a Launch Edition, which can be acquired by pre-ordering the game or purchasing it on release day. Besides a copy of Crystal Crisis itself, it includes a full-color instruction booklet and a transforming Crystal Cluster.
After a one-month delay for additional polish time, Crystal Crisis is now scheduled to launch on May 28, 2019.
Check out our other upcoming fighting games and upcoming nintendo switch games.