This game was released on December 10, 2020 and is no longer available to pre-order. Any incentives that were offered are listed below.
Cyberpunk 2077 is an open-world action RPG from Polish developer CD Projekt RED renowned for The Witcher series. Loosely based on the tabletop RPG Cyberpunk 2020, the game is set in the Night City, a sprawling dystopian metropolis where megacorporations and cybernetically-enhanced gangs coexist in a precarious balance, and danger lurks around every corner.
Players assume the role of V, a mercenary outlaw on the hunt for a prototype cybernetic implant that is the key to immortality. V is fully customizable, from appearance to gender to backstory, and gains power through learning skills and acquiring cyberware as the player progresses through the game. The choices made throughout the story – including the sidequests – shape the world and affect the ultimate ending of Cyberpunk 2077.
Pre-order Bonuses
Given CDPR's stance on pre-order bonuses, we expect no meaningful in-game content to be locked away behind retailer exclusivity. Instead, there's a variety of physical items, digital goodies, or store credit you can get if you pre-order Cyberpunk 2077 from the following retailers. (If you make a purchase through the links on this article, we may get a share of the sale.)
Best Buy: a free collectible Steelbook case (random design) and $10 in rewards for My Best Buy members.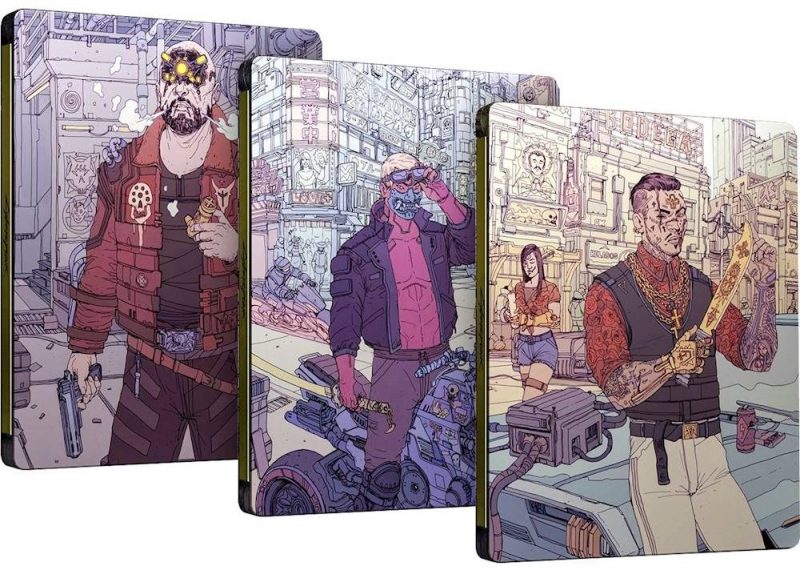 GameStop: up to $20 in Game Coin for PowerUp Rewards members. Previously, an exclusive Samurai Medallion depicted below was offered, but it appears to be no longer given out to new pre-orders.
GOG.com: an exclusive digital booklet about the game, print-quality CP2077 posters, and an additional set of wallpapers and avatars. You also get that warm fuzzy feeling by supporting the developer directly since GOG.com is owned by CD Projekt.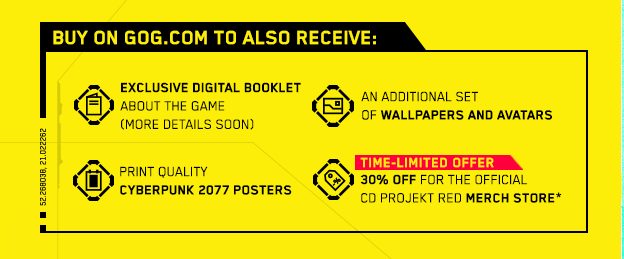 Steam: a short story 2AM — She Calls that depicts the hostile streets of Night City as seen by Frank, an ex-NCPD officer working the night shift as a Combat Cab driver.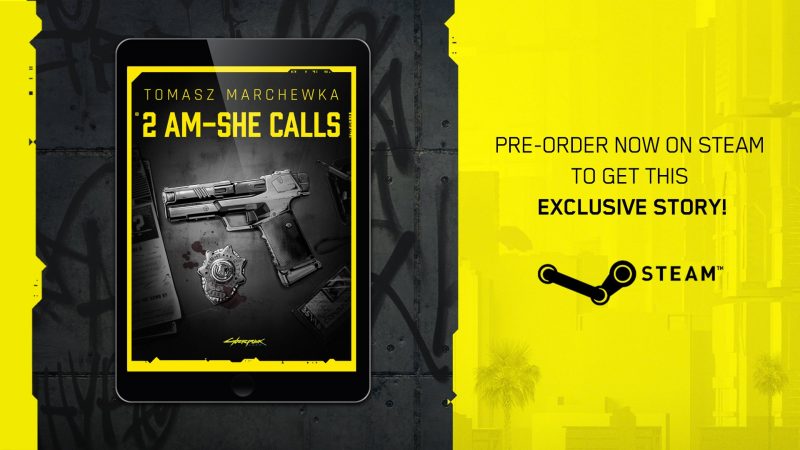 Lastly, Amazon and Walmart are both trying to entice gamers with a $10 discount on pre-order, albeit without any tangible bonuses. (The discount appears after adding the game to cart.)
GOG Purchase Bonus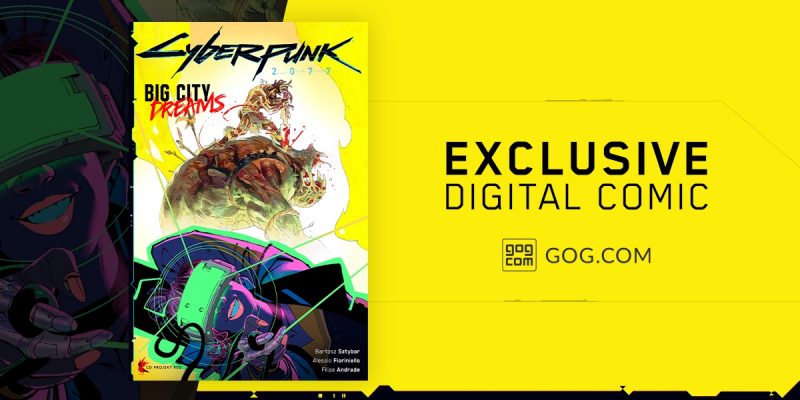 As if that wasn't enough, purchasing the game at GOG also grants an exclusive digital comic: Big City Dreams. To be clear, you'll get it regardless whether you pre-order or purchase the game after launch.
GOG Connect Bonuses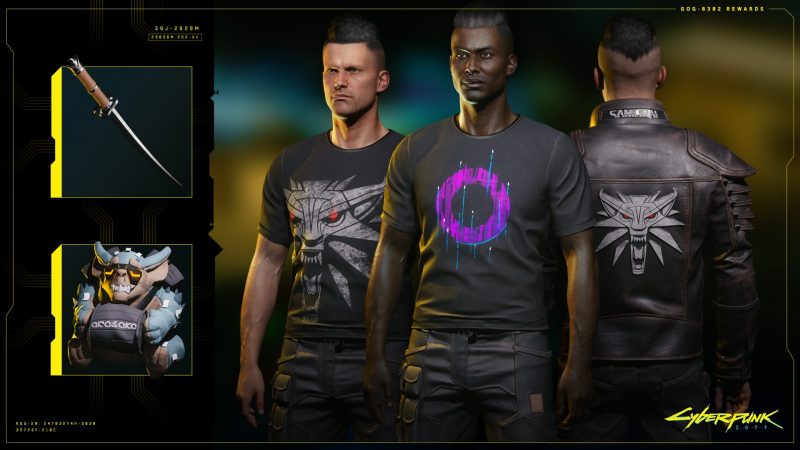 Connecting your copy of Cyberpunk 2077 to GOG grants a set of digital in-game bonuses: a Witcher-themed jacket, an armored Arasaka plushie, and more. For this bonus, you don't have to purchase the game at GOG – only link whichever platform you play on with the GOG Galaxy client.
Standard Edition ($59.99)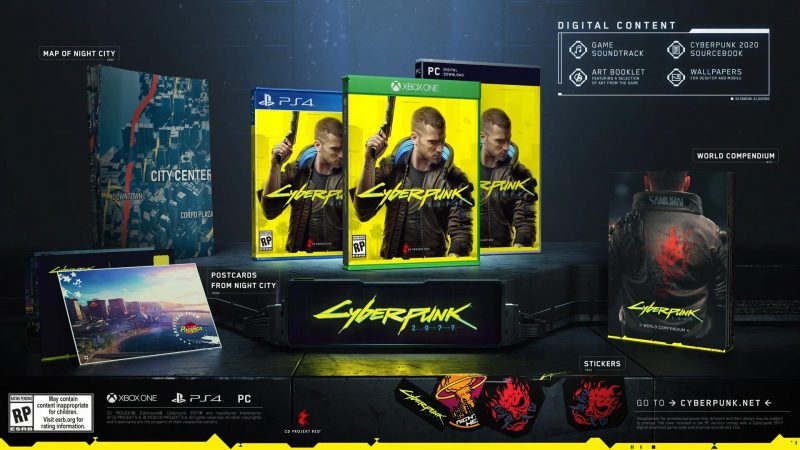 Much like with CDPR's previous launches, you get some neat little extras even if you don't pre-order. Every base version of Cyberpunk 2077 comes bundled with the following:
Physical items:

Case with game discs & reversible cover
World Compendium detailing the game's setting and lore
Postcards from Night City
Map of Night City
Stickers

Digital items:

Game soundtrack
Art booklet featuring a selection of art from the game
Cyberpunk 2020 sourcebook
Wallpapers for desktop and mobile
Digital comic Cyberpunk 2077: Your Voice
Collector's Edition ($249.99)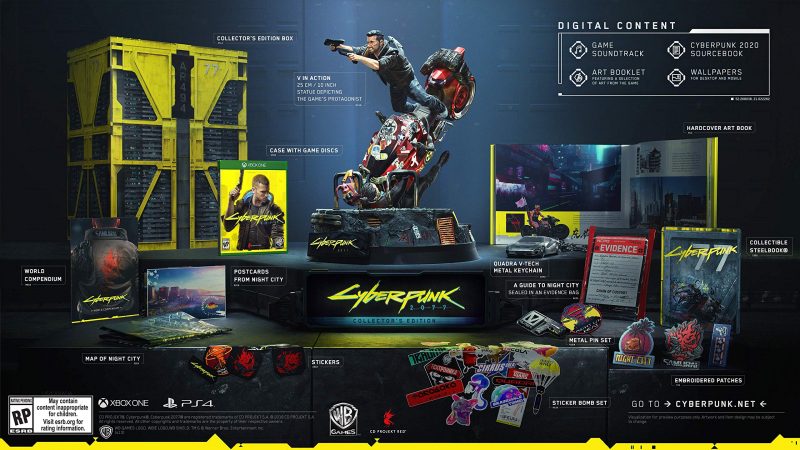 The Collector's Edition carries a hefty price tag of $250 and is available for both consoles and the PC, although it gets sold out quickly so finding it in stock at your favorite retailer might prove a challenge. Its contents are as follows:
Physical items:

Collector's Edition box
Case with game discs & reversible cover
Collectible SteelBook
10″ statue depicting the game's protagonist V in action
Hardcover art book
Metal pin set
Quadra Vtech metal keychain
An annotated copy of A Visitor's Guide to Night City sealed in an NCPD Evidence Bag
Embroidered patches
World Compendium detailing the game's setting and lore
Postcards from Night City
Map of Night City
Sticker bomb set

Digital items:

Game soundtrack
Art booklet featuring a selection of art from the game
Cyberpunk 2020 sourcebook
Wallpapers for desktop and mobile
Xbox One X Limited Edition Bundle ($399.99 $299.99)

The limited-edition bundle, of which only 45,000 units will be manufactured, includes a Cyberpunk 2077-themed 1TB Xbox One X console, one wireless controller, and a month's worth of Xbox Game Pass Ultimate. It also comes with a full digital download of Cyberpunk 2077 game and its future expansion.
It is slated to be the last limited-edition Xbox One X console before the launch of Xbox Series X. The bundle is officially priced at $399.99, but was discounted to $299.99 across all retailers when pre-orders went live.
The World of Cyberpunk 2077 ($35.99)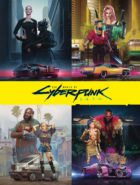 The World of Cyberpunk 2077 is a 192-page hardcover art book from Dark Horse Books and CD Projekt Red that is scheduled to launch just days after the game's release. It contains information on the lore, history, tech, and characters the player will meet in the Night City.
At the time of writing, the physical book is available for pre-order for $35.99. Meanwhile, its digital Kindle Edition is priced at $24.19 on Amazon.
Johnny Silverhand Figurines ($29.99 / $39.99)
GameStop has a trio of Cyberpunk 2077 figures by McFarlane Toys available for pre-order that, unlike the art book, will be shipped ahead of the game's launch. Two figures depict Johnny Silverhand, a digital ghost who accompanies the protagonist V in Cyberpunk 2077, while the third portrays said protagonist.
The Johnny Silverhand and Male V action figures are 7″ tall, boast 22 moving parts, and cost $29.99. Meanwhile, the Johnny Silverhand Concert Statue stands 12″ tall and is priced accordingly higher at $39.99.
After being postponed a third time, the launch of Cyberpunk 2077 is now scheduled for December 10, 2020. While initially only a digital PC release was planned in North America, after an outcry from the fans a physical Collector's Edition (with a download code) was announced too. The game will be compatible with next-gen consoles at launch and will be patched to take full advantage of their more powerful hardware in 2021.
Check out our other upcoming action games and upcoming pc games.