This game was released on October 01, 2019 and is no longer available to pre-order. Any incentives that were offered are listed below.
Shadowkeep is an upcoming expansion to Bungie's Destiny 2 that marks the game's transition to a free-to-play action MMO. As new nightmares emerge from the shadows of the moon, the players have to slay them before they can cast humanity back into an age of darkness.
Shadowkeep brings deeper character customization with expanded RPG elements, adding back stats and overhauling the armor system. Guardians also get a new type of ability called finishing moves.
With Steam and Google Stadia versions on the way, Destiny 2 will offer cross-saves, allowing the player to transfer their Guardian to any supported platform. This should ease the game's transition from Battle.net to Steam.
Pre-order Bonuses
The standard edition of Destiny 2: Shadowkeep is priced at $34.99 and can be played as a standalone game with no prior purchase necessary. In fact, Xbox One and PlayStation 4 pre-order customers can start playing the base Destiny 2, Curse of Osiris, and Warmind immediately. Those who pre-purchase Shadowkeep on Steam will also receive the same content, but only at the game's launch.
Regardless of platform, all pre-orders also receive the Two-Tailed Fox Exotic Rocket Launcher and an exclusive Chasing Kitsune Ornament: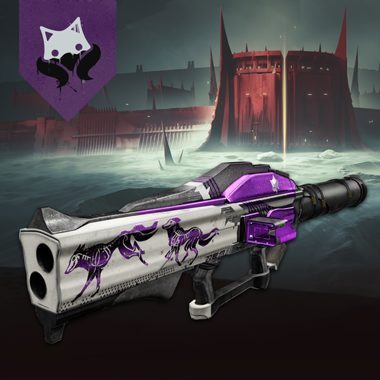 The standalone edition of Destiny 2: Shadowkeep additionally includes one Season Pass, which provides exclusive activities and rewards.
Digital Deluxe Edition ($59.99)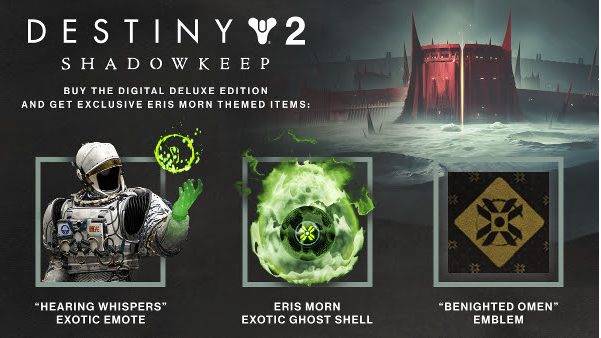 In addition to a digital copy of Destiny 2: Shadowkeep, the Deluxe Edition comes with the following:
Four Season Passes*, each offering a unique set of exclusive Seasonal activities, artifacts, and rewards
Exclusive Eris Morn themed items:

"Hearing Whispers" Exotic Emote
Exotic Ghost Shell
"Benighted Omen" Emblem
*If a player already owns the current Season Pass, they will instead receive credit toward future Seasons up until Season 11. Any credits beyond Season 11 will be exchanged for an equivalent value of Silver.
Collector's Edition ($149.99)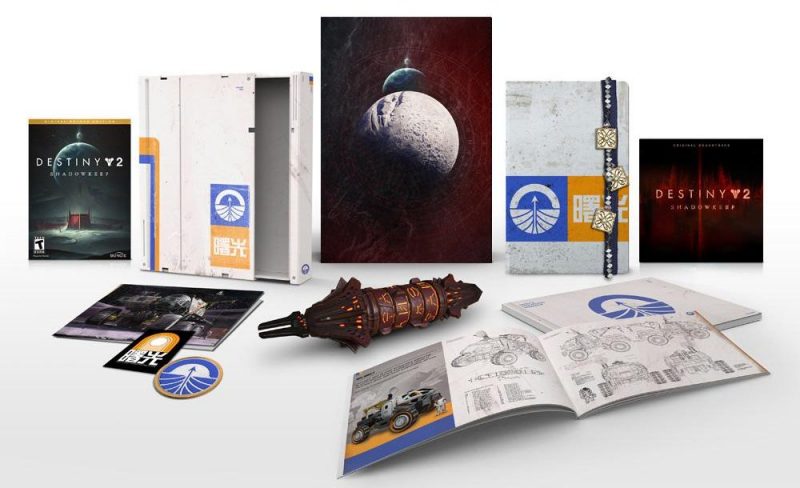 The Collector's Edition is exclusive to Bungie store. It includes all the Digital Deluxe Edition content, plus a number of physical collectibles:
Digital Products (delivered via email before launch):

Digital Code for Destiny 2: Shadowkeep Digital Deluxe Edition
Digital Destiny 2: Shadowkeep Original Soundtrack

Exclusive Physical Collectible Bundle Contents (delivered on or before launch):

A Collector's Edition exclusive In-game Emblem Code: an exclusive in-game emblem code printed inside the physical collectible bundle.
Hive Cryptoglyph Replica: follow clues in the Collector's Edition to unlock the Hive Cryptoglyph and its secret contents. Dimensions: 7.8"L.
Metal Luna Mission Container: a metal Luna mission folio that holds esoteric relics and records. Dimensions: 8.6"L x 5.9"W.
Luna Mission Handbook: contains 40 pages of schematics and design documents.
Luna Journal: a 160-page journal featuring additional story content that is bound with the mysterious charms and talismans of Eris Morn.
Artifacts from the Golden Age
Following a two-week delay, Destiny 2: Shadowkeep is now scheduled to launch on October 1, 2019 for Xbox One, PlayStation 4, and Steam. The game is also coming to Google's cloud gaming service Stadia.
Check out our other upcoming action games and upcoming pc games.