This game was released on August 31, 2018 and is no longer available to pre-order. Any incentives that were offered are listed below.
Divinity: Original Sin 2 is a RPG with turn-based combat developed by Larian Studios. Its Definitive Edition features a number of improvements and changes based on critic and player feedback since the original launch, including a rewritten journal, map markers, party inventory, new tutorial, and an entirely reworked last act.
As the original D:OS2 is already out on Steam and existing owners will be getting an upgrade to the Definitive Edition for free, this post is concerning specifically the console versions, which are published by Bandai Namco and have a pre-order incentive available.
Pre-order Bonuses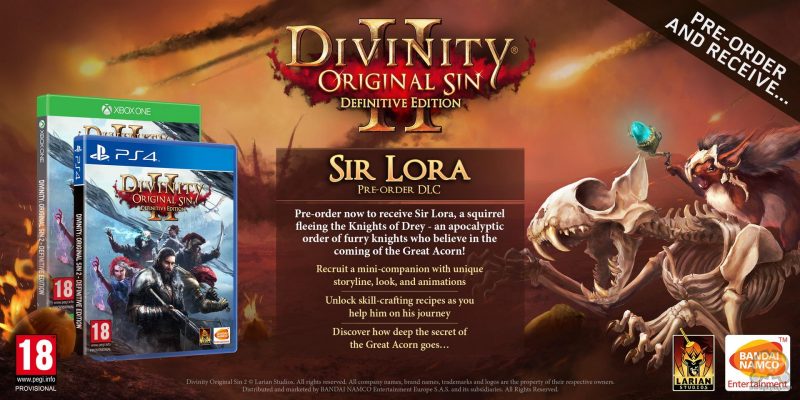 Pre-order Divinity: Original Sin 2 – Definitive Edition for either console or PC to receive an additional companion, Sir Lora, described in Larian's usual humorous tone as "a squirrel fleeing the Knights of Drey – an apocalyptic order of furry knights who believe in the coming of the Great Acorn."
Recruit a mini-companion with unique storyline, look, and animations
Unlock skill-crafting recipes as you help him on his journey
Discover how deep the secret of the Great Acorn goes…
Divinity: Original Sin II – Definitive Edition will be out on Xbox One, PlayStation 4, and PC on August 31, 2018.
Check out our other upcoming rpg games and upcoming pc games.