This game was released on March 20, 2020 and is no longer available to pre-order. Any incentives that were offered are listed below.
DOOM Eternal is a direct sequel to id Software's 2016 shooter DOOM. Upon returning to Earth, the Slayer finds it invaded by demons and proceeds to do what he does best: rip and tear through their hordes. There are new weapons, such as the distance-closing Meat Hook, new abilities, and new classes of enemies with unique attacks.
Another new feature in DOOM Eternal is a Dark Souls-like invasion mechanic where the player assumes the role of a demon and invades the other players' campaigns. While it won't be available at launch, it will be added as a free update shortly after. There is also an online 2-vs-1 Battlemode that involves the Doom Slayer facing off against two player-controlled demons.
Pre-order Bonuses

Pre-order DOOM Eternal to receive a free digital copy of the classic Doom 64 with a new chapter as well as the Rip and Tear Pack. The latter contains the following in-game content:
Doot Revenant Skin for Battlemode
Cultist Base Master Level: a remixed version of the campaign level "Cultist Base" with new challenges and surprises
Throwback Shotgun Weapon Skin: bring DOOM's original shotgun to bear on DOOM Eternal's demon hordes
The in-game goodies, as well as a glimpse of Doom 64, can be seen and heard in this pre-order trailer. Any additional bonuses and discounts from retailers are listed below:
Amazon: exclusive controller skin; $10 discount for Standard Edition (Xbox One & PS4 only)
GameStop: exclusive DOOM Eternal collectible tin
Best Buy: free SteelBook and $10 in rewards for My Best Buy members with any edition of the game
Walmart: $10 discount upon adding game to cart (standard edition only)
PlayStation Store: DOOM Eternal official Theme for PS4
GreenManGaming (PC): a 10% discount
Deluxe Edition ($89.99)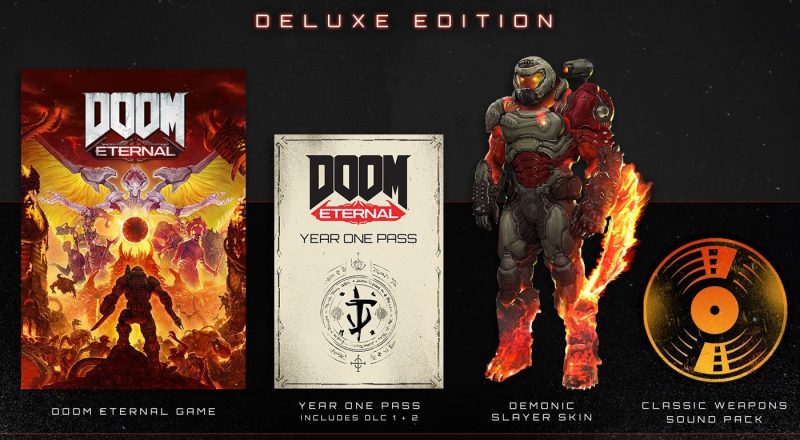 The Deluxe Edition is available both digitally and at retail, and includes the following extras:
Year One Pass: two campaign add-ons that explore the events that led to Earth's fall against the demons
Classic Weapon Sound Pack: throwback sound effects for DOOM Eternal guns
Demonic Slayer Skin (for single-player and Battlemode)
Collector's Edition ($199.99)
Lastly, if you're willing to stump up $200 for the massive Collector's Edition you'll receive a full-sized Doom Slayer helmet replica and more:
Digital Deluxe Edition content:

Year One Pass
Classic Weapon Sound Pack
Demonic Slayer Skin

Exclusive Steelbook case designed by graphic designer and illustrator Gabz in collaboration with Mondo
A full-sized, wearable DOOM Slayer Helmet replica
A playable cassette tape & download codes for lossless digital copies of Mick Gordon's DOOM (2016) and DOOM Eternal original soundtracks
DOOM Lore Book with custom artwork by id Software
"The Gift of Argent Power" 11″ x 17″ Lithograph
Xbox One, PlayStation 4, and PC gamers can start razing hell on March 20, 2020, while Nintendo Switch owners will have to wait a while longer for the game to be ported.
Check out our other upcoming shooter games and upcoming nintendo switch games.