This game was released on October 14, 2022 and is no longer available to pre-order. Any incentives that were offered are listed below.
Hunt or be hunted in Dragon Ball The Breakers, an asymmetrical multiplayer survival coop game developed by DIMPS and published by Bandai Namco. Pull together or go at it alone, these are the options you have to stay alive as one of seven survivors trapped in a temporal seam. Also trapped with you is a raider whose one goal is to exterminate all survivors before they escape. With the pressure mounting will you break through or will you break down?
The freedom of choice is upon you, cooperating with others could better your chances but the choices of other survivors or the raider may take away that liberty as well.
Become the raider. Play as the raider using all the powers available to you to hunt down and catch your victims making you even more powerful.
Get to play as either of 3 iconic raiders based on the original Dragon Ball franchise; Cell, Majin Buu, or Frieza.
Pre-order Bonuses
If you make a purchase through these links, we may get a share of the sale.
Standard Edition ($19.99)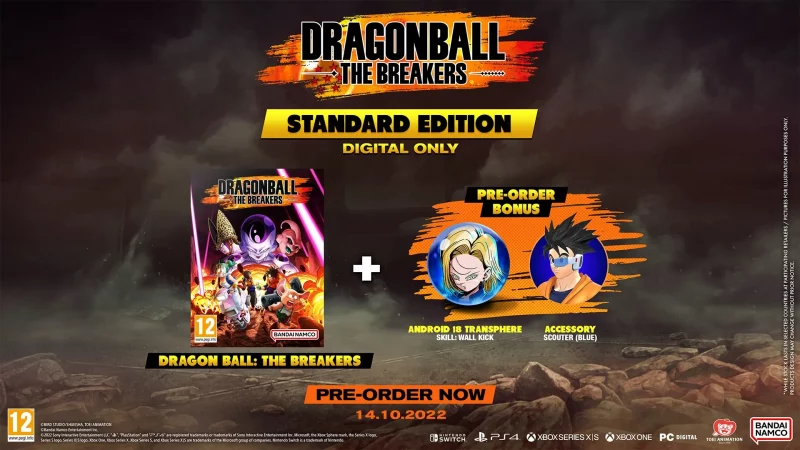 The Standard Edition of Dragon Ball The Breakers has a pre-order bundle that comes with customizations for your survivor that includes:
Transphere "Android 18" – Skill: Wall Kick
Accessory – Scouter (Blue)
Special Edition ($29.99)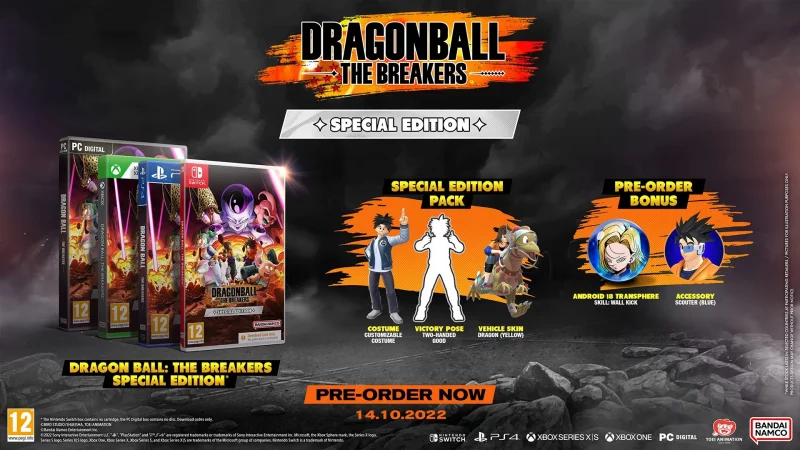 The Special Edition of Dragon Ball The Breakers comes bundled with the pre-order bonus plus a special edition pack that contains:
Special Edition content
– Customizable Costume items
– Victory Pose "Two Handed-Good"
– Vehicle Skin "Dragon (Yellow)"
PlayStation
Xbox
Nintendo Switch
Windows PC
Dragon Ball The Breakers will be released on October 14th, 2022, and will be playable on PlayStation 4, PlayStation 5, Xbox One, Xbox Series X|S, Nintendo Switch, and Windows PC.
Check out our other upcoming action games and upcoming playstation 4 games.