This game was released on May 20, 2014 and is no longer available to pre-order. Any incentives that were offered are listed below.
Drakengard 3 is an action RPG developed by Access Games and published by Square Enix. It is a prequel to the first game and has the player assume the role of Zero, the eldest of the five Intoner sisters who control powerful magic through songs. Zero's goal is to kill her sisters with the help of her dragon mount, Mikhail.
The game features fast-paced ground and aerial combat with combos, special modes, and on-the-fly weapon switching. The Japanese release was rather well-received by the reviewers.
Pre-order bonuses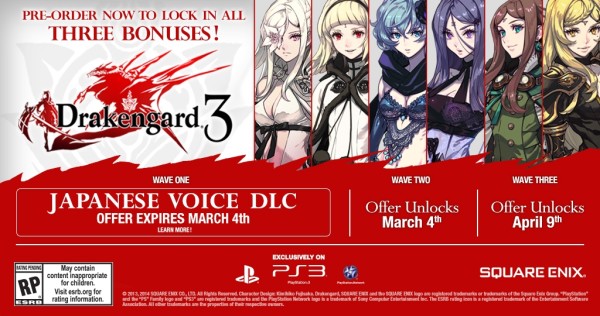 The pre-order bonuses for Drakengard 3 are separated into 3 tiers, and the earlier you reserve your copy, the more of them you will get:
Wave one: pre-order before March 4th to get all three bonuses (Japanese voice-over DLC as well as the second and third bonus).
Wave two: pre-order after March 4th but before April 9th and you will be eligible for the second and third bonus.
Wave three: pre-order after April 9th and you'll only get the third bonus.
Collector's Edition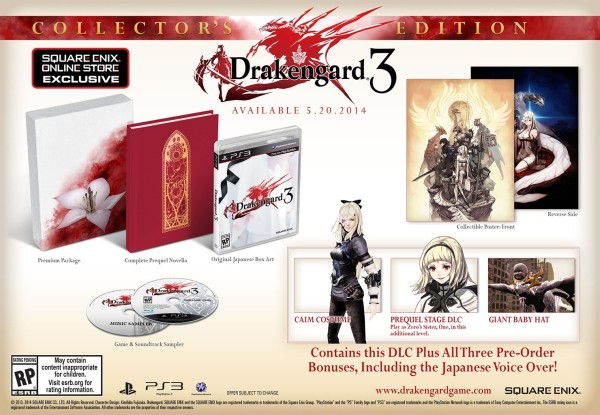 Available for preorder exclusively at Square Enix Online Store, the $79.99 Collector's Edition of Drakengard 3 includes the following goodies:
Premium packaging and original Japanese box art
Double-sided collectible Drakengard 3 poster
Complete prequel novella
Soundtrack sampler disc
Prequel Stage DLC (an additional level with One as a playable character)
Caim Costume DLC
Giant Baby Hat DLC
In addition, you will also get all three aforementioned preorder bonuses. There are only 5,000 copies of the CE available, so it might be a good idea to preorder it early.
Opening movie
Drakengard 3 will be released on May 20th, 2014 in North America. Europe will be getting a digital-only release one day later.
Check out our other upcoming action games and upcoming playstation 3 games.