This game was released on April 10, 2018 and is no longer available to pre-order. Any incentives that were offered are listed below.
Extinction is a fantasy-themed action game developed by Iron Galaxy Studios and published by Maximum Games. It puts the player into the shoes of Avil, one of the world's last Sentinels, who is tasked with protecting humanity from hordes of bloodthirsty 150-feet-tall ogres known as Ravenii. The game features dynamic, skill-based combat, with Avil being able to use his whip for vertical movements and swoop over his giant enemies to expose their weak points.
In addition to the story campaign and side missions, the game also offers Skirmish and Extinction modes. In the former, players create their own battlegrounds and compete online for the highest score, whereas in the latter they face continuous waves of assailants and battle for survival.
Pre-order Bonuses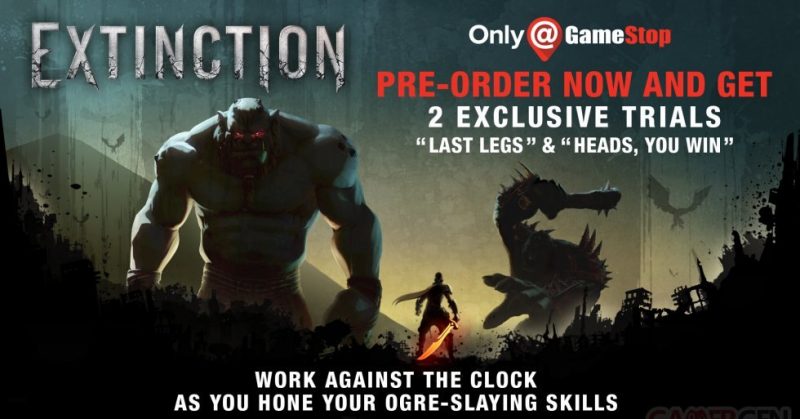 Pre-order Extinction via the following retailers and digital storefronts to receive exclusive DLC at launch:
GameStop: Last Legs & Heads, You Win – work against the clock as you hone your ogre-slaying skills.
Best Buy: Short Fuse – get rewarded when you complete unique objectives in this bonus trial.
Microsoft Store: Brightsteel City – this bonus trial will challenge even the most skillful Sentinel.
PlayStation Store: Double Trouble – save humanity before it's too late in this bonus trial that will test every aspect of your strength, speed, and skill.
Deluxe Edition
The Deluxe Edition of Extinction is priced at $69.99 and comes with the Days of Dolorum Season Pass which grants access to future DLC packs. The Season Pass will cost $14.99 if purchased separately, thus if you're inclined to get it, buying the Deluxe Edition will save you five bucks.
Gameplay Trailer
Extinction is scheduled to launch on April 10, 2018 for Xbox One, PS4, and PC via Steam.
Check out our other upcoming action games and upcoming pc games.