This game was released on April 10, 2020 and is no longer available to pre-order. Any incentives that were offered are listed below.
Final Fantasy VII Remake is an action RPG from Square Enix that retells the story of the original 1997 game in high definition. Like the title implies, it is not merely a port but a ground-up remake with new environments, character models, soundtrack, and modernized gameplay mechanics.
The story of Final Fantasy 7 follows Cloud Strife, a former soldier of the shadowy Shinra corporation which is utilizing the planet's very life force as an energy source. After being hired by a resistance group Avalanche, he fights alongside his new comrades to save the planet.
Pre-order Bonuses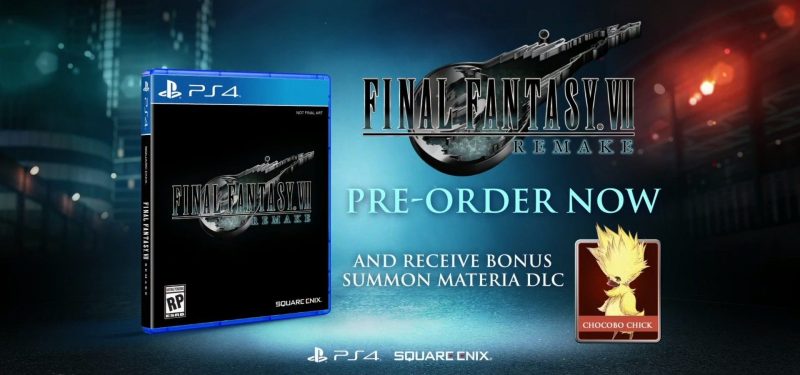 Pre-order Final Fantasy 7 Remake to receive the Chocobo Chick Summon Materia DLC. Further bonuses are available from the following retailers:
Most of these bonuses apply to the special editions detailed below too.
Deluxe Edition ($79.99)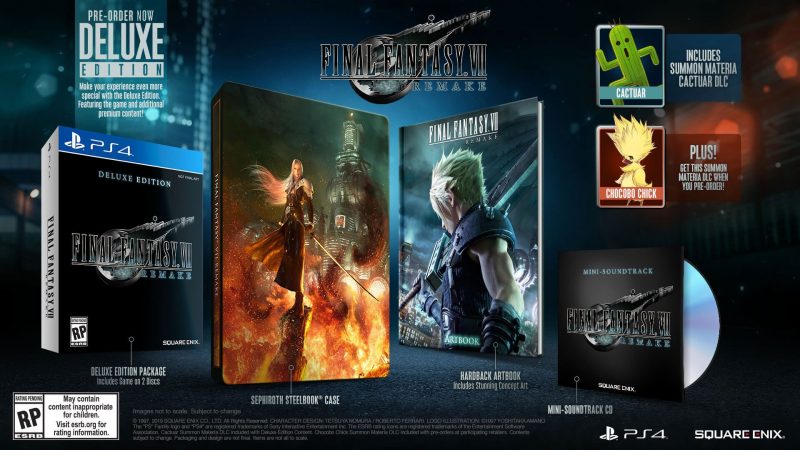 The Deluxe Edition is available both digitally and at retail, and comes with the following goodies:
Hardback Artbook
Mini-soundtrack CD
Sephiroth Steelbook Case
Cactuar Summon Materia DLC
Carbuncle Summon Materia DLC (PlayStation Store pre-orders only)
Best Buy has an exclusive version of the Deluxe Edition that costs $20 more and adds a canvas pouch and a set of metallic stickers in addition to everything listed above.
1st Class Edition ($329.99)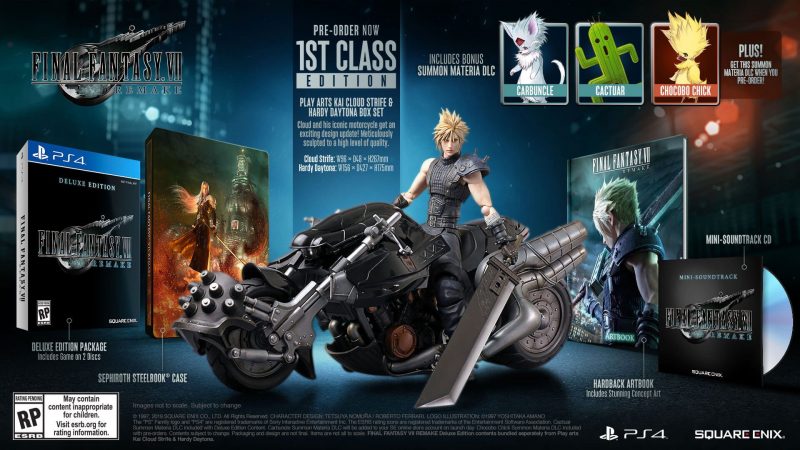 The 1st Class Collector's Edition of FFVII Remake is exclusive to Square Enix Store and adds Carbuncle Summon Materia DLC as well as articulated figurines of Cloud Strife and his Hardy-Daytona from Play Arts KAI on top of everything listed in the Deluxe Edition. Cloud's figurine is sized 96 × 48 × 267mm, whereas his motorcycle is 156 × 427 × 175mm. A display stand is included.
FFVII Remake And FFVII Vinyl Set ($69.99)
While not a game edition, this limited 2-LP picture disc vinyl set is also worth a mention. Containing music highlights from Final Fantasy VII and tracks from Final Fantasy VII Remake, it is available for pre-order now and will launch alongside the game.
FFXIV Shadowbringers and FF7R Theme
As per @PlayStation tweet, owners of FFXIV: Shadowbringers who pre-order the standard or Digital Deluxe editions of FF7 Remake from PlayStation Store are entitled to a bonus PS4 theme previewed above. The theme features changing backgrounds from both games and the "Prelude" music track from FF7R.
After a one month delay for additional polish, Final Fantasy VII Remake is now scheduled to launch on April 10, 2020 for PlayStation 4 exclusively. Physical copies will come with a reversible cover: a throwback to the box art of the original PS1 title on one side, and the logo against a black backdrop on the other. After the one-year period of exclusivity ends, the game is likely to launch on other platforms too.
Check out our other upcoming action games and upcoming playstation 4 games.