This game was released on July 11, 2017 and is no longer available to pre-order. Any incentives that were offered are listed below.
The Zodiac Age is a HD remaster of the Final Fantasy XII: International Zodiac Job System version, which was released in Japan back in 2007 but never ported West, contrary to its name. In addition to remastered character models and cutscenes, the upcoming release also includes a new trial mode which involves hunting monsters in 100 different maps, newly recorded background music, and support for trophies.
Originally launched in 2006 for PlayStation 2, Final Fantasy XII is widely acclaimed as one of the best Final Fantasy titles. The game is set in the magical world of Ivalice, and follows an energetic orphan Vaan on his journey to become a sky pirate.
Pre-order bonuses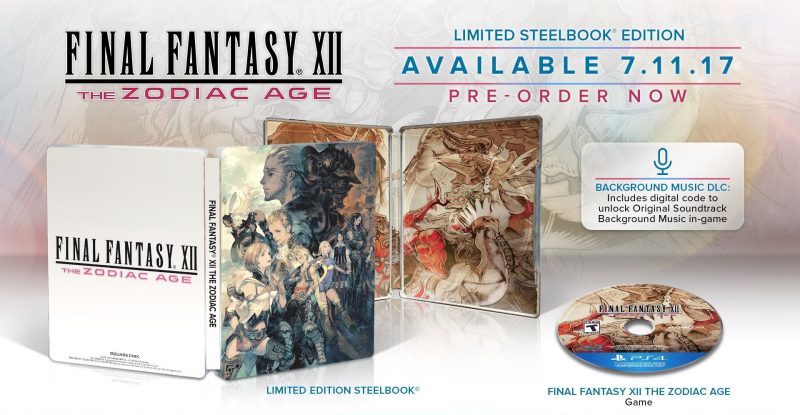 While the Standard Edition of the game costs $49.99, select retailers carry the Limited Edition which costs the same, but adds an exclusive Steelbook featuring artwork by Akihiko Yoshida, and a digital code to unlock the original soundtrack background music option in-game.
Meanwhile, the first print run of the aforementioned Standard Edition includes a limited reversible coversheet featuring artwork by Akihiko Yoshida, according to Square Enix.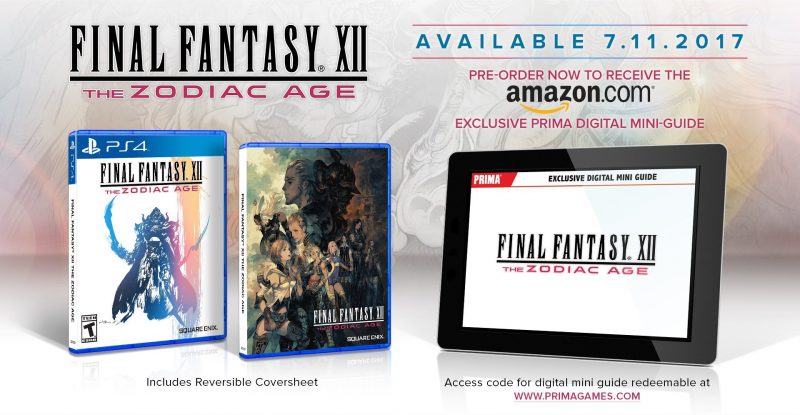 Amazon is the only retailer to offer an exclusive bonus so far; pre-ordering the game there nets you a digital mini-guide from Prima.
On the other hand, pre-ordering digitally via PlayStation Store gets you a static PS4 theme and a 4-track music compilation composed by Hitoshi Sakimoto.
Collector's Edition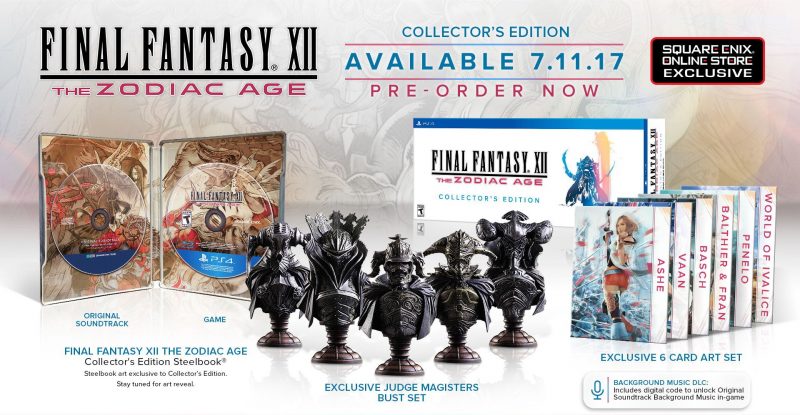 Available exclusively through Square Enix Online Store, this $200 edition comes with the following in addition to the base game:
Exclusive "Judge Magisters" Mini Bust Set (Judges Bergan, Drace, Gabranth, Ghis, and Zargabaath)
Selection of soundtrack music from famed composer Hitoshi Sakimoto
Steelbook featuring exclusive art to the Collector's Edition
Set of Six Art Cards (Vaan, Ashe, Basch, Fran & Balthier, Penelo and World of Ivalice)
Digital code to unlock the official soundtrack background music option in-game
Final Fantasy XII: The Zodiac Age will be out for PlayStation 4 on July 11, 2017.
Check out our other upcoming rpg games and upcoming playstation 4 games.