This game was released on October 23, 2012 and is no longer available to pre-order. Any incentives that were offered are listed below.
Forza Horizon is the next installment in the well-established Xbox 360 racing game franchise. It is considered a spin-off from the main series, as this title is the first one to feature an open world where you can drive around and challenge other drivers. The game's premise is as follows: you are at a fictional "Horizon" music festival in Colorado, and your goal is becoming the King of said festival. This can be achieved by winning races, performing stunts, completing challenges, and so on. Fitting with the setting, the game's soundtrack includes music from several famous artists.
Pre-order bonuses
First of all, pre-ordering Forza Horizon at participating retailers immediately nets you a Horizon-themed 2012 Dodge Challenger SRT8 392 for use in Forza Motorsport 4. In addition, you can also get the following bonus cars for Forza Horizon when it launches:
Limited edition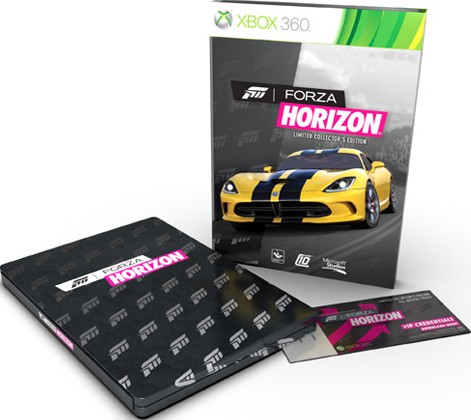 There's also an option to buy the game in a Limited Collector's Edition which costs $20 more than the standard one, and comes with the following:
Custom cover design
Custom-designed Steelbook packaging
Horizon Festival ticket to access exclusive Xbox Live content
Day 1 Add-on Pack with 5 cars
VIP Membership & Car Pack
Horizon Accelerator Token Pack
Five exclusive LCE Car Pack liveries
The information above is from the official Forza Motorsport news page.
Forza Horizon is expected to launch on October 23, 2012.
Check out our other upcoming racing games and upcoming xbox 360 games.