This game was released on September 20, 2011 and is no longer available to pre-order. Any incentives that were offered are listed below.
Epic Games is currently working on the third (and final) part of the Gears of War trilogy, which is scheduled for a September 2011 release. The upcoming Gears of War 3 will introduce a four-player co-op campaign, new playable characters (including three female ones), and new weapons. Furthermore, a Silverback mech suit armed with a rocket launcher and a machinegun will be available in certain parts of the game.
If that got you excited, just wait till you hear about the additional Locust and Lambent enemy types, as well as new executions you can finish them off with – such as the Bayonet Charge. There will be new multiplayer modes as well, like the Beast mode: a reverse Horde mode where you and up to four other players fight as Locusts against waves of COGs.
Gears of War 3 will take place one-and-a-half years after the end of the second game. Cliff Bleszinski, the design director at Epic Games, has said that GoW3 will "answer the majority of the questions that players have about the history of the world and what's going on" and "be the conclusion to a trilogy".
Gears of War 3 pre-order bonus list
The gaming stores that are offering GoW3 preorder incentives in the US are listed below. We'll update this list to include promotions from other retailers when (and if) they are announced.
Folks in the UK can get the same bonuses by pre-ordering Gears of War 3 at the following retailers:
Play: Mechanic Baird
Amazon: Kantus Shaman (aka Savage Kantus)
GAME: Commando Dom
Gamestation: Savage Grenadier Elite
There also are two special editions of the game, Limited ($79.99) and Epic ($149.99), which come with extra goodies for the fans. Check out the contents and photos of these below.
GoW3 Limited Edition contents
Octus Service Medal: a 1:1 size zinc-alloy replica of the cog-shaped medal awarded to Adam Fenix in recognition of his work on the Hammer of Dawn.
Adam Fenix Multiplayer Character, unlockable using the unique Xbox Live code engraved on your Octus Service Medal.
Fenix Family Mementos including the Last Will and Testament of Adam Fenix, the early schematics for Hammer of Dawn, a fabric COG flag, and an Octus Award Box.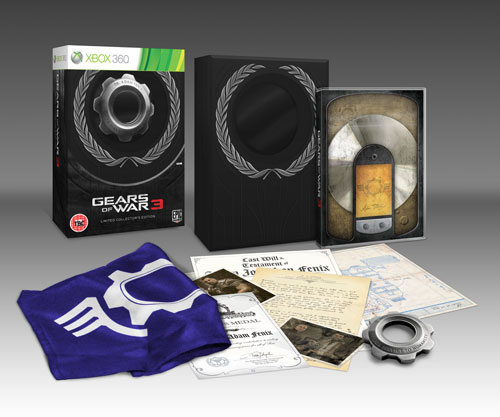 Gears of War Epic Edition contents
A collectible Marcus Fenix statue, designed by Epic Games Art Director Chris Perna and expertly crafted by the artisans at Triforce.
The Art and Design of Gears of War by Tom Bissell: a behind-the-scenes glimpse at the making of GoW3. The book includes interviews, photos, and concept art from nearly 10 years of production.
Infected Omen Weapon Pack with custom multiplayer skins for the 5 starting weapons (Lancer, Retro Lancer, Hammerburst, Sawed-off Shotgun, and Gnasher Shotgun).
This bonus being listed in Amazon under Limited Edition seems to be an error.
Octus Service Medal and all the other bonuses from the Limited Edition of the game.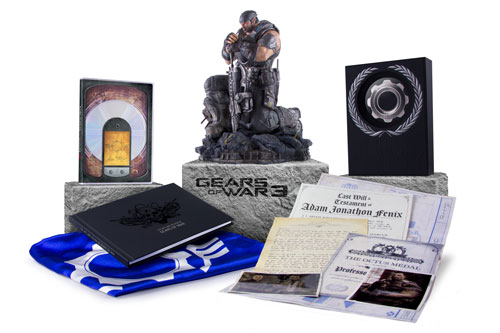 Retro Lancer replica
The Retro Lancer replica is a collector's item modeled after the GoW3 weapon using its actual 3D model. It is over 3 1/2 feet in length, features a trigger-activated gunfire sound effect, and is hand-painted to give it a rugged, battle worn look. This item is Gamestop-exclusive; you can buy it separately or in a bundle, which will result in $20 savings.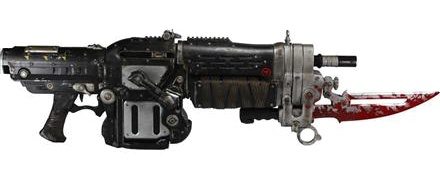 Limited Edition Gears of War 3 console
Microsoft and Epic Games have teamed up to bring you this Gears of War 3 branded limited edition Xbox 360 console. It features an exclusive red-and-black design and includes two GoW3-themed wireless controllers, a headset, 320 GB storage and a standard version of the game. It even has customized sounds for power and eject buttons! You will also get a download token for the Infected Omen Weapon Pack and the Adam Fenix multiplayer character.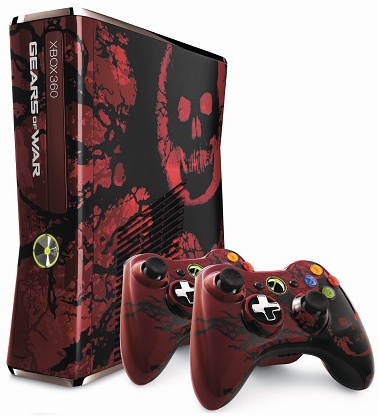 What's new in Gears of War 3
We've already mentioned some of the things that you can look forward to in Gears 3 – now let's have a closer look at all those new features. First of all, the weapons:
The Retro Lancer: the most powerful close-range rifle in the game with the ability to perform a bayonet charge and spear your enemies.
The One Shot: a heavy weapon with a very low ammo count that needs to be deployed before using. Like the name suggests, it can take out most enemies with a single shot.
The Sawed-Off Double Barrelled Shotgun: an inaccurate but highly powerful weapon, only effective when up close. Has a very long reload time.
The Incendary Grenade: explodes on impact like a Molotov cocktail.
The Digger Launcher: this Locust weapon fires creatures that burrow under the ground and explode when they come out.
Second, we have the satisfyingly brutal executions. In GoW3, almost every weapon has its own unique execution. What's more, they will earn you extra XP points – but there's a certain risk due to the long animations, too. Here are some examples of Gears of War 3 executions:
Grenade: the player grabs a downed enemy and uses him as a meatshield; then he grenade tags and kicks him towards the nearest enemy. Boom!
Scorcher: the player jams the Scorcher's nozzle into an enemy's body, causing flames to erupt from their eyes and mouth.
Arm rip: the player tears off an arm of a downed enemy and beats him to death with it.
Finally, we have the multiplayer updates. Besides the Beast mode and the co-op campaign mentioned at the beginning of this article, the game will include new Capture the Leader and Team Deathmatch modes. Gears fans will also be happy to hear that in order to remove the host advantage, GoW3 will be the first game in the franchise to support dedicated servers.
Gears 3 screenshots
Multiplayer gameplay & interview
To find out more about all these new features, watch the video below where GameSpot interviews Cliff Bleszinski and Rod Fergusson. They talk about the new modes, maps, weapons and characters; you can catch a few glimpses of the multiplayer gameplay as well.
The release date of Gears of War 3 is set for September 20, 2011 in North America & Europe, and September 22 in Japan. Visit the official homepage of the game for more details.
Check out our other upcoming shooter games and upcoming xbox 360 games.