This game was released on August 30, 2016 and is no longer available to pre-order. Any incentives that were offered are listed below.
God Eater 2: Rage Burst is an enhanced version of the 2013 action RPG God Eater 2, developed by Japanese studio Shift and published by Namco Bandai in the West. The game is set in a post-apocalyptic world where gigantic monsters called Aragami seek to devour humanity. Only elite warriors called God Eaters can stand up to the threat by using God Arcs – weapons infused with Oracle Cells taken from Aragami themselves.
The expanded game adds another story chapter as well as new characters, enemies and weapon types. It also introduces a new gameplay mechanic called Blood Rage, which allows the player to use their Awakening Gauge to gain various buffs.
Pre-order bonuses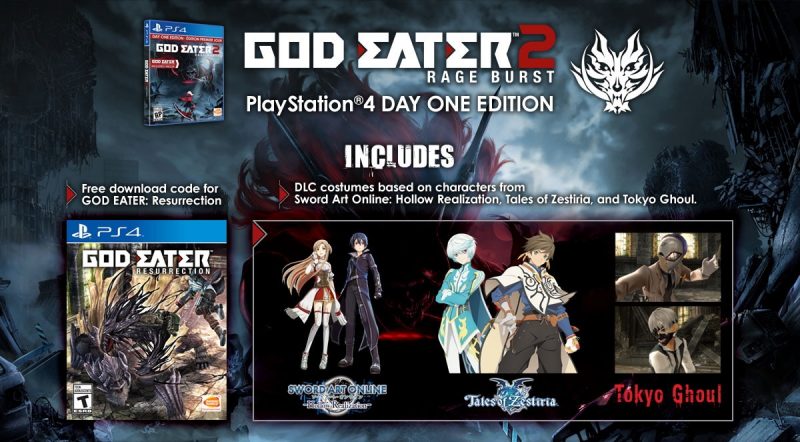 Pre-order God Eater 2: Rage Burst for PS4 or Windows to get a digital copy of God Eater: Resurrection, as well as exclusive DLC costumes based on Sword Art Online: Hollow Realization, Tales of Zestiria, and Tokyo Ghoul. This bonus is available from participating retailers (as PlayStation 4 Day One Edition shown above) as well as digitally via PSN and Steam. The PS Vita version does get the costumes, but not the God Eater: Resurrection game; it can be purchased separately, however.
God Eater 2: Rage Burst is scheduled to be released physically on PS4 and digitally on PS Vita and Steam on August 30th, 2016 in North America.
Check out our other upcoming action games and upcoming pc games.