This game was released on November 09, 2022 and is no longer available to pre-order. Any incentives that were offered are listed below.
Ragnarok is upon us, choose to protect thyself or the realms in God of War Ragnarok. Developed by Santa Monica Studios and Published by Sony Interactive Entertainment, God of War Ragnarok is an action-adventure game that marks the second and final chapter in the God of War reboot series. Kratos and Atreus find themselves in a race to stop Ragnarok – the fabled end of the world- from happening.
Experience the greatest war the nine realms has ever seen with the game arriving on PlayStation 5 and PlayStation 4 this Autumn.
The Journey will be met with a strong adversary in the God Thor who seeks to take revenge on Kratos for the murder of his half-brother Baldur and his two sons Modi and Magni.
The father-son combat system has been refined allowing for devastating combo attacks maximizing their effectiveness in the heat of battle.
Wield earth-shattering weapons once more with the Leviathan Axe being fitted with new Runic capabilities bringing out greater unique attacks.
Pre-order Bonuses
If you make a purchase through these links, we may get a share of the sale.
God of War Ragnarok Launch Edition ($59.99)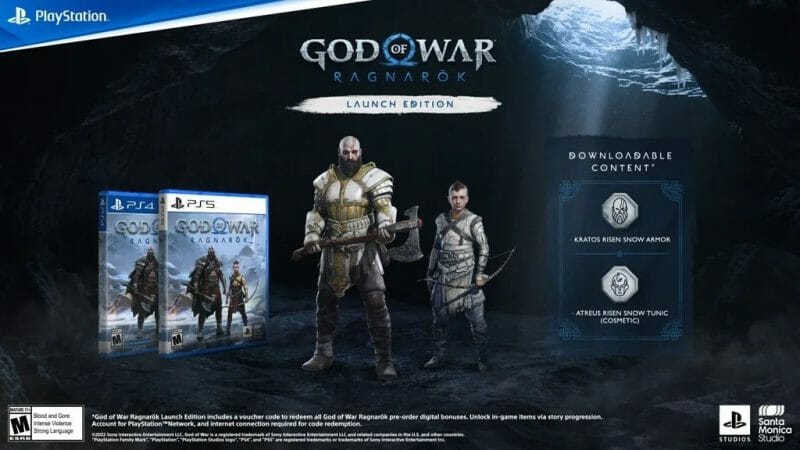 The standard preorder of God of War Ragnarok gets you a preorder bonus that bags you cool items such as:
Kratos Risen Snow Armor.
Atreus Risen Snow Tunic (Cosmetic)
God of War Ragnarok Digital Deluxe Edition ($79.99)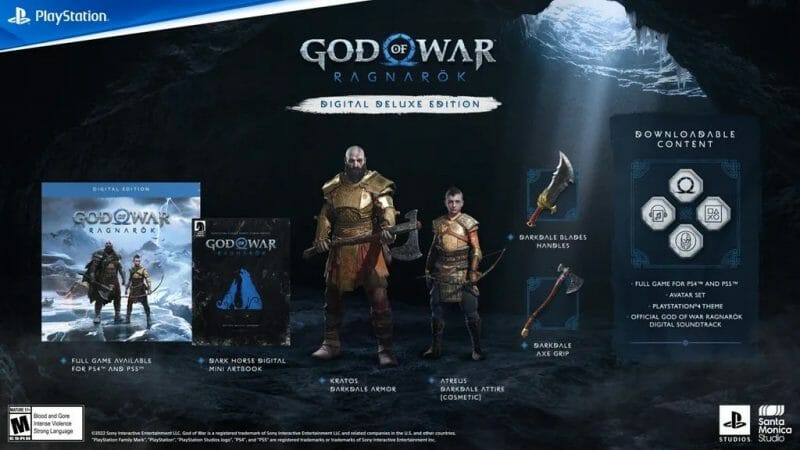 The Digital Deluxe Edition of God of War Ragnarok is the edition packed with the most in-game content and includes digital content such as;
Darkdale Armor
Darkdale Attire (Cosmetic)
Darkdale Axe Grip
Darkdale Blades Handles
Dark Horse digital art book
Official digital soundtrack
PSN avatar set for PS4/PS5
God of War Ragnarok Collector's Edition ($199.99)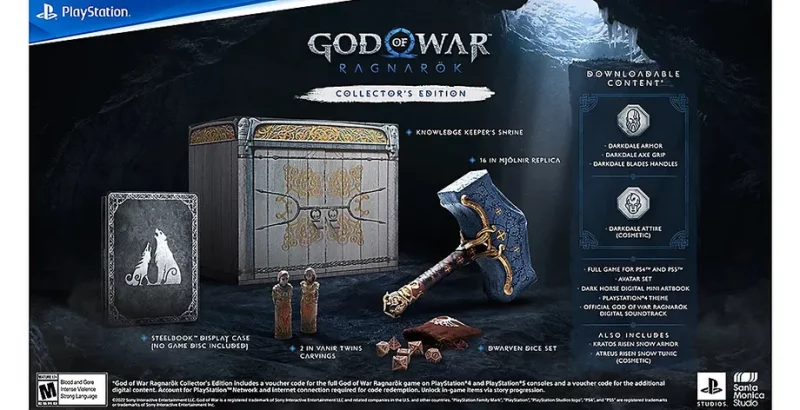 The Collector's Edition of the game comes with game merchandise including everything in the digital deluxe edition. Items in this edition include:
Everything in the Digital Deluxe Edition
16-inch Mjolnir replica hammer
Dwarven dice set
Two two-inch Vanir Twins carvings
Steelbook Display case (no game disc, download voucher included)
Knowledge Keeper's Shrine box
PlayStation
God of War Ragnarok will be released on November 9th, 2022, and will be playable on PlayStation 4 and PlayStation 5
No products found.
Check out our other upcoming action games and upcoming playstation 4 games.