This game was released on September 29, 2017 and is no longer available to pre-order. Any incentives that were offered are listed below.
Gundam Versus is a team fighting game based on the popular mecha anime franchise. It offers online multiplayer in 2v2 and 3v3 battle formats, and features over 90 playable mechs from the multitude of Mobile Suit Gundam animated series. It is the first main installment from the Gundam VS fighting game franchise to be released in the West.
Publisher Bandai Namco has also announced that there is going to be an open beta prior to launch, allowing players to try the game before committing to a purchase.
Pre-order Bonuses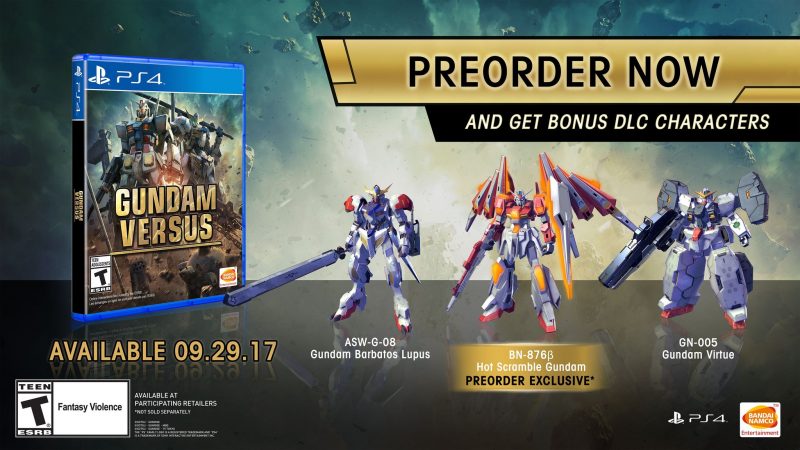 Pre-ordering Gundam Versus gets you three bonus Mobile Suits, one of them exclusive (meaning it won't be available for purchase later, unlike the other two):
BN-876β Hot Scramble Gundam (pre-order exclusive)
ASW-G-08 Gundam Barbatos Lubus ($4.99 retail value)
GN-005 Gundam Virtue ($4.99 retail value)
The bonus is available both digitally and at retail. Pre-ordering digitally via PSN will also net you a special theme.
Gundam Versus is scheduled to be released on September 29, 2017, exclusively for PlayStation 4.
Check out our other upcoming fighting games and upcoming playstation 4 games.