Genre
Stealth
Platform

Release date
Nov 20, 2012
This game was released on November 20, 2012 and is no longer available to pre-order. Any incentives that were offered are listed below.
IO Interactive is currently working on the fifth installment of Hitman for Windows and consoles. Titled Hitman: Absolution, the game mixes familiar stealth mechanics with new gameplay features like improvised weapons and "Instinct Mode". The latter allows the player to spot enemies through walls and see their patrol paths.
As for the story, it is supposed to be quite a bit more personal than that of the previous Hitman titles. Betrayed by people he trusted, Agent 47 is on the run and in search for answers. The game's lead producer says this will let the players learn more about the protagonist's character as he makes his own decisions.
Hitman: Absolution preorder bonuses
Pre-order Hitman: Absolution at the following retailers for exclusive in-game items:
The aforementioned Sniper Challenge that GameStop gives as a bonus is stand-alone, so you can play it while waiting for the main game's release. Top players on the Sniper Challenge leaderboard will receive additional prizes.
Professional edition content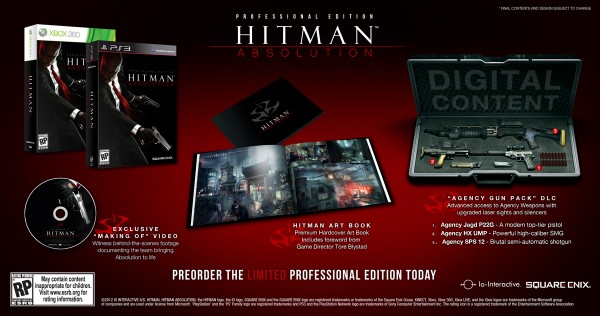 The game is also available in a Professional Edition which includes the following collectibles in its sleek clamshell box:
Hardcover art book with a foreword from game director Tore Blystad.
Making-of video.
Agency Gun Pack DLC:

Agency JAGD P22G Pistol
Agency HX UMP SMG
Agency SPS12 Semi-Automatic Shotgun
This collector's edition of Hitman: Absolution will set you back $79.99.
"A Personal Contract" trailer
Hitman 5 is expected to launch on November 20, 2012.
Check out our other upcoming action games and upcoming pc games.