This game was released on May 17, 2016 and is no longer available to pre-order. Any incentives that were offered are listed below.
Homefront: The Revolution is an open-world, first-person shooter developed by Dambuster Studios and published by Deep Silver. It is a follow-up to the 2011 title Homefront, which centers around resistance fighters in Korea-occupied North America. The sequel takes place four years after the events of the original game, features a new protagonist, and is set in a dystopian, near-future version of Philadelphia.
In addition to approximately 30 hours worth of single-player content, Homefront: The Revolution also offers Resistance Mode, an online co-op for up to 4 players. There are going to be 12 re-playable missions at launch, with more to be added at a later date, free of charge.
Pre-order bonuses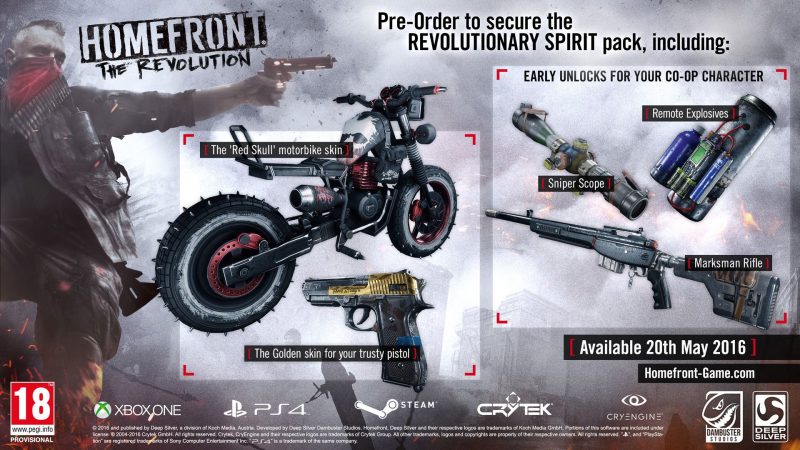 Simply pre-order Homefront: The Revolution to receive the Revolutionary Spirit pack shown above. It contains a Golden pistol skin and a Red Skull motorbike skin for the single-player campaign, as well as early unlocks of Marksman Rifle, Sniper Scope, and Remote Explosives for the co-op.
As usual, we also have some retailers offering exclusive bonuses:
Amazon: Wing Skull Pack with Wing Skull motorbike skin and the Silver Pistol skin for the Campaign.
GameStop: Guerrilla Care Package containing 5 "Resistance Crates" with random weapon blueprints, attachments, or equipment for the co-op. Combat Stimulants to give your freedom fighter a boost in battle.
Best Buy: exclusive SteelBook Edition
Finally, pre-ordering the game digitally for any platform will get you a digital-exclusive Liberty Pack, which features the Liberty Body Armour and KPA Shock Trooper Helmet, usable in the co-op.
Goliath Edition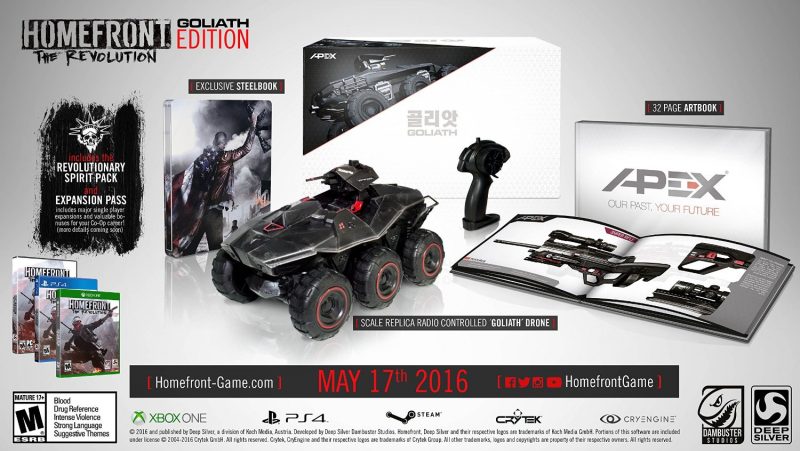 The game is also available in a CE named the "Goliath Edition" that you can see depicted above. It carries a price tag of $160 and ships with the following items:
Radio-controlled Goliath replica
Exclusive SteelBook
32 page art book
Expansion Pass
Revolutionary Spirit Pack
The previously mentioned retailers also include their exclusive pre-order bonuses with the Goliath Edition.
Freedom Fighters trailer
The latest video showcases the Resistance Mode.
Homefront: The Revolution is scheduled to be released on May 17, 2016 in North America and May 20 in Europe. It will be available on PlayStation 4 and Xbox One consoles, Windows, Linux, and OS X.
Check out our other upcoming shooter games and upcoming pc games.