This game was released on April 16, 2013 and is no longer available to pre-order. Any incentives that were offered are listed below.
Injustice: Gods Among Us is an upcoming console fighting game developed by NetherRealm Studios and published by Warner Bros. The game is based on the DC Comics universe and features popular characters like Superman, Wonder Woman, Bane, Green Lantern, Batman, and Harley Quinn. In order to make it more accessible to casual players, Injustice uses a simple four-button control scheme (light / medium / hard attacks, and a "character trait" ability unique to each fighter).
Pre-order bonuses
Walmart is offering Batman: Arkham City skins for Batman, Catwoman, and Joker. You also get a free copy of Mortal Kombat vs. DC Universe.
Best Buy will give you an exclusive Zombie Mode, a Batman skin based on the Blackest Night, and $20 store credit if you're a Gamers Club Unlocked member.
GameStop also has an exclusive Injustice: Gods Among Us pre-order bonus. Reserving your copy with them will net you the Red Son Pack, which explores the idea of Superman being the hero of Soviet Union. The pack contains alternate skins for Superman, Wonder Woman, and Solomon Grundy, as well as 20 missions set in the Red Son timeline.
Last but not least, Amazon will give you $10 promo credit and a free Injustice: Gods Among Us digital comic for Kindle with the standard edition of the game.
Collector's Edition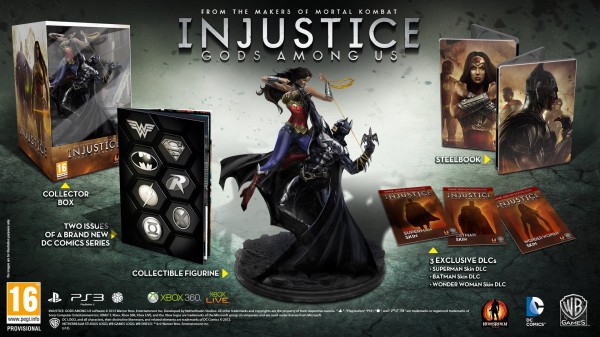 There's also a rather impressive Collector's Edition of Injustice: Gods Among Us available for $99.99. The following items are included:
Highly detailed 13″ DC Collectibles statue featuring Batman, Wonder Woman, the Fortress of Solitude, and the Last Son of Krypton's escape ship.
Collector's Edition of a brand new DC Comics series
Digital download of DC Universe animated film Justice League: Doom
Three exclusive Batman, Superman and Wonder Woman skins based on The New 52.
Battle Edition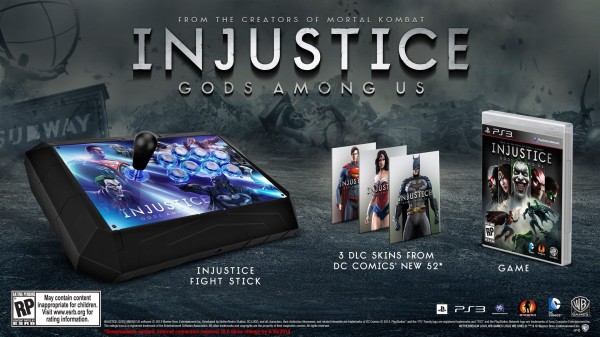 The main appeal of the rather expensive ($149.99) Battle Edition is, without a doubt, the Injustice: Gods Among Us Fight Stick from Performance Designed Products. The package also contains the game itself and the aforementioned The New 52 skins for Batman, Superman and Wonder Woman. This edition is only available at GameStop and EB Games in North America.
Tokyo Game Show trailer
The official trailer from TGS 2012 shows us there's plenty to look forward to in April 2013:
Injustice: Gods Among Us is set to release in April 2013 for Xbox 360, PlayStation 3, and Wii U consoles.
Check out our other upcoming fighting games and upcoming playstation 3 games.