This game was released on June 12, 2018 and is no longer available to pre-order. Any incentives that were offered are listed below.
Jurassic World Evolution is a business simulator developed and published by British studio Frontier Developments. The game charges the player with building and managing their own Jurassic World park on the islands of the Muertes archipelago.
Among the game's features is researching new species, bioengineering dinosaurs to give them new traits, balancing three distinct gameplay paths (science, security, and entertainment), and getting up close and personal to the dinosaurs from behind the wheel of a 4×4 or a helicopter cockpit.
Pre-order Bonuses
Pre-ordering the digital base version of Jurassic World Evolution ($59.99 for consoles and $54.99 on Steam) grants exclusive skins for the ACU helicopter and the Ranger vehicle. The color depends on the platform you're pre-purchasing on: blue for PlayStation 4, green for Xbox One, and yellow for PC.
Deluxe Edition ($64.99)
The digital Deluxe Edition includes the aforementioned vehicle skins plus a pack of 5 extra dinosaurs that can be accessed through dig sites within the game: Styracosaurus, Crichtonsaurus, Majungasaurus, Archaeornithomimus, and Suchomimus.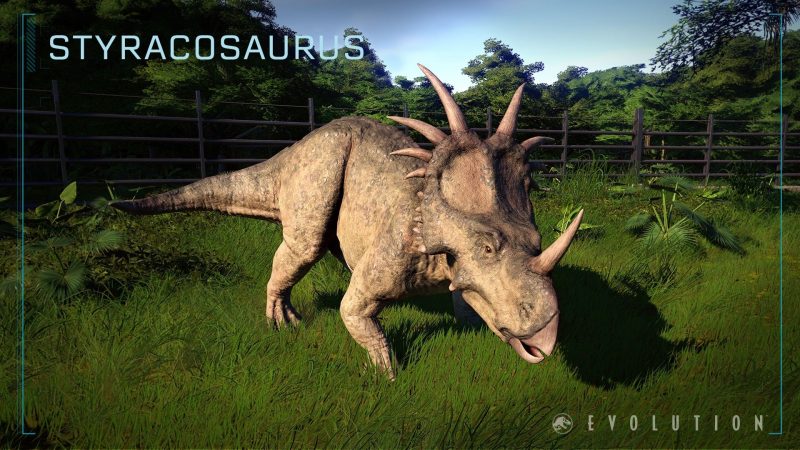 Jurassic World Evolution will launch digitally on June 12, 2018 via Steam, Xbox One, and PS4. The physical console versions will follow on July 3.
Check out our other upcoming simulation games and upcoming pc games.