This game was released on January 29, 2019 and is no longer available to pre-order. Any incentives that were offered are listed below.
Kingdom Hearts III is a crossover action RPG that takes the players on an adventure through various Disney and Pixar universes. Stepping once again into the shoes of Sora, they embark on a journey through the worlds of Toy Story, Pirates Of The Caribbean, Monsters Inc., Big Hero 6, Tangled, and more, battling the Heartless alongside Donald Duck, Goofy, and the heroes they befriend on the way.
Kingdom Hearts 3 is said to feature unique gameplay mechanics custom-designed for each new world, as well as action-filled aerial and underwater battles. Multiple Keyblades can be equipped to unlock spectacular combo attacks. When tired of saving the world, the player may enjoy more than 20 mini-games inspired by classic Disney short films.
Pre-order Bonuses
Pre-ordering Kingdom Hearts III digitally for either platform nets you an exclusive Keyblade:
PlayStation Store: Midnight Blue Keyblade and Impossible Odds dynamic theme.
Microsoft Store: Phantom Green Keyblade.
If you prefer your game on a disc, there are also some exclusive offers from the retailers:
Amazon: exclusive Dawn Till Dusk Keyblade DLC and $10 promotional credit for Prime members.
GameStop: an exclusive KH3 fabric poster.
Walmart: free set of collectible art cards.
Best Buy: a random figural key ring of one of 11 characters such as Sora, Axel, Mickey, or Donald. $10 in reward certificates for My Best Buy members.
Square Enix Store: exclusive sticker sheet with physical versions of the game.
Newegg: $10 discount when added to cart.
Moving on to the premium editions…
Deluxe Edition ($79.99)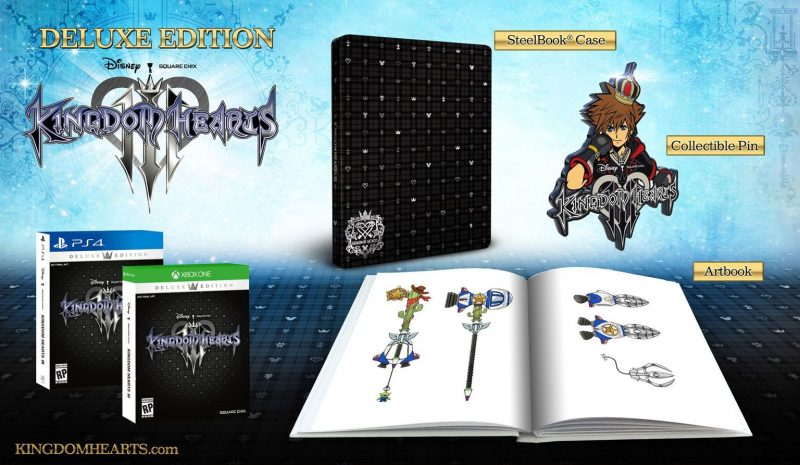 The Deluxe Edition comes with a physical copy of Kingdom Hearts III inside a Steelbook case, an artbook, and a collectible pin.
Deluxe Edition + Bring Arts Figures ($229.99)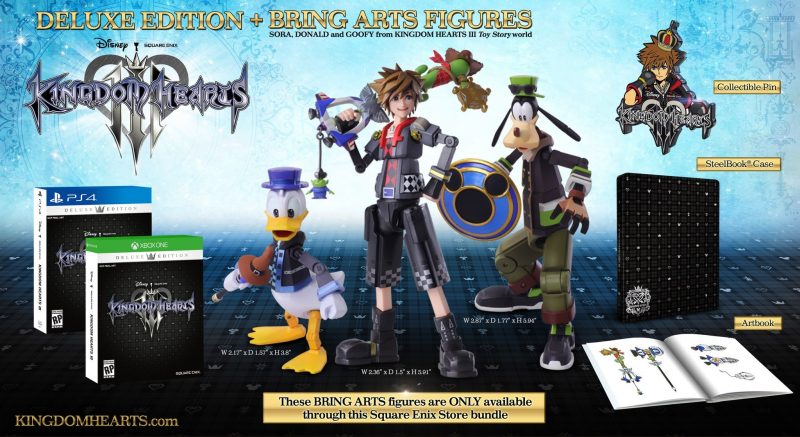 This exclusive Square Enix Store bundle adds Bring Arts figurines of Sora, Donald Duck, and Goofy in their Toy Story world designs on top of the Deluxe Edition contents.
Kingdom Hearts III releases for Xbox One and PlayStation 4 consoles on January 29, 2019.
Check out our other upcoming action games and upcoming playstation 4 games.