This game was released on April 28, 2017 and is no longer available to pre-order. Any incentives that were offered are listed below.
Little Nightmares is a puzzle-platformer made by independent developer Tarsier Studios. The game follows Six, a little girl in an oversized yellow raincoat, who is trapped in a mysterious and gloomy prison called The Maw. Armed with nothing but her wits and a lighter, Six has to evade the Maw's monstrous residents, and make her way to the outside world.
Published by Bandai Namco, Little Nightmares will be out on current-gen consoles and PC (via Steam and GOG.com).
Pre-order bonuses
All pre-orders of Little Nightmares will receive the Scarecrow Sack and the Upside-down Teapot Masks to help Six blend in with the other inhabitants of The Maw. PS4 and PC users additionally get the game's original soundtrack in digital format, as well as an exclusive PS4 theme or a PC wallpaper featuring The Janitor.
Additional bonuses from retailers are listed below:
GameStop: extra 2,500 points for Power-Up Reward Pro members.
GOG.com: a free copy of INSIDE, an indie puzzle-platformer game.
Six Edition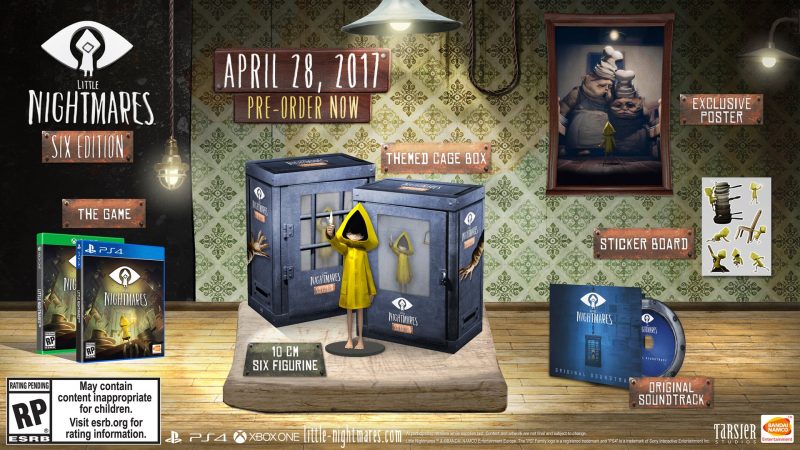 The game is also available in a special physical edition at participating retailers. The Six Edition is priced at $34.99 and includes the following items:
Themed Cage Box
10cm figure of Six
Exclusive A3 poster
Sticker board
Original Soundtrack CD
Little Nightmares will release on April 28, 2017 worldwide.
Check out our other upcoming horror games and upcoming pc games.