This game was released on October 31, 2019 and is no longer available to pre-order. Any incentives that were offered are listed below.
Developed by Next Level Games and published by Nintendo, Luigi's Mansion 3 once again stars Mario's cowardly brother Luigi as he sneaks around a ghost-infested hotel trying to rescue his friends who were kidnapped by King Boo.
Compared to its predecessor Luigi's Mansion: Dark Moon, the upcoming game features more open-ended levels instead of predetermined missions. While it is not a platformer game where one may jump around as they please, Luigi can now use a similar action called "Burst" to avoid incoming attacks.
The ScareScraper multiplayer mode also makes a return, doubling the potential player count from 4 to 8. Players may join forces locally or online and bust ghosts in always-different, procedurally generated levels.
Pre-order Bonuses
Pre-order bonuses for Luigi's Mansion 3 from North American retailers have been a long time coming. At the time of writing, only Target is offering something notable in the form of a Luigi's Mansion 3-themed canvas bag: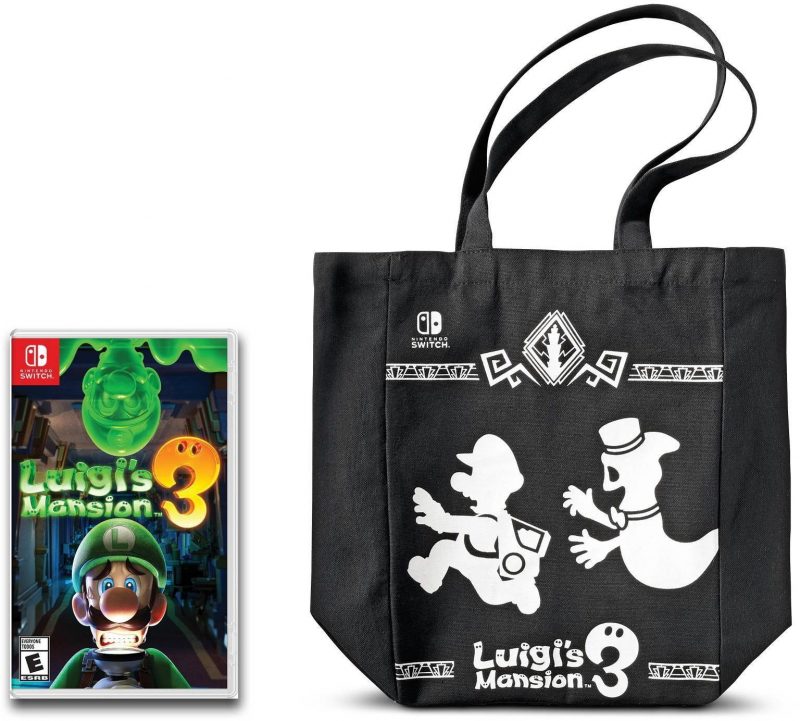 The situation is different you're willing to deal with overseas shipping and risk delays. GAME in the UK, for instance, offers an exclusive glow-in-the-dark Steelbook and a Polterpup keyring, while Play-Asia has the Steelbook minus the keyring: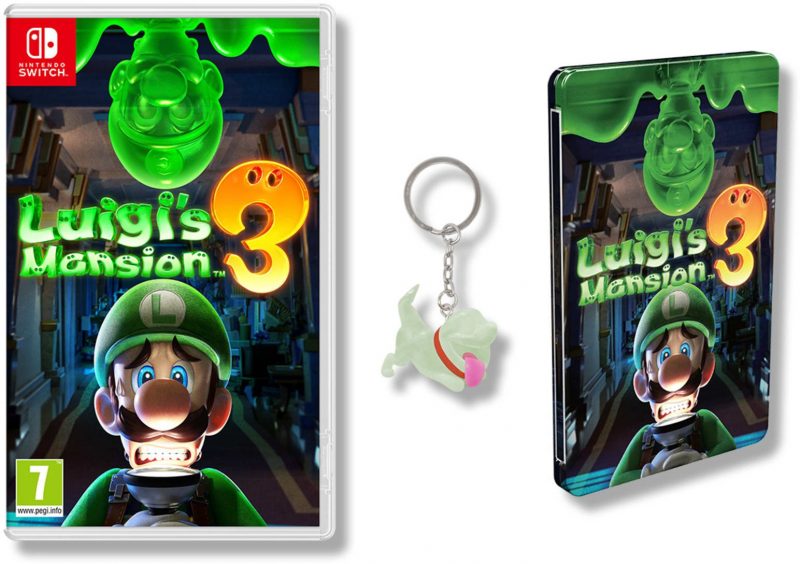 We've waited for an American retailer to offer this spooky and season-appropriate bonus, but with the release date drawing ever closer, it appears we won't be getting it in this part of the world after all.
There are more pre-order goodies available overseas, but unlike the Steelbook, these aren't worth writing home about. For example, there's the Luigi cap keychain / screen cleaner from certain Australian stores. Then there's a slightly more expensive version of Luigi's Mansion 3 from GAME that comes with a branded notebook. Lastly, there's a glow-in-the-dark sticker sheet you can find at various European retailers (which unfortunately do not offer international shipping):
Luigi's Mansion 3 launches for Nintendo Switch on October 31, 2019.
Check out our other upcoming action games and upcoming nintendo switch games.