This game was released on March 21, 2017 and is no longer available to pre-order. Any incentives that were offered are listed below.
Mass Effect: Andromeda puts the player into the shoes of Ryder, a Pathfinder tasked with finding new worlds to colonize and ensure the survival of humanity. The game starts with the main character arriving in the titular Andromeda galaxy after a six hundred year long cryosleep. Representatives of other major Milky Way civilizations are also making the journey on their own Ark ships, and Andromeda itself is home to at least two new alien races: the warlike Khet and the mysterious Remnant.
Andromeda retains most of the gameplay elements seen in the previous Mass Effect installments. Nexus, the Flagship of the fleet, serves as a Citadel-esque central hub, whereas Ryder can explore the new galaxy on Tempest, the successor of Normandy. Guns and biotics, the dialogue wheel, romance sub-plots, and multiplayer co-op all make a reappearance. In a departure from the original trilogy, however, Mass Effect: Andromeda is open-world and features a classless character advancement system, allowing the player to freely mix-and-match different abilities.
Pre-order bonuses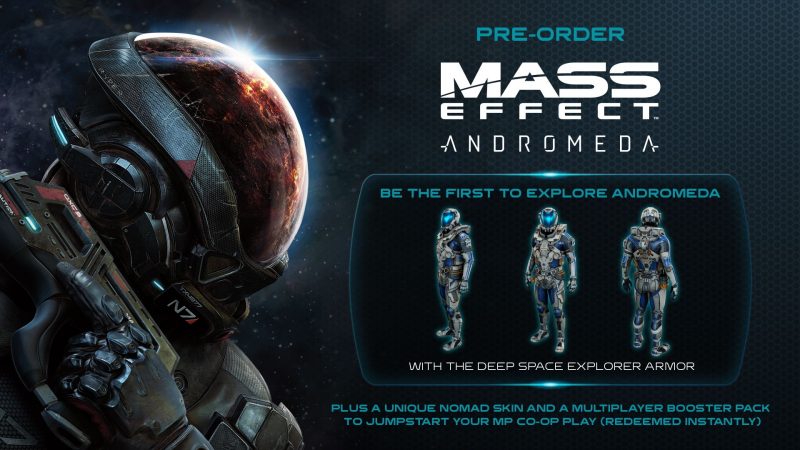 Pre-order Mass Effect: Andromeda to receive a set of Deep Space Explorer Armor and a unique Nomad skin, as well as a Multiplayer Booster Pack. The latter includes five 50% XP Boosters to be used in the co-op mode.
Any retailer-exclusive incentives are listed below:
Best Buy: free SteelBook case. 20% off for Gamers Club Unlocked members.
Deluxe Edition
The Deluxe Edition bumps the price up to $69.99 and adds the following digital items to the base game:
Pathfinder Casual Outfit
Scavenger Armor
Pathfinder Elite Weapon Set (4)
Pet Pyjak (Monkey)
Digital Soundtrack
Multiplayer Deluxe Launch Pack
Super Deluxe Edition
This $99.99 edition adds Multiplayer Super Deluxe Booster Packs (weekly Premium Packs for 20 weeks) on top of everything listed under Deluxe Edition, delivering an ongoing boost to your multiplayer progress.
Collector's Editions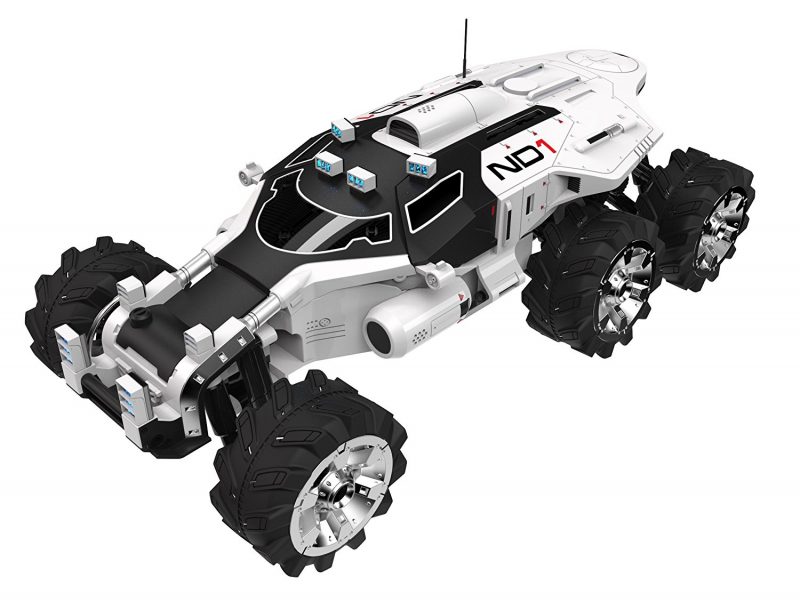 Mass Effect: Andromeda also has two flavors of Collector's Edition, although the thing of note is that the base game is not included with either of these. Both editions come with a collectible Steelbook case and a 1:18 scale Nomad ND1 replica depicted above, either a regular diecast ($99.99) or a remotely-controlled version ($199.99). Nomad being, of course, the new vehicle that replaces Mako in the upcoming title. There is also a separately available "mini" (1:64) version of the toy priced at $10.
Mass Effect: Andromeda is scheduled to be released on March 21, 2017 in North America, and March 23 in Europe. The game will be out on current-gen consoles and Windows PCs.
Check out our other upcoming action games and upcoming pc games.